Kosta Boda Art Hotel: World class excellence unlike any other
By Astrid Eriksson | Photos: Kosta Boda Art Hotel
When it comes to serenity, comfort and extreme beauty, the province of Småland in Sweden has already covered most bases with its idyllic red cottages, phenomenal views and spectacular forests. In the middle of this picturesque landscape you will find Kosta Boda Art Hotel, a venue making the breathtaking beauty of its surroundings seem almost mediocre compared to what awaits inside.
Already associated with its flawless appearance, Kosta Boda is a brand that sparks associations of highly stylish Swedish glass design. For many years now, alongside its sister brand, Orrefors, Kosta Boda has been providing glass art enthusiasts with impeccably created tableware and decorative pieces for homes and gifts all over the world.
Letting the art set the tone
Since Kosta Boda Art Hotel opened in 2009, guests have been welcomed to a first-class facility where the art from glassworks Kosta Boda and Orrefors play an important role to say the least. The hotel was created based on the glass art that earned Kosta Boda and Orrefors their front-line position in the world of glass design. Creations and art from world-renowned designers such as Kjell Engman and Bertil Vallien, to mention a couple, can be found throughout the hotel, and whatever way you turn there is another wonderful sight to rest your eyes upon.
A one-of-a-kind five-star spa
The art is not limited to the rooms and suites of the hotel. Kosta Boda Art Hotel also boasts a spa of the most formidable standard, with art and treatments bound to put you under its beautiful spell, ensuring a mesmerising experience for all the senses.
"One of the most spectacular features of our spa is the swimming pool," promises Johan Trollnäs, general manager and CEO of Kosta Boda Hotel. Swimmers and guests are indeed in for a treat when visiting the grand pool where, in addition to a perfect bathing and swimming temperature, sunken treasures offer a phenomenal sight. "Submerged by the bottom of the pool are colourful glass sarcophagi and designs, giving the pool, and the entire room for that matter, a stunning uniqueness," he explains. "It is one of those things that never seizes to amaze and fascinate."
But the splendid interior is far from the only thing the spa has to offer. "We are supremely proud of our award-winning treatments," Trollnäs beams. And Kosta Boda Art Hotel's spa has reason to pat itself on the back. Its Art Glass Escape treatment was recently awarded the prestigious 2015 Spa Award. "I recommend for everyone to try this treatment," says Trollnäs. "We use heated glass during the treatment, providing the guest with 100 per cent comfort and relaxation," he pauses, "but I won't go into too much detail. A magician and his tricks, you know. The treatments are for experiencing and letting your senses dive completely into. Simply reading about them won't do."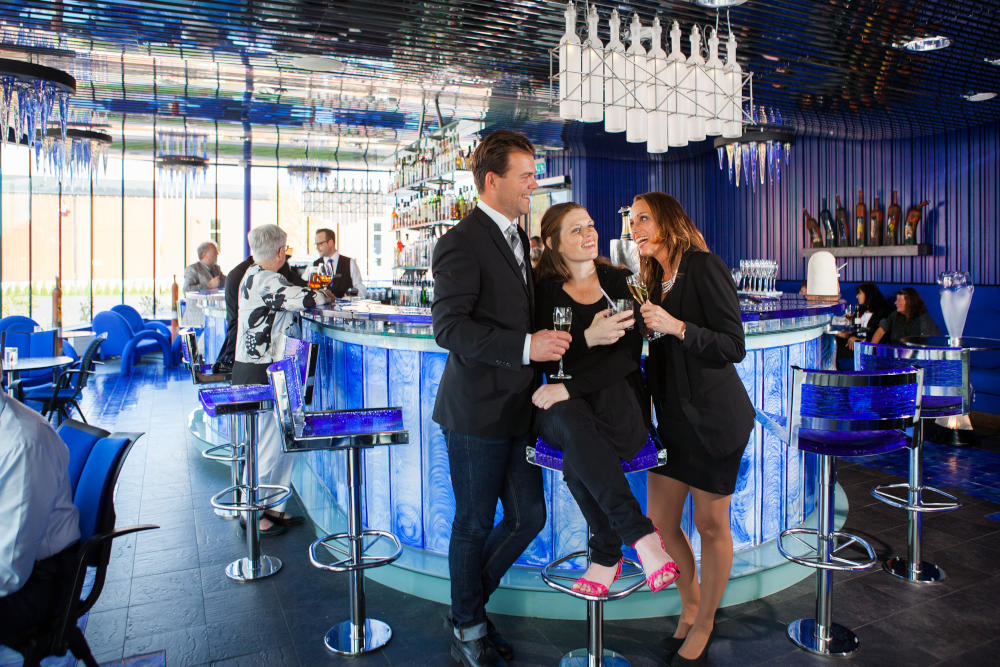 Not just a fancy getaway
A stay at Kosta Boda Art Hotel is an experience you will remember for a very long time, no matter the reason for your visit. "We gladly welcome companies and private parties alike," says Trollnäs. "We are able to accommodate large and small groups, regardless of what brings you here." Meeting spaces and conference rooms, activities and offers, in the company of your date or your colleagues – unforgettable experiences are guaranteed every time.
The art, permeating every inch of the venue, is of course out of this world, but in addition to this the impeccable service at this professionally staffed and managed hotel deserves a spot of its own in the lime light. Whether you are stopping by to enjoy three courses of culinary brilliance in the glass-art inspired restaurant, or to mingle with your party in one of the three bars where classic old reliables are being served alongside contemporary new flavours and lighter snacks, there is no doubt about it: when it comes to performance and high standards, Kosta Boda Art Hotel hits the right notes every single time.
Venturing outside the confinement of the luxuriously decorated hotel, the legacy of the surrounding area takes you right to the heart of the craftsmanship inspiring Kosta Boda Art Hotel: the art of glass blowing. Throughout the year, visitors are welcome to take part in the art form that has given fame and fortune to this lush Swedish region. Watch as the skilled craftsmen execute with precision, and if you are feeling creative, give it a go yourself in order to walk away with an artwork of your own. "We do not simply provide accommodation," Trollnäs sums up. "We offer our guests a complete experience. Kosta Boda Art Hotel takes care of the finer things in life and makes sure you can enjoy them thoroughly."
For more information, please visit www.kostabodaarthotel.com
Subscribe to Our Newsletter
Receive our monthly newsletter by email