Kristinehamn: New paths uncovering hidden gems
By Nina Bressler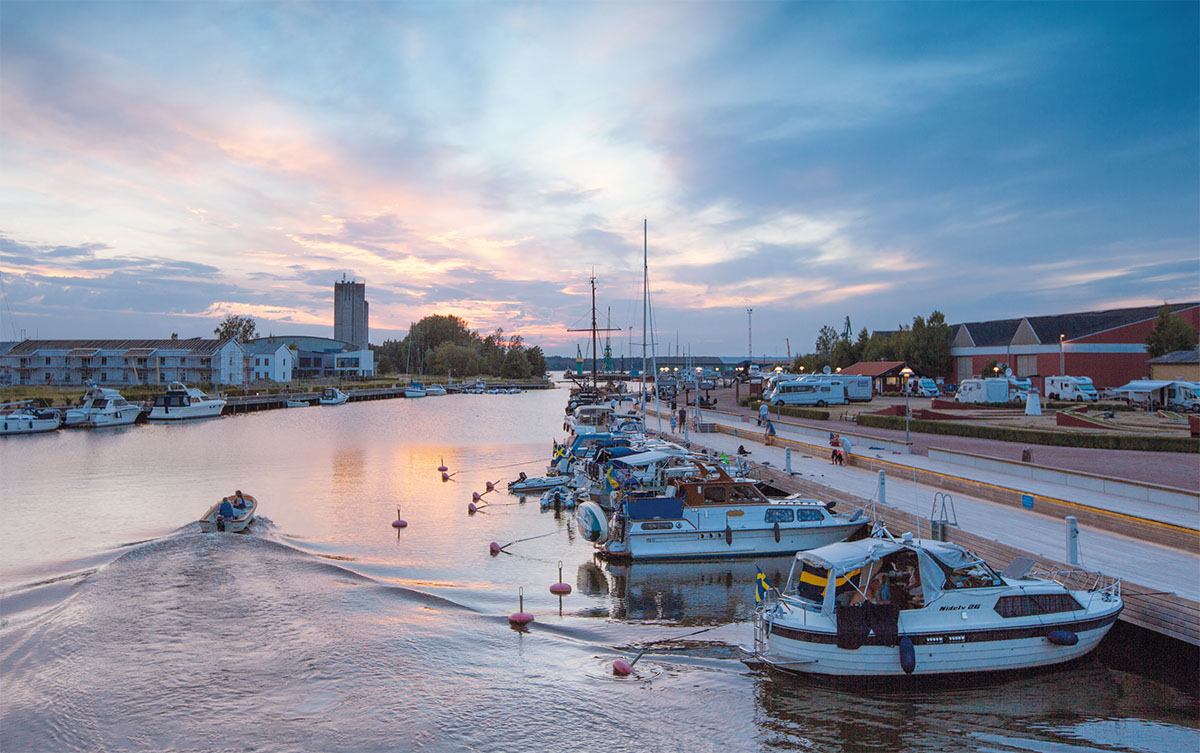 There's something brewing in the small town of Kristinehamn. Idyllically located in Värmland, next to the largest lake in Sweden, Vänern, it is gearing up for an exciting new year. Activities are set to be boosted with new and exciting trails, where unique nature combined with local culture is destined to create an unforgettable fusion of enchanting experiences, perfect for locals and tourists alike.
The news is out: the Vänern cycling trail is officially here. A 630-kilometre-long trail that stretches all the way around the lake will open its doors to visitors who want to experience a unique environment with the best views.
"We are so excited that we can finally announce that the Vänern cycling trail will open in 2022. This has been in the works for a long time, and it's been a passion project for everyone involved. Not only does the trail provide beautiful views of the lake, but it will also open up for the exploration of places off the beaten path – previously hard to reach, but now restored back into a greater context. It will provide an incredible cycling and hiking experience, and we can't wait to see what it will bring to the area," says Ulrika Ganterud Evermark, head of tourism for Kristinehamn municipality.
The trail is divided into four parts, and along the way there will be cafés, swimming spots and a range of destinations brimming with history – equally exciting for local inhabitants as for visitors from afar. The Vänern trail will be an addition to the numerous existing trails, perfect for long hikes and picturesque cycling trips. Five mountain bike trails, quality checked by Biking Värmland, serve as supplement for those who prefer a speedy challenge.

Freedom to roam
The proximity to Vänern creates an environment rarely found anywhere else. With spectacular sunsets dropping behind the horizon in the west, it's easy to think that you're standing in front of a vast ocean, rather than an inland lake. Vänern consists of 5,650 square kilometres of freshwater and holds a tight grip on the number three position of the largest lakes in Europe, providing ample space for enjoyment on the water. The lake also houses an archipelago of 22,000 islands, and there's an abundance of water activities to choose from.
"There's so much space to roam and so many hidden jewels awaiting to be discovered. Due to the monumental size of the lake it's easy to find your sense of freedom; your spot, your own island, far away from other people," says Ganterud Evermark. "We have many different ways to explore the water: there's a number of touring boat lines running regularly between the bigger islands. You can rent a boat, kayak or canoe, or travel here on your own boat and anchor in our popular guest marina, where people tend to gather for barbecues and other social events."
There's also a popular pirate tour on an old wooden boat, a replica of the original that was built for iron transportation. The tour passengers are taken on an exciting treasure hunt around the islands under the governing of, most of the time, benevolent pirates.
Local culture and cuisine
Despite the town's relatively small size, there's no shortage of world-class food and interesting history to delve into in the Kristinehamn area. Local produce, ranging from wild meat to locally brewed beer, is widely cultivated by the restaurants for visitors to enjoy. Two restaurants, Oliveriet and Ölme Prästgård, are top ranked on TripAdvisor, and the latter listed in the White Guide. The fact that Kristinehamn is host to Smaka på Värmland ('Taste Värmland') every September is hardly surprising.
In addition to top-class food, the town is also home to an exciting cultural scene. Ever wondered where the world's largest Picasso sculpture is located? Look no further; thanks to a local artist, Bengt Olsson, said sculpture found its way to Strandudden, located seven kilometres from the town centre, and is now proudly overlooking the soothing swells rolling in across Vålösundet. The art museum, meanwhile, is a popular spot for contemporary art lovers, where thought-provoking artists are taking turns to exhibit their awe-inspiring art to the public.
The town's historical importance for the iron shipping business is honoured in a number of inventive ways. The historical museum exhibits the history, while the IronTrail Marathon is literally following in the history's footsteps: the popular marathon runs along the same tracks as where the iron workers were loading and transporting their goods from the mines in the 17th and the 18th centuries. So whether you're looking for a challenge, the next destination for your cycling trip, a hike in historical environments, a culinary experience, or island hopping on one of the largest lakes in Europe, Kristinehamn is the destination for you.

Web: www.visitvarmland.com/kristinehamn/en Facebook: Visit Kristinehamn Instagram: @visitkristinehamn
Subscribe to Our Newsletter
Receive our monthly newsletter by email