Kyst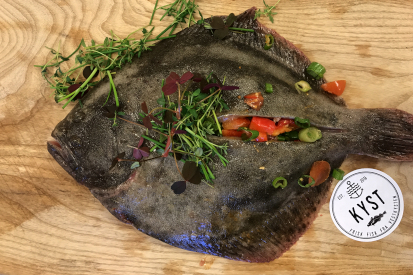 Thinking outside the net
TEXT: SIGNE HANSEN | PHOTOS © KYST
Based on a love of the sea and its inhabitants, Kyst sources fresh, sustainably caught seafood for Denmark's food industry. Founder Thomas Sekkelund tells Scan Magazine why it is important to think outside the net when it comes to choosing which fish to put on the menu.
With a decade of experience from the seafood industry behind him, Thomas Sekkelund decided in 2017 to set up Kyst, a fish wholesaler distributing fresh fish to all of Denmark. His motivation was to change what he saw as a lack of range and seasonal awareness within the industry. "We wanted to create a genuine and honest fish wholesaler, bringing Danish fish from Danish fishermen to the table," explains Sekkelund. "What I found was missing during my years in the industry was a distributor that fully understood what the different seasons had to offer and took full advantage of the wide range of fish available in the Danish waters. A lot of people just think of plaice and cod when they think of Danish fish, but I want to expand that, bring in new sorts and a more sustainable way of sourcing fish."
Focusing on the variety of the seasons, local fishermen and good customer service, Kyst has managed to do just that. Since starting out last year, the company has become the trusted purveyor to around 200 big and small clients all over Denmark.
Kindness and quality
Unlike most other fish purveyors, Kyst sources mainly from independent Danish fishermen who fish at the Danish coastlines (Kyst is Danish for coast, and the name thus refers to the company's dedication to working with independent fishermen). The reason for this is not just that it is more sustainable, but also that sourcing from smaller boats means shorter transport times and fresher fish, explains Sekkelund. "We select the boats we work with very carefully; we know the fishermen, we known that they use sustainable methods, such as trammel nets, and we know how long they are on the water and how they treat the fish on board. This is very important to the quality of the fish, as shorter time in the net and on the boat means fresher fish of better quality," says Sekkelund.
Another way of ensuring a more sustainable approach to fishing is to focus more on less popular breeds. Sometimes this means guiding the client to choose a less expensive fish, and that is part of Kyst's unique service, explains Sekkelund: "The Danish waters are full of breeds that are not well-known but very tasty, and sometimes it's our job to introduce our clients to the possibility of buying one of those rather than the most popular and expensive sort; we want to bring the full range of Danish fish to our clients."
Better service
Kyst's clients are professionals working in all sectors of the food industry, from restaurants to nursery kitchens. The common denominator for them all is that freshness and speed are vital. That is why Kyst never stocks fish but always sources it fresh, to meet clients' orders. After the fish is bought at auction in the morning, it is prepared, hand cut, packed down, and shipped off immediately. "Often, I'll be on the floor myself, making sure that everything looks right," says Sekkelund. "We will go to great lengths to ensure that our clients receive the best possible service from us."
Sekkelund's close collaboration with the fishermen, as well as his knowledge of the variety of the different seasons, also gives him valuable information, which he does not hesitate to share with clients. "I believe that one of the areas where we stand out is our knowledge and, not least, our willingness to share that knowledge with our clients. If, for instance, our client wants something like a cod, we can quickly present them with three just as tasty, less-known but cheaper alternatives. That's part of our service and something we have chosen to focus on, whereas most other distributors would most likely just sell the expensive fish," he says and rounds off: "Being able to guide our clients to a better, cheaper and more sustainable choice is something we're proud of."
Kyst is co-owned by Thomas Sekkelund and Jacob Pedersen, who run the company together.

Web: kyst.nu
Subscribe to Our Newsletter
Receive our monthly newsletter by email