Läckö-Kinnekulle: One for the bucket list
By Emma Rodin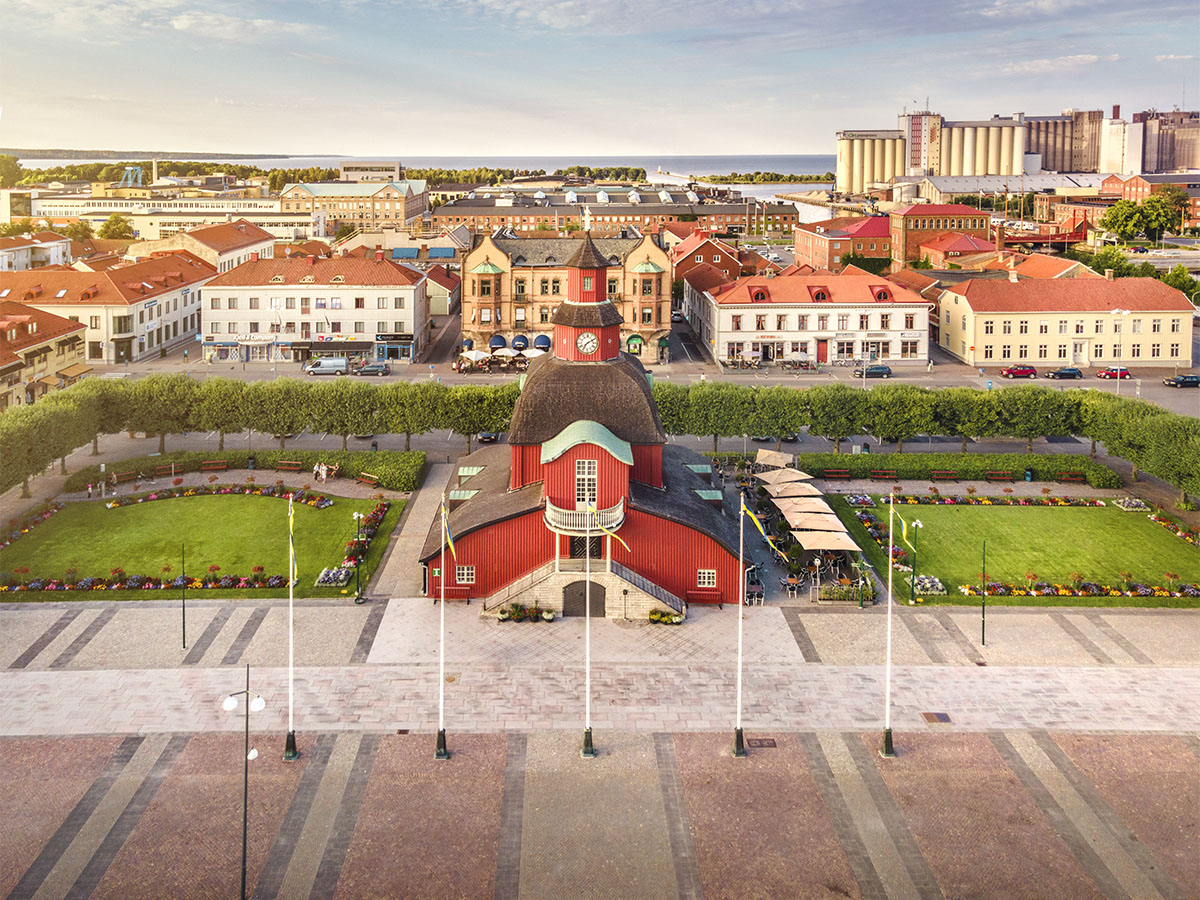 Small but mighty: perhaps that is how best to describe Läckö-Kinnekulle and the city of Lidköping. An area renowned for its food, nature and culture, this is a dream destination for those looking to combine culinary discoveries with memorable experiences.
Home to 220 kilometres of coastline belonging to Sweden's largest lake, Vänern, as well as an impressive number of restaurants and cafés included in the prestigious White Guide, there's no question as to why Läckö-Kinnekulle has a reputation as an all-in-one destination.
"This whole area has a deep connection to food, and it's all tied together with a love of local produce," explains Läckö-Kinnekulle tourism's marketing coordinator, Malin Johansson Fahlström. "Lidköping is absolutely full of quaint little coffee shops and is a real hub for the Swedish 'fika' culture of having coffee with something sweet."
There are also plenty of apple orchards around, known for producing delicious beverages, most commonly using Bramley apples. These and other farm-made products can be purchased at the many farm shops – each deserving a visit – dotted around Läckö-Kinnekulle.
Should you need further convincing of the area's greatness, heed the praise of Tareq Taylor, the much-loved Swedish chef, who visited Läckö-Kinnekulle last summer as part of his Nordic Cookery TV show.
"This region has left an impression on me. It's absolutely incredible. There are so many ways to enjoy yourself, and great quality food is everywhere. If it isn't on your bucket list already, it should be. If you want to experience the true essence of Swedish summer, this is where you go," he said.
Give vendace roe a go
For an out-of-the ordinary experience, the very local Vendace Roe Adventure is a must. The European Commission accredited this roe under the Protected Designation of Origin regulation back in 2022, which identifies a product as being uniquely produced, processed and prepared in a specific geographical area.
The Vendace Roe Adventure begins with a meal at one of the restaurants in a local harbour. Here, guests will enjoy a roe tasting while listening to stories of how roe fishing first started back in the '60s.
"You also get to accompany a fisherman out on the lake to get the full experience. It's a wonderful way to learn about, and respect, roe as a product," says Johansson Fahlström.
Part of the deal is also a night's stay at Victoriahuset, plus a guided tour at the famous Läckö Slott. This historical castle is one of Sweden's largest, and it has a flourishing garden where lots of produce is grown, then served in various dishes at the accompanying restaurant.
Relish ramson
Recognised as a part of the UNESCO biosphere reserve and as a global geopark, Kinnekulle is also home to ramson. This is the unusual type of onion which grows here thanks to the area's specific geology and limestone-rich grounds. Ramson fields, recognisable for their white flowers with a garlicky scent, appear here each spring.
Ramson is also popular in cooking, and its leaves are used to make anything from pesto to soups. At Sweden's oldest inn, Forshems Gästgivaregård, they've been doing it for centuries, and the place well worth a visit. So, too, is the 40-metre-deep quarry found on Kinnekulle, where limestone was originally sourced.
Made of porcelain
On another note, Lidköping is often referred to as 'the city of porcelain', thanks to the legacy of local porcelain-maker Rörstrand. Rörstrand is the crown jewel of Swedish porcelain production, and its history is vividly brought alive at the Rörstrand Museum. Here, visitors can enjoy a good lunch or coffee and cakes – served on genuine Rörstrand porcelain, of course.
"Thanks to Rörstrand, Läckö-Kinnekulle has a lot of entrepreneurs working with ceramics. Something which has inspired many restaurants to serve their food on this brand's high-quality porcelain," says Johansson Fahlström.
Markets and more
Lidköping is also home to one of northern Europe's biggest town squares, which has been a hotspot for market traders for 350 years. The city is full of lovely little shops, and hosts a range of big events, despite its humble size.
Furthermore, there are lots of different ways to discover Läckö-Kinnekulle's stunning scenery and spectacular sights. Especially popular is hiking, biking and kayaking, with plenty of different routes to take, and the opportunity to rent gear too.
Whatever floats your boat and however you prefer to experience Läckö-Kinnekulle and Lidköping, its rich cultural heritage and long-standing traditions will keep you entertained for days. Why not start off with a traditional Swedish fika, and take things from there?
Web: www.lackokinnekulle.se Instagram: @lackokinnekulle Facebook: lackokinnekulle Travel to Läckö-Kinnekulle and Lidköping By plane: to Gothenburg Landvetter airport By train: from Gothenburg to Lidköping By car or bus: from Gothenburg
Subscribe to Our Newsletter
Receive our monthly newsletter by email