Lien Gård: Refining nature's fruits into sweetness and bubbles
By Åsa H. Aaberge | Photos: Even Lundefaret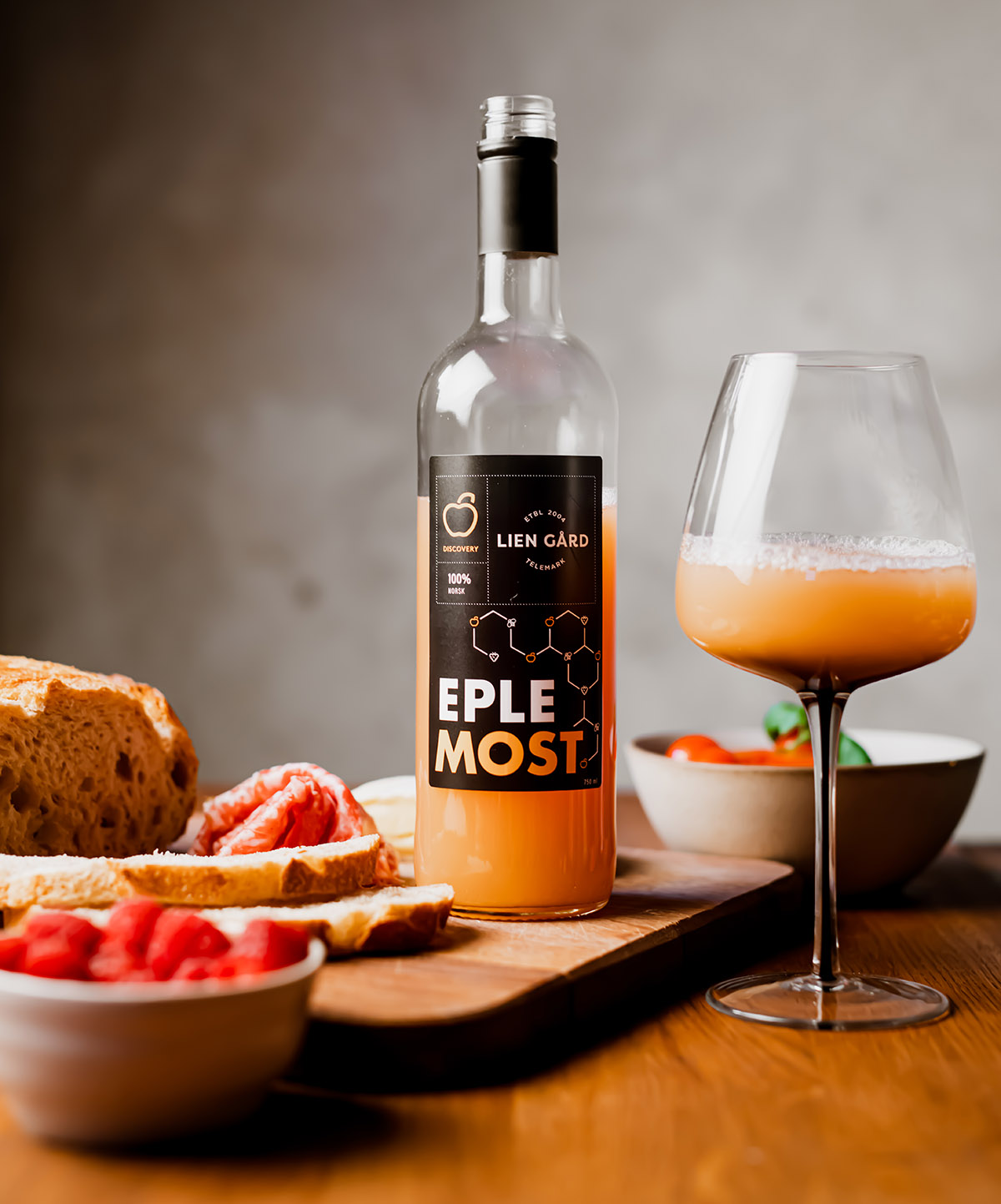 Come May in Norway, a lush green landscape springs from hibernation. Across the country, white and pink apple flowers pop into full bloom. At Lien Gård, these exact apple flowers will ripen to sparkling, crisp cider.
When Linda Renate Hellekås took over her great uncle's small farm in 2004, it was not with a dream of becoming a farmer. Yet, some 18 years on, Hellekås and her husband, Arild, run a successful fruit farm specialising in homemade products from self-grown produce.
Lien Gård (Lien farm) lies in the heart of Telemark, an area of Norway renowned for its prime fruit-growing conditions and traditions. In Hellekås' ownership, the farm has evolved into an oasis for fresh and crisp apples, sun-ripened berries and the sweetest honey.
"We bought the farm to live here – not to farm it. We had full-time jobs but also wanted to take care of the farmland. We planted new rows of apple trees, raspberry and gooseberry bushes – and from there on, it all just evolved," says Hellekås.
She and her husband shared a dream of starting something of their own. It came naturally that the farm became the starting point to realise their entrepreneurial ambitions.
Jams, juice, cider and honey
When the first of their self-planted apple trees and berry bushes bore fruits, the couple started experimenting with pressing juices. Since 2017, the Lien farm has distributed self-made products to regional supermarkets, cafés and restaurants. Their current repertoire includes jams, juice, cider and honey – all made at the farm solely out of natural ingredients. Soil, sun and some tiny, flying helpers contribute to a unique flavour and quality. Hundreds of thousands of bees are currently divided into 20 hives at the farm, making delicious honey.
"Bees and pollination are essential to fruit production. My husband attended a course for beekeeping, and as we found it all a bit curious and fun, we got some 1,000 bees and started with beekeeping. Now we have a small production of honey," says Hellekås.
In 2019, when Hellekås was pregnant with the couple's fourth child, she quit her job and decided to immerse herself full-time in agriculture. In Hardanger – an area in the west of Norway with renowned apple farming traditions – the couple learned the trade of making apple ciders. "We yearned to produce bigger volumes, to be able to go all-in and devote ourselves to the farm by creating tastier quality produce. Cider quickly became an important part of our production," explains Hellekås.
With 18 other local shareholders, Lien Gård opened a press near the farm dedicated to making cider. "One of our goals is to increase cider production in Telemark. Our first year of production was in 2020. That year alone, we produced 7,500 litres of cider," says Hellekås.
All apples that evolve into the Lien Gård cider originate from Telemark. Many are ripened at the Lien farm, supplemented with apples from farms in the nearby area. The cider is distributed at the state wine monopoly in Norway and to restaurants and shops. "Our cider is semi-dry and complements food well. The taste is fresh and crispy. Cider generally has a kind, mild taste range, comparable to Cava, but even lighter and fresher," explains Hellekås.
The farm's location has excellent sun conditions, providing sweetness and flavour to the fruit. In all Lien Gård ciders, apples make the base, while some varieties have added ingredients of homegrown raspberries and gooseberries. The couple is curious to explore and experiment and recently developed a delicate pink rosé cider with apples and raspberries combined.
Local produce – and big dreams
Hellekås and her family are currently experiencing a growing interest in locally sourced produce from customers, locals and passers-by alike. She believes that a renewed focus on local food in Norway has contributed to a rapidly growing interest in their products, all of which can be purchased at the farm at a little self-service stand open daily.
"People value local food of good taste and quality. We wish to play a part in making that a lasting trend – to take care of the soil and refine the products at the farm, all done by hand and always with love," says Hellekås.
Rooted in personal drive and curiosity, Hellekås and her family have dreams and aspirations beyond the current small-scale production. "The farm is located in the tiny village of Akkerhaugen, situated remotely on a slope facing the waterfront. The location is fantastic, with a surrounding fruit garden, forests – and lots of sunlight," Hellekås enthuses.
"Our goal is to make the farm a destination, with the possibility for guests to come taste cider and buy products directly from us," she elaborates. "We offer visitors a picnic basket filled with local food and our cider or juice to bring for a picnic in the wonderful surrounding landscape."
This summer, the first groups of guests are welcomed to Lien Gård for cider tasting. Another dream currently in the works is a sauna by the fjord. "We started from zero. The farm was not custom to this type of production. Now we create and shape our history with a careful process that evolves with nature and the values we hope to pass on to our children," Hellekås concludes.
Web: www.liengard-telemark.no Instagram: @lien_gard_telemark
Subscribe to Our Newsletter
Receive our monthly newsletter by email