Lykkja Fjellgard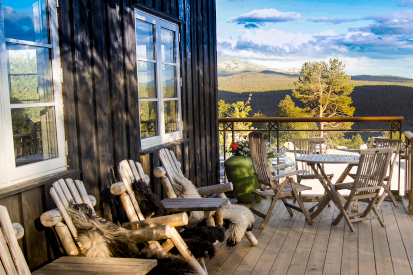 Home is where the heart is − visit the family-run farm and hotel in the Norwegian mountains
TEXT: ALYSSA NILSEN | PHOTOS © Ansgar Valbø, www.ansgarvalbo.no
Over the last ten years, three generations of the Haug family have relocated from the suburban town of Bærum outside Oslo, Norway, to the village of Skåbu, high up in the Norwegian mountains. There, they run a farm and a hotel with history, soul, and spectacular nature and surroundings.
Located at 870 metres above sea level in the scenic mountains of Gudbrandsdalen, Skåbu is the highest village in Northern Europe. Surrounded by three nature reserves, breathtaking views and untouched wilderness, you can find Lykkja Fjellgard, a farm with a history dating back to the 1830s and with some houses that are even older. Since its humble beginnings, the farm has expanded, changed owners and been modernised, but has still managed to keep the soul and the charm of a typical mountain farm, with its 20 traditional timber buildings circling a grassy yard. The Haug family runs the farm themselves, including a dog, a horse, and a heard of wild sheep and ram, the latter of which they sell the meat and skins of at the farm, and through outlets both in the local area and across Norway.
In addition to this, the crafty family have recently opened a brand-new hotel nearby − Skåbu Fjellhotell. Using one of the historical houses in the centre of the village, and building on its history as a natural gathering point for the villagers, the building has been restored and now features 11 rooms and six apartments.
The hotel puts a big emphasis on being a high-quality resort and aims to be a relaxing and cosy place that will feel like a home away from home for its visitors. It also boasts its own restaurant serving seasonal foods based on local produce and traditions. "Guests almost come into the kitchen to thank us for the meal, that's how at home they feel at the hotel," Jannicke Haug Doksæter says, making sure to point out that both guests and those only passing through are equally welcome to step inside for a meal. They also take bookings for weddings, company outings and parties, tailoring the stay to each individual booking.
Adventures and experiences are waiting on the doorstep
Visitors to the area also have a large range of activities they can choose between, should they want to venture outside the comfort of the hotel or do more than just relax and take in the scenery. The Haug family offers guided tours of their farm, and helps organise hikes and elk spotting in the surrounding area.
"Skåbu is located right in the middle of the so-called elk-county, and every year, 6-700 elk walk past on their way from their winter pasture to their summer pasture and back again," Haug Doksæter explains, a spectacular sight for tourists and locals alike. Skåbu has a long history of hunting and fishing; archaeological finds date elk-hunting and human activity in the area as far back as 10,000 years ago, and the village is eager to keep the tradition alive. So, should you want even more adventure and action, there are hunting and fishing outings in the autumn, randonee-skiing and dog sledding in the winter, and, during their gourmet trips, you can get a proper meal at the campfire after a long day of activities.
With the whole local area contributing to activities and happenings, Skåbu has become a thriving place with a lot of heart and soul. There is the Peer Gynt outdoor play by Henrik Ibsen, which takes place every August; Gausdal Marathon, a giant dog-sledding event taking place in January; and Liv Lågå, an annual market and fair with food stalls and entertainment such as music and theatre. "It's a very open and welcoming community," Haug Doksæter says. "People appreciate visitors because there's not a lot of us up here."
Each December, there is a Christmas market in the village and the hotel hosts a Christmas dinner with local traditional meals. Should you want to take it even further and experience a proper Norwegian Christmas, the hotel stays open for guests all through the holidays. And with a white Christmas being the norm rather than an exception, you can expect torch-lit sleigh rides with reindeer skins and mulled wine keeping you warm and snuggly while enjoying the snow-covered surroundings and the starry nights. If you are lucky, you might even get to see the Northern Lights!
Facebook: skabufjellhotell
Facebook: lykkjafjellgard
Subscribe to Our Newsletter
Receive our monthly newsletter by email