Lyngen Experience: A gem in the heart of the Lyngen Alps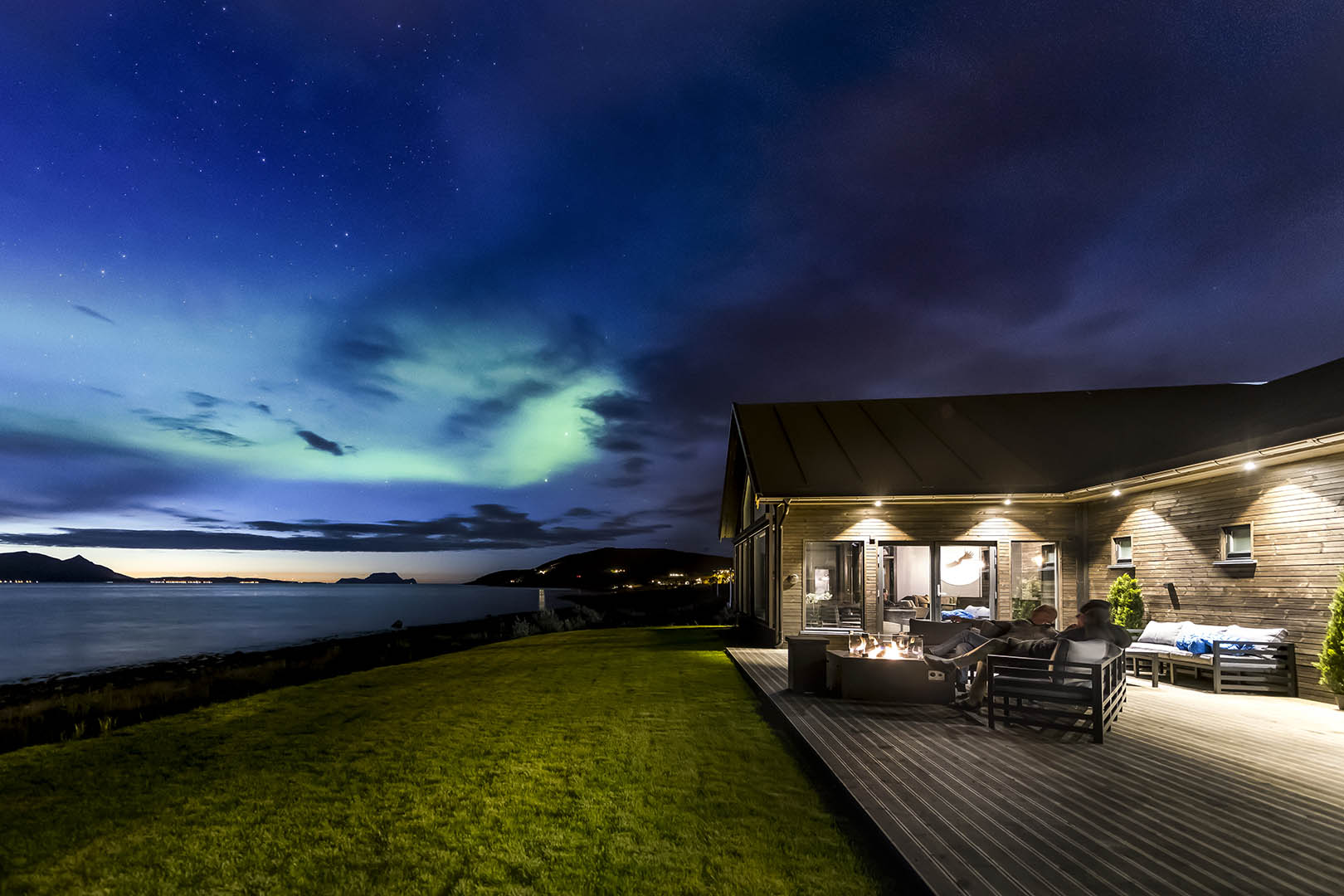 Main Photo: Kodiak Photography
Idyllically situated between snow-covered mountains and the Arctic Ocean, Lyngen Experience offers guests a brilliant way to see northern Norway, with the perfect combination of nature and luxury.
TEXT: SYNNE JOHNSSON | PHOTOS: LYNGEN EXPERIENCE
Opened as recently as in 2018, Lyngen Experience Lodge provides its guests with brand-new facilities. With only nine rooms, the lodge provides the best service Lyngen has to offer, and the staff are always prepared to go out of their way to fulfil their guests' wishes. "We sort out everything for our customers, from the moment they land at Tromsø Airport to their departure. We pick them up from the airport either by car, boat or helicopter, and we offer a broad range of activities and provide local gourmet food," says owner and manager Reidun Nilsen.
Nilsen owns Lyngen Experience alongside Tommy Wikerøy, a local fisherman. While Nilsen is the director, Wikerøy is the captain of their boat and responsible for all the activities they provide at sea. Every full-time worker at Lyngen Experience is local, something that guarantees the guests a truly authentic visit. "We started Lyngen Experience because we wanted to show people from across the world how beautiful Lyngen is. I think everyone who lives here is extremely proud of the place, and we simply think it is the most beautiful place on earth," Nilsen smiles.
Left: Co-owner Tommy Wikerøy.
A lodge beneath northern lights and midnight sun
The lodge, which Nilsen describes as a boutique hotel, consists of nine brand-new rooms, a sitting room, a bar and a restaurant. In the wellness area, guests can relax in a sauna with large windows to enjoy the view, or enjoy a dip in the outdoor Jacuzzi.
The front of the hotel is made of mostly glass, so the spectacular view over the Arctic nature is impossible to miss. The sitting room is where guests can enjoy a good book or a glass of wine in the evenings, and in the restaurant, local, traditional food is served – from fresh fish to local reindeer.
"I think the place has a very homely feel, and guests have described it as a 'home away from home'. When our guests feel like home, we know we have succeeded," Nilsen says. "However, I do think it is the nature we're surrounded by that is the most astonishing thing about this place."

Lyngen, which is located in Troms, is mostly famous for the untouched and breath-taking Lyngen Alps, a mountain range that follows the shore of the Lyngen Fjord, with the highest mountain top rising no less than 1,833 metres above the ocean.
"The nature is so extreme and steeped in history. It is also a very genuine place, with local farmers and fishermen, so our guests get to experience the real northern Norway," Nilsen says. "The coastline goes around almost the whole of Lyngen, and we have deep fjords and an exotic wildlife. There is nothing here that shields us from the weather, so we have some incredible climate here – from calm and sunny to extremely windy and rainy. That's an experience in itself."
Tailor-made activities in spectacular surroundings
Among the many activities Lyngen Experience provides, there is everything from snow scooters and whale safaris to skiing and dogsledding. The main product is, unsurprisingly, a northern lights tour. The hotel has its own northern light guide, who is renowned for being one of the best northern lights guides and photographers in Norway, known as 'the Aurora Chaser', Kjetil Skogli.
Guests can book northern lights tours with one of the most famous northern lights guides in Norway. Photo: Kjetil Skogli
"We mainly work with groups of six, to ensure that everyone involved is seen and gets their needs and wishes met," explains Nilsen. "What makes it even better is that all the activities start on our doorstep, so we can spend all our time doing the actual activity, instead of having to drive for hours."
Lyngen Experience offers a broad range of activities, from dogsledding to whale safaris.
However, Lyngen is not only a place for the winter. In the summer, you can camp under the midnight sun and enjoy spectacular hikes and fishing trips. The area offers incredible hiking possibilities for all levels, and the hotel has certified guides to show visitors the way in the mountains.
Lyngen Experience also offers photography courses, kayaking trips and outdoor yoga. The hotel even tailor-makes activities for larger groups and organisations that wish to rent part of, or the entire, lodge. "We have done so many fun things with different visiting groups. Once, we did a survival camp for a bigger group, where we set up a camp in the forest with lavvos, traditional tents," says Nilsen. "Only the imagination can limit what we do for our customers."
Facebook: Lyngen Experience
Instagram: @lyngenexperience
YouTube: Lyngen Experience
Subscribe to Our Newsletter
Receive our monthly newsletter by email