Magnus Nilsson – The Nordic Cookbook: Between candour and nostalgia: a love letter to Nordic food
Text: Linnea Dunne | Photos: Erik Olsson
He is the quirky northerner who found his own way to chef stardom, finding a home in a 24,000-acre estate now known as the world's most remote restaurant. Magnus Nilsson's The Nordic Cookbook paints a picture not just of a region rich in culinary traditions, but also of a fearless foodie with a sharp pen and a deeply admirable conviction.
"To write a book like this is not only impossible, it doesn't make sense, I heard myself saying to the publisher who pitched me the idea. I don't consider myself to be Nordic; I am, in fact, Swedish or possibly Jämtlandian. I think most other people living in the Nordic region feel the same. We identify ourselves with the country we are from, not with the region that place happens to be considered part of. We don't like them becoming all lumped into one."
The first paragraph of Magnus Nilsson's The Nordic Cookbook reveals a great deal about the master chef: firstly, that he can really write; secondly, that he is unapologetically frank; and, moreover, that he is not taking the task of writing a Nordic cookbook lightly. Doing so, he goes on to suggest, would be like writing a European cookbook covering the culinary traditions of Estonia, France and Portugal in one. As such, the task must be to explain not just how similar Nordic cultures are, but also how they differ.
In the remainder of the seven-page preface, the reader learns that the author fell into a rabbit hole of research, studying a total of 400 books on the subject of Nordic cuisine, including everything from a 1755 collection of housekeeping tips for women, to a brand new volume on Scandinavian baking. His conclusion? That of what has been published in English about Nordic cooking to date, "most of it really sucks".
A few web polls later, Nilsson realised that the Nordic nations had more in common than he had anticipated and set out to focus on these shared values. He went off on a two-year research adventure, travelling extensively throughout the Nordic countries and gathering around 11,000 articles and 8,000 photographs. The result, quite a few headaches and heated debates later, was The Nordic Cookbook. "This book is not about me and my work as a chef," he insists – yet with every page, the reader gets closer to the New Nordic Cuisine pioneer that is Magnus Nilsson.
Finding Fäviken
Growing up on the island of Frösön just south of the Arctic Circle, Nilsson studied at a local cookery college before moving to Paris via Stockholm, working at celebrated restaurants L'Arpège and L'Astrance. Disillusioned by the lack of fresh produce upon his return to Sweden, he decided to study oenology instead, which in 2008 brought him to Fäviken as a 24-year-old sommelier tasked with putting together a wine cellar. A three-month contract turned into a one-year contract, and the difficulty of finding a head chef brought him back to the kitchen – 600-odd kilometres north of Stockholm.
Fäviken Magasinet, known for ingredients farmed, foraged or hunted on the 24,000-acre estate, is now listed in White Guide and dubbed the 19th best restaurant in the world. Nilsson's keenness on traditional farmhouse practices, including pickling, brining, curing and ageing, have earned him a reputation as Sweden's answer to Denmark's René Redzepi – and indeed, the long-haired Swede spoke at the Noma founder's MAD Symposium back in 2011. Today, the 12-seat restaurant serves up dishes such as raw cow's heart with marrow and flower petals and wild trout roe encased in dried pig's blood.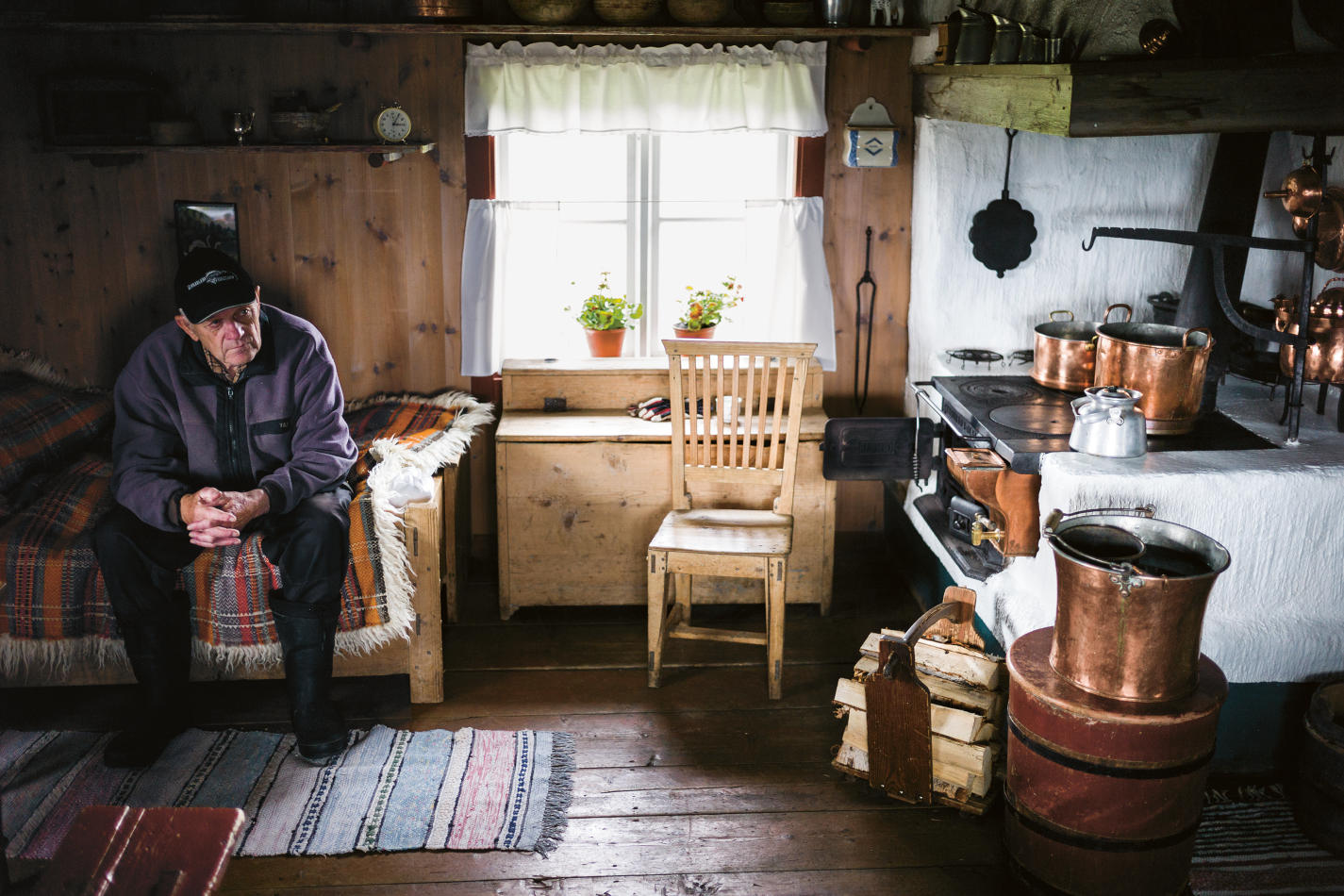 Poetic nostalgia
"This book is about documenting and telling you how it really is, rather than trying to curate something into what I dream an ideal, nostalgic world being," writes an earnest Nilsson. Yet perhaps seen from the world's most isolated restaurant, housed in an 18th century barn, reality gets a nostalgic hue. Giving a brief history of Nordic cuisine, the open cheese sandwich lauded as the defining item, The Nordic Cookbook reveals all about the Danish-Norwegian and Swedish-Finnish divide, explains the impact on produce of the varying landscape of the region, and explores the reasons why fresh, soft rye bread is the staple down south while northern Scandinavians rely on dried rye bread. The fresh-water fish chapter alone gives step-by-step guides on how to gut a round fish, how to fillet and skin a round fish, how to bread and fry fish and how to shallow-fry it. In the salt-water fish chapter, the reader finds out how to make lutefisk, gravlax, rotten shark and stockfish. Later on, of course, there are recipes for meatballs, meatloaf, black pudding, blood sausage and blood pancakes. It is unmistakably Nordic. How it really is, present tense? Perhaps through nostalgia-tinted glasses.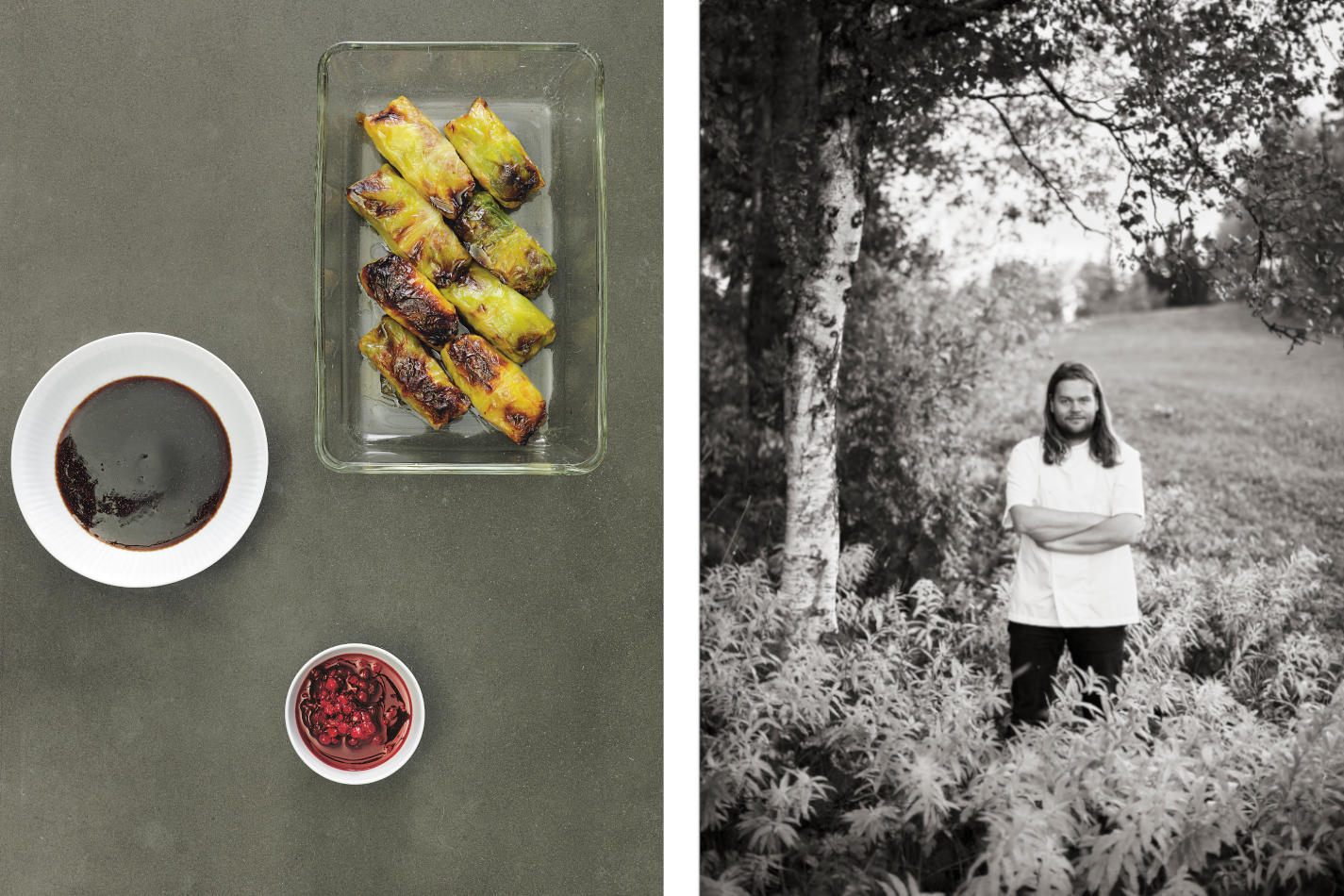 "I am sitting on a bench coated by the fine drops of morning mist, surface tension keeping them almost perfectly round. Not that it would be seen of course; for someone sitting on the bench the little globes of evaporated sea water condensed onto the cold, dark planks of wood simply look like a thick layer of grey, iridescent velvet."
The beginning of the mammals chapter is just one of the multitude examples of writing that is as poetic as it is conversational with observations as mundane as they are sharp. Real or nostalgic, The Nordic Cookbook is a food bible in its own right, interspersed with little masterpieces of writing, a generous dose of humour, and indisputable integrity and love of food. Traditional dishes such as 'dopp i grytan' (ham broth for dipping bread) meet modern favourites including taco quiches, complemented by simply stunning photographs of food as well as the environment it originates from. Local, seasonal and ingeniously imaginative, Nilsson's babies – both the book and the restaurant – will undoubtedly be remembered for a long time.

The Nordic Cookbook by Magnus Nilsson was published in 2015 by Phaidon. £29.95, www.phaidon.com
Mushroom Soup: Svampsoppa (Sweden) Preparation and cooking time: 30 minutes Serves: 4 50 g/2 oz (3½ tablespoons) butter 1 onion or a couple of shallots, finely chopped 500 g/1 lb 2 oz mushrooms, cleaned and cut into suitably sized pieces 1 clove garlic, crushed 500 ml/17 fl oz (2 cups plus 1 tablespoon) light stock/broth (chicken, vegetable or why not mushroom if you have it?) 200 ml/7 fl oz (¾ cup plus 1 tablespoon) cream, whipped to soft peaks (optional) 1 quantity Beurre Manie salt and white pepper, to taste Heat a large pot over a medium heat and add the butter and onion. When the butter is just about to start caramelizing, add the mushrooms. Cook them until cooked through and lightly golden in colour. Some mushrooms contain a lot of water, so let that reduce into the mushrooms as you fry them even if it looks like a lot. It contains a lot of flavour and should not be discarded. Add the garlic towards the end and fry it with the mushrooms for just a couple of minutes. Add the stock (broth) to the pot and bring to the boil. Add the cream if you are going to use it and simmer for a few minutes. Thicken to the desired texture with beurre manie. Don't add it all at once, start with a spoonful, whisk it in, let simmer for a few minutes and add more until you are satisfied. Remember to not thicken the soup too much at this stage if you are going to blend it. When the soup is perfectly seasoned and cooked, serve it. Either mix it a little bit or blend it until smooth. Adjust the seasoning one last time.
Subscribe to Our Newsletter
Receive our monthly newsletter by email