Marit Solum Smaaskjær: Capturing magic with pen and paper
By Celina Tran | Photos: Marit Solum Smaaskjær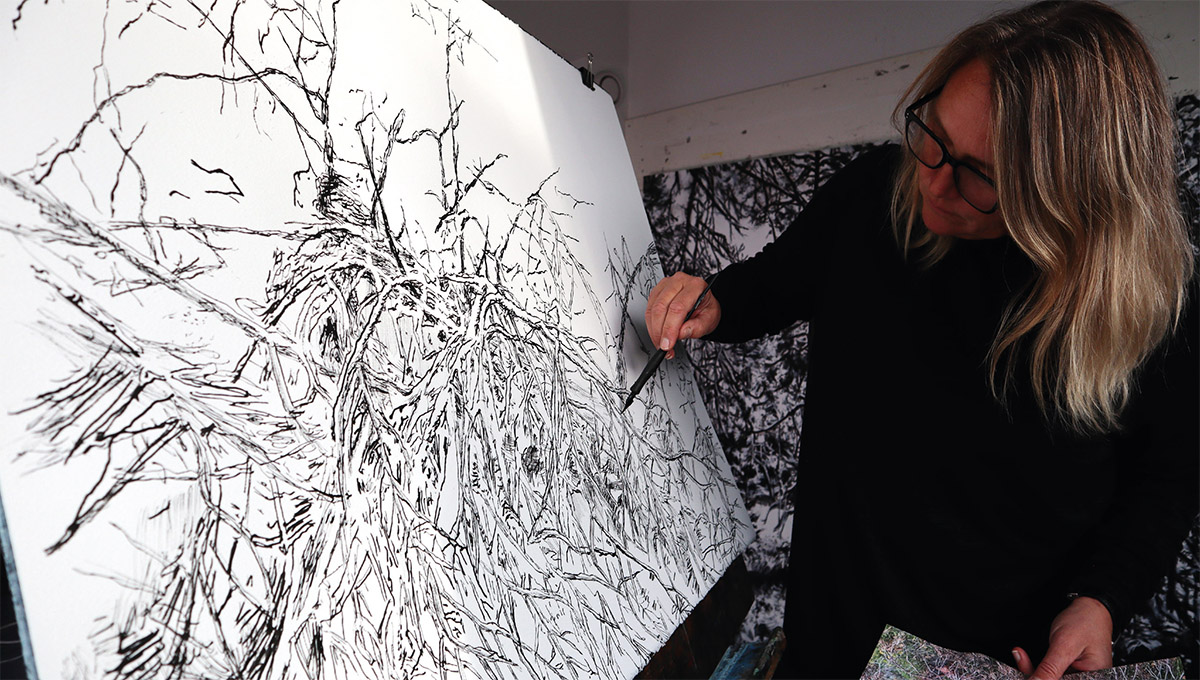 Norway's forests tell an enchanting tale as old as time, and Norwegian artist Marit Solum Smaaskjær captures the mystery on large canvases. With nearly 30 exhibitions under her belt, she provides viewers with an exclusively Norwegian nostalgia and a sense of magic.
For 20 years, Marit Solum Smaaskjær worked in the advertising industry. Despite enjoying her work, she felt that her creativity always served others, rather than her own growing need for expression. The big leap of faith of becoming a full-time artist has allowed her creativity to serve both herself and others.
"In the loud hustle and bustle that is everyday life, humans have a need to see and experience something beautiful, something our souls crave. I need to express myself and create just that," she reflects.
Whenever she's not in a bright studio filled with black-and-white canvases portraying the woods, she finds herself surrounded by the large, majestic trees of her nearby forests. They're her main source of inspiration.
"I go to the forest pretty much every day," she says. "It's a great place to find peace or to gather your thoughts, especially when you need to escape city life."
The fairytale forest – an endless source of inspiration
Norway is known for its beautiful scenery and endless fjords, but what of the woods? The citizens of the northern country take great pleasure in spending time outdoors, and from a very early age, most Norwegians find themselves hiking alongside classmates and friends. The beauty is undeniable, but there's a mystery that lurks between the branches.
"The forest and trees inspire me. Perhaps it's the light that catches my attention," Marit reveals. "Or maybe it's something that seems broken? Either way, there is something magical and mysterious about our 'fairytale forests'."
Traditional Norwegian fairytales and folklore are filled with numerous mystical creatures, from the looming trolls to the enchanting Huldra (a very seductive forest being). Most of them live in the woods – but whether or not they're the reason for the magical, fresh feeling of hiking through the woods might depend on who you ask. The sense of magic the trees provide, however, is an almost universal Norwegian experience, and is perhaps the reason why citizens keep returning to the woods.
Through her art, Marit wishes to capture and share the magical feeling of the old fairytale forest and its expressions, which she says can be "reflected in humans and our moods". She even goes on to explain that many people often see magical creatures in her art.
"I haven't put them there on purpose," she chuckles. "But then again, ever since I was young, I've also seen shapes of trolls and other creatures in the branches, stubs and rocks in the forests."

Placing magic on a canvas
"When I come home from the forest, I work towards putting my memories onto the canvas," she says. "The forest's endless variations and sizes can be both predictable and chaotic; thus I have to process, sketch and get to know it before I can truly capture the feeling in art form."
Countless sketches, trials and errors take place before her layers of unique black-and-white trees can come to life. In addition, the bright studio is a very different space from the woods, so when working on a project, Marit often finds herself going back to the original spot in the forest where she found inspiration. That way, she can recreate the same magical feeling.
Though her love for the fairytale forest and its magic is endless, she doesn't limit herself from widening her artistic horizon in the future. "When you specialise and focus on one thing, the initial intuition and playfulness can dim. Sometimes, doing something new can bring it back. I quite enjoy making portraits, too, but for now, the forest is my main area of specialisation."
Sharing her art
In addition to being an artist, Marit teaches at Nydalen Art School in Oslo. She describes art and its different forms as a "never-ending learning curve" – one she intends to continue journeying on.
"My students motivate me to continue my own educational path. As I don't have the traditional, formal, artistic education, I keep pushing myself to always learn more about art and how to create it," she says.
Marit is convinced that art can be learned in the very same way as an instrument or any other activity, and she encourages everyone to pick up a pencil or paintbrush. "Anyone can learn how to draw – all you have to do is practise!"

Web: www.maritsolum.no Facebook: Marit Solum Instagram: @marit_solum_smaaskjaer
Subscribe to Our Newsletter
Receive our monthly newsletter by email