Meripaviljonki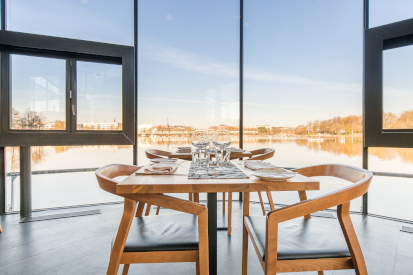 A floating seafood restaurant with panoramic views of the city and the sea
TEXT: NDÉLA FAYE | PHOTOS © RAVINTOLA MERIPAVILJONKI
Specialising in seafood, Meripaviljonki – meaning sea pavilion – is a unique floating restaurant in Helsinki, Finland. The restaurant has anchored itself as one of the go-to spots in the Finnish capital for the freshest seasonal delicacies, surrounded by the sea and the city.
Located in Hakaniemi, in the centre of Helsinki, the Meripaviljonki restaurant, opened in 2015, is the result of an exciting and long process that stretched over ten years from planning to completion. Through many twists and turns, planning permission was finally granted to build a floating restaurant, overlooking the Eläintarhanlahti bay.
The venue, designed by architect Simo Freese, is built on steel pins and moves along with the tide. Meripaviljonki's facade is made of glass from floor to ceiling, offering panoramic views of the cityscape and the sea from each table. "Our restaurant is an excellent example of Finnish know-how, and a real piece of architectural art. We have managed to carve ourselves a spot as part of the trendy and exciting cosmopolitan Helsinki, and we are very proud of what we have achieved," says Jani Korpihete, Meripaviljonki's manager.
Serving fish, shellfish and lobster from their very own tank, Meripaviljonki's versatile menu also features a number of vegetarian and meat dishes. The restaurant is deeply rooted in water, and their menu boasts the very best quality in seafood dishes and seasonal ingredients. "Our dishes are inspired by pure and authentic Finnish and Nordic flavours. We are one of the few restaurants in Helsinki that serves fresh lobster. All our seafood is fresh, and we use local ingredients whenever possible. We believe a first-class service, delicious food and carefully selected wines in a unique milieu make the ultimate recipe for our success," Korpihete states.
On Sundays, the venue draws in the crowds with its renowned brunch. The restaurant can also be booked for private events, and next spring, Meripaviljonki will open a new 150-seat terrace. While the venue's facade has a copper tint glistening in the sunshine, the terrace will undoubtedly be a hit among locals and tourists alike. "The unique milieu, paired with our high-quality dishes and drinks, means a meal at Meripaviljonki will be an unforgettable and enjoyable experience," Korpihete concludes.

Web: ravintolameripaviljonki.fi
Facebook: ravintolameripaviljonki
Subscribe to Our Newsletter
Receive our monthly newsletter by email