Mikals Laks AS – No shortcuts: A family history of award-winning salmon
Text: Linn Skjei Bjørnsen and Linnea Dunne | Photos © King Mikal Salmon | Johannes Worsøe Berg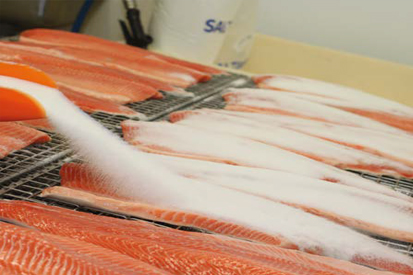 Tucked away in the picturesque Skiftun in southwestern Norway, the family-owned smokehouse Mikals Laks AS produces delicious gourmet-quality smoked and cured salmon for the conscious seafood lover.
"I was two and a half the first time I joined a sprat fishing trip on the Jøsenfjord," says Mikal Viga, owner of Mikals Laks AS, which was founded in April 2000. His family has lived by the sea for generations and began breeding trout and salmon in the Hjelmeland municipality in the 1980s. "When I started working for the family fish-farming company, then Kroken Fisk AS, I was paid in salmon!" he laughs.
Honouring traditional recipes and time-proven production methods has been at the heart of the family-run business since its inception, with nothing but natural ingredients used along with the carefully selected high-quality salmon. Here, there is no room for shortcuts. "We dry-salt our fish, and we don't use any artificial additives, only sea salt and sugar along with locally sourced juniper and beech shavings for smoking," Viga explains. "All our products are fully traceable, from fish egg to table."
The family recipe, which goes back to the 1870s, proved hugely popular with the local audience and beyond, and the business now exports products ranging from juniper smoked trout to cognac marinated salmon to everywhere from Germany and France to parts of Asia. The sales speak for themselves, but in addition, Mikals Laks AS has won an impressive number of awards, including several gold medals in the Norwegian championship for smoked and cured salmon. A number of the products have also received the Speciality Mark for unique taste, an official labelling system for locally produced, high-quality foods in Norway. "We are very proud of our products, and it is an honour to have them evaluated and approved by an independent professional jury with high competency and knowledge of gourmet food," says Viga.
It started as a family business, and it continues as such: the commercial building in Skiftun, Hjelmeland, which Viga bought and converted into a smokehouse back in 2000 now houses a flourishing business that engages the entire family. That will remain the case no matter how well the sales go. As will Viga's promise to every loyal, food-conscious customer out there: "The core of our business will always be about making honest products based on traditional recipes and methods."
Subscribe to Our Newsletter
Receive our monthly newsletter by email