Museum Ovartaci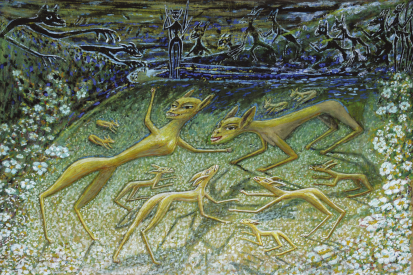 Raw and unfiltered – the art of the mentally ill
TEXT: SIGNE HANSEN | PHOTOS © MUSEUM OVARTACI
For a few months more only, visitors can explore Museum Ovartaci in its original settings at Aarhus University Hospital. The museum offers an encounter with one of Europe's largest collections of art created by people suffering from mental illness, as well as an exploration of the history of psychiatry.
From November this year, Museum Ovartaci will be moving out of its current location in the psychiatric department of Aarhus University Hospital. Built by the renowned Danish architect Michael Gottlieb Bindesbøll in 1852, the beautiful building provides a unique setting for the museum's captivating exhibitions. "Just the fact that the museum is located in an old hospital department shakes things up a bit," explains museum director Mia Lejsted. "Since the 19th century, so many people have lived out their fates here and that has left a mark − there's a special energy here from the building and its history."
Ovartaci, the man the museum is named after, was an artist and a patient at the hospital from 1929 until his death in 1985. But the art collection of Museum Ovartaci goes even further back, containing works from patients from all the way back to 1902, as well works by modern-day artists. The common denominator is that all artists have been affected by mental health disorders. Their art, combined with the museum's historic exhibition on psychiatry, make for a raw and sometimes overwhelming experience, reveals Lejsted. "Both the art and history section of the museum tell some strong stories, and we haven't glossed over anything; it's raw and unfiltered, and sometimes it can be a bit difficult. But it can also be incredibly uplifting and inspiring − you move around the whole spectrum of emotions and learn a lot during a visit here."
The museum's art collection contains more than 9,000 artworks, including everything from small woodcuttings from past patients to video installations by modern-day artists. Around 600 of those works are exhibited in the downstairs art museum, while the history of the hospital, its treatment methods and patients are depicted through recreated patient rooms, medical equipment and illustrations.
Museum Ovartaci will open in temporary locations in Katrinebjerg in Aarhus, in early 2019.
Subscribe to Our Newsletter
Receive our monthly newsletter by email