Nordmeland Gårdshotell: Experience history through luxury and farm-to-table cuisine
By Celina Tran
Tucked away in the county of Trøndelag lies a small piece of Norwegian history. Nordmeland Gårdshotell is a love story between two local family farms who have come together after several generations. Today, the modern family business aspires to provide an authentic, local and historical culinary and hotel experience.
Many city-slickers will swear that there's nothing like living in a metropolis of bustling life and flashing lights. But sometimes, the electric glow and the cacophony of car horns can turn into an urban cocktail of headaches and stress. For the moments where you need a break from the fast-paced city life, look to central Norway, where a much-needed countryside staycation awaits you. Step into history and nature through a modern, luxurious stay at Nordmeland Gårdshotell.
Nordmeland Gårdshotell is a hotel, restaurant and farm in the country, run by husband and wife Jørn Nordmeland and Signe Lillian Fagerdal Nordmeland, both heirs to their respective ancestral homesteads and farms. Their union resulted in the creation of their farm food business Nordmeland Gårdsmat (Nordmeland Farm Food), and the hotel itself.
"Our goal is to give our guests a historical, yet comfortable and welcoming experience," says Jørn. "Visitors also get a unique farm-to-fork food experience, as everything is homegrown and produced."
Combining tradition and luxury
Both the Fagerdal and the Nordmeland family farms hark back several generations. Jørn's family has run the Nordmeland farm for over a century. His ancestor Ingebrigt Sivertsen took over the grounds in 1902, and passed it down to his daughter, Sofie, who did the same with her children and so forth. In 2012, Jørn and Signe Lillian took over the Nordmeland farm.
Signe Lillian's first ancestor to run the Fagerdal farm was a man called Peder Pedersen, or 'Per Persa'. Per and his wife Elen Marie built the on-site farmhouse in 1871, and the Fagerdal farm has been passed down through the generations, since. Signe Lillian explains that the farmhouse in Fagerdal was to be torn down in 2016 – but they did not have the heart to let go.
"We started Nordmeland Gårdsmat in 2016, at the same time as the farmhouse was to be torn down. This got our thinking-wheels spinning and we developed some new ideas," she says. "In 2018, we began planning the establishment of Nordmeland Gårdshotell, a farm hotel, to give the original farmhouse new life."
The Fagerdal farmhouse was disassembled and transported to Nordmeland in 2021, and exactly 150 years after her ancestor built the house, Signe Lillian and her husband gave it a new purpose where it now serves as a historical, yet modern hotel with different rooms for each and every personality.
"Both of our familial histories and traditions are long and have been important in the making of Nordmeland Gårdshotell. We really wanted to honour our forefather, so two of the hotel rooms are called Per Persaloftet and Sofieloftet, after our ancestors Per Persa and Sofie," says Jørn.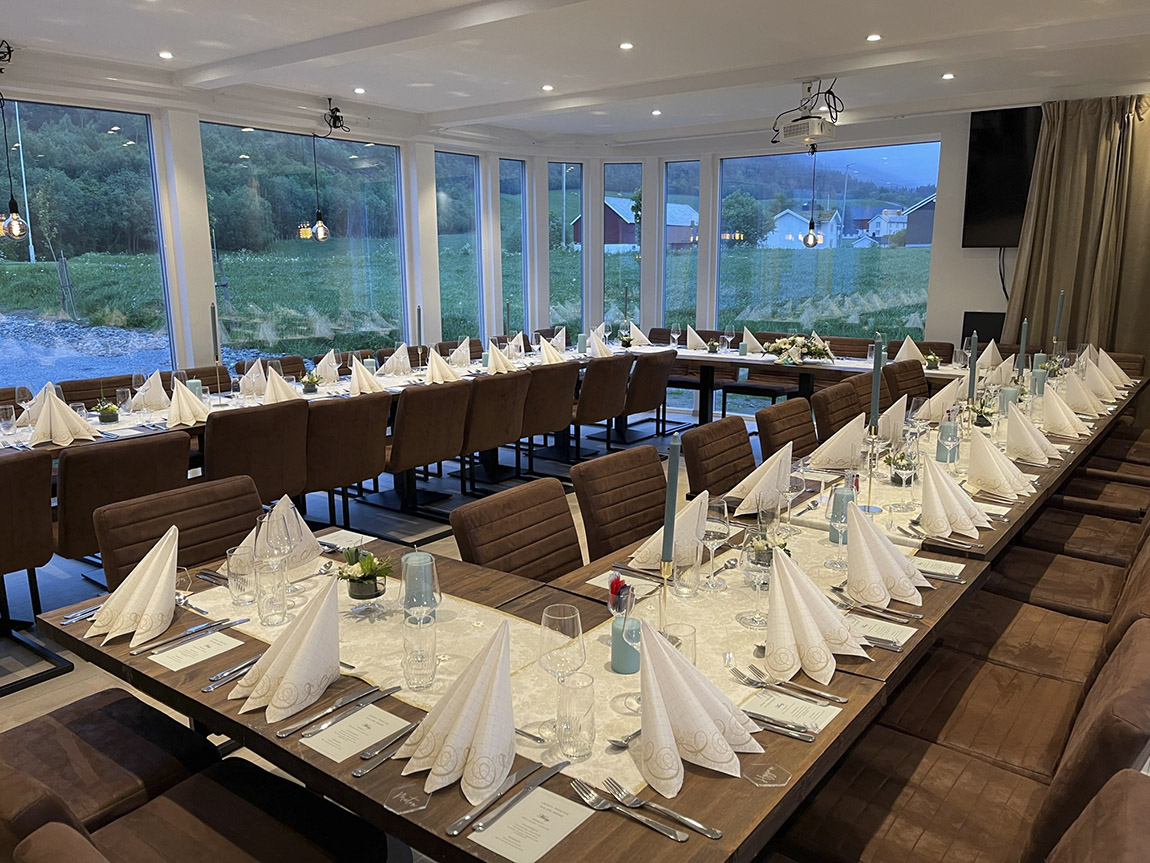 Though tradition and history still play a big part of the Nordmeland experience, the farmhouse doesn't look exactly the same as it did in the 1800s. Today, it has been spruced up and modernised, offering guests a historical, yet cosy and luxurious experience. Along with everything a 21st-century hotel visitor could want, from Wi-Fi and a minibar to a warming spa experience, Nordmeland Gårdshotell also offers an exquisite view of the nearby waterfall and river.
At Nordmeland Gårdshotell, environmental preservation and consciousness is a big priority. They utilise geothermal heat, and any surplus heat is retained in the bedrock 310 metres underground, so it can be used later.
"We only have one world, and we want our climate footprint to be minimal," says Signe Lillian. "By extracting rock heat, and storing the surplus heat for reuse, the need for other heating is minimised. We only use renewable energy, and when it comes to the greywater, we have a cutting-edge pressure-filtration system that ensures that no emissions harm the valuable nature that surrounds us."
On the doorstep, visitors can enjoy the picturesque surroundings. Perhaps the very image of Norwegian romantic nationalism, the local area offers stunning nature and farm life – a breath of fresh air to hikers, avid and amateur fishers, and nature-lovers alike.
A unique, homemade experience
History and tradition are not only part of Nordmeland Gårdshotell's walls, but also their culinary production and experience. In 2022, the area of Trøndelag was recognised with the 'European Region of Gastronomy' title. You could say it serves as central Norway's very own pantry.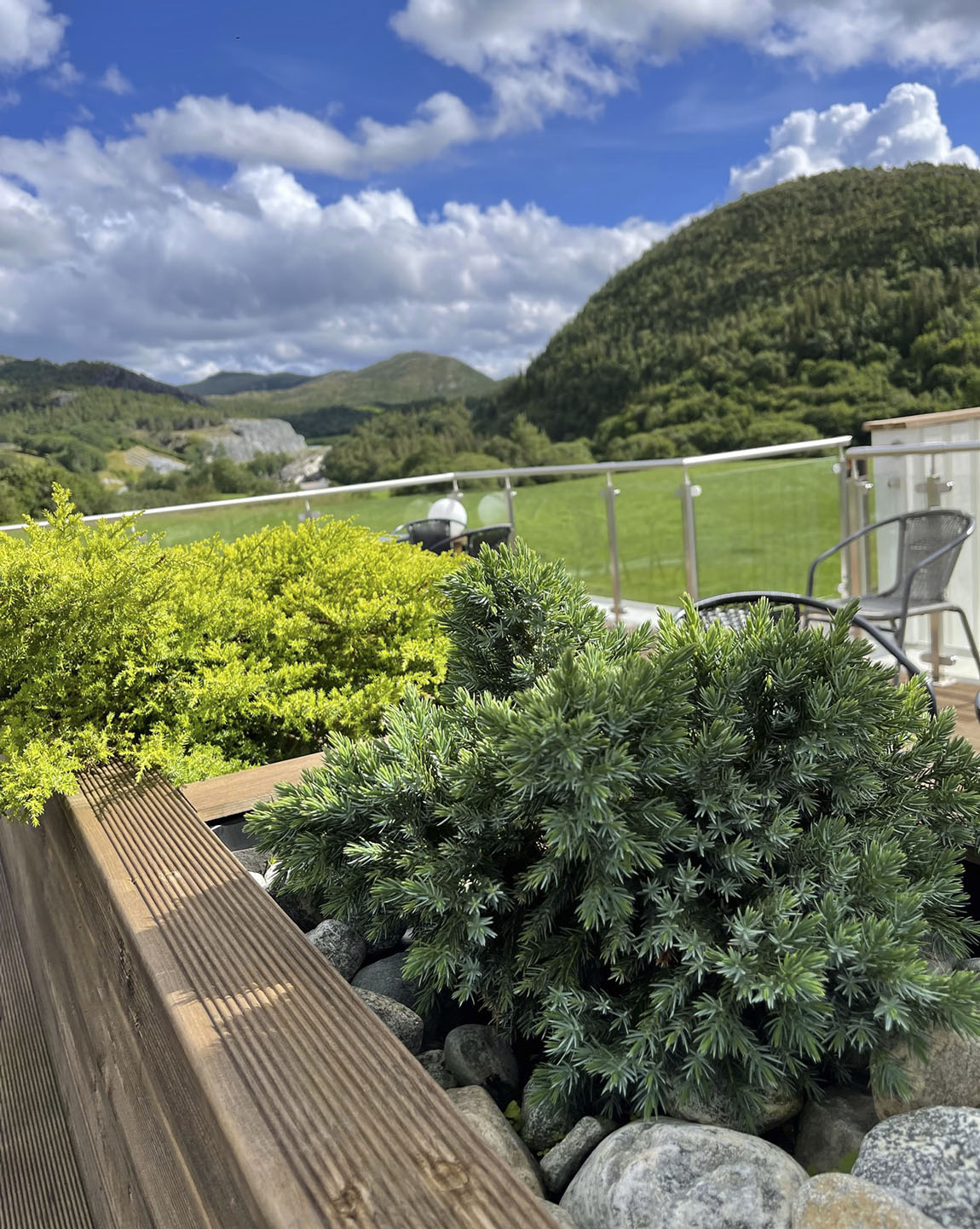 Jørn explains that every ingredient and food product is prepared and served with both love and history. The couple describe their cuisine as 'unpretentious, humble, but still luxurious', and they follow their products from farm to fork, collecting and telling the stories as they go.
"Our dishes are made of homegrown ingredients from our own farm and those of others nearby," says Jørn. "Through Nordmeland Gårdsmat and our close relationships with local producers, we support and champion local tradition. From the mushrooms and the milk to the steak and fish, we can tell the exact story of how it ended up on our guests' plates. No ingredient ever travels far from farm to table." In fact, guests can even enjoy the food with Nordmeland's homebrewed aquavit and beer. "In 2021, we were also awarded the title of 'Meat Producer of 2021', which we're very proud of," says Signe Lillian.
Upon returning to their urban and suburban homes, visitors might find it hard to let go of the fresh air and the hyperlocal food that the countryside offers. If the taste of the countryside is a little too difficult to let go of, Nordmeland also sell everything from homemade sauces and jellies, local cheeses and lemonades, to spices and meat products, so visitors can bring a piece of Trøndelag home.
Web: www.nordmeland.no Instagram: @nordmelandgardshotell Facebook: nordmelandgardshotell
Subscribe to Our Newsletter
Receive our monthly newsletter by email