Nya Carnegiebryggeriet: Stockholm's craft beer hub by the water
By Malin Norman | Photos: Nya Carnegiebryggeriet
At Nya Carnegiebryggeriet, you can enjoy the popular 100W IPA and Kellerbier, experimental new brews, or why not try a beer brewed with waste water? This brewery in Stockholm also hosts an amazing gastropub with a vibrant atmosphere.
Nya Carnegiebryggeriet has a solid history, dating back to Sweden's oldest registered brand, Carnegie Porter from 1836, then brewed in Gothenburg. This beer has long been the dominating porter in Sweden and is still available for distribution. In 2014, Nya Carnegiebryggeriet (The New Carnegie Brewery) was formed as a collaborative joint venture between Carlsberg Sweden and Brooklyn Brewery from the US, becoming an instant success.
In a converted old Luma light bulb factory in the dynamic neighbourhood of Hammarby Sjöstad, the microbrewery is a hub for beer lovers and produces a wide array of unique and tasty beers. "With Nya Carnegie, we wanted to bring craft brewing to Stockholm," says Christina Körmendi, CEO of Nya Carnegiebryggeriet. "It has become a natural place to drink beer and everyone is welcome. Also, it's in a beautiful location by the water. You can even take the boat here from Stockholm City – it's a really nice experience, so try it out if you have the chance!"
The new brew master is Tim Rose, an American with extensive brewing experience from Denmark, Germany and the US, including from Brooklyn Brewery. He leads a diverse team of Swedish, Italian, British and American brewers, who together create every beer style you can imagine, from lager and pilsner to New England IPA, sour beer and pastry stout.

100W IPA, Kellerbier and experimental brews
At Nya Carnegiebryggeriet, you can try everything from classical beer styles to experimental brews, and there is always new beer on the way. The best-seller is 100W IPA, a pale and unfiltered West Coast IPA with heaps of citrus, gooseberry and blueberry notes. It was brewed in celebration of the 100th brew, about a year after opening, and became a huge success so has remained in the line-up. The name 100W pays tribute to the old light bulb factory.
Kellerbier is another signature beer that attracts people to the brewery and gastropub, and is, without a doubt, the brewers' own favourite. The unfiltered lager is stronger than a standard Kellerbier, with a malty, bready backbone and big hop aroma and bitterness.
Neon IPA, a New England IPA in response to the so called haze craze, will be released by the brewery this spring. "A lot of modern beers nowadays are hazy," explains Körmendi. "Neon IPA is hazy, brewed with four different types of hops, yet with high drinkability. It's not too bitter, just delicious."
Experimentation is important at the brewery, which releases around three new beers per month, available on tap in the gastropub – one such addition being Hammarby Hybrid, which includes three types of yeast, three types of malt, and three types of hops. Petit Brut is another interesting beer, a sparkling grape sour fermented with Champagne yeast. Then there's Fika Stout, a breakfast stout with cinnamon, coffee and vanilla – which, naturally, goes will with cinnamon buns. And the blond barley wine Semlan, brewed with cardamom, almond and lactose, sounds amazing teamed with the Swedish pastry 'semla'.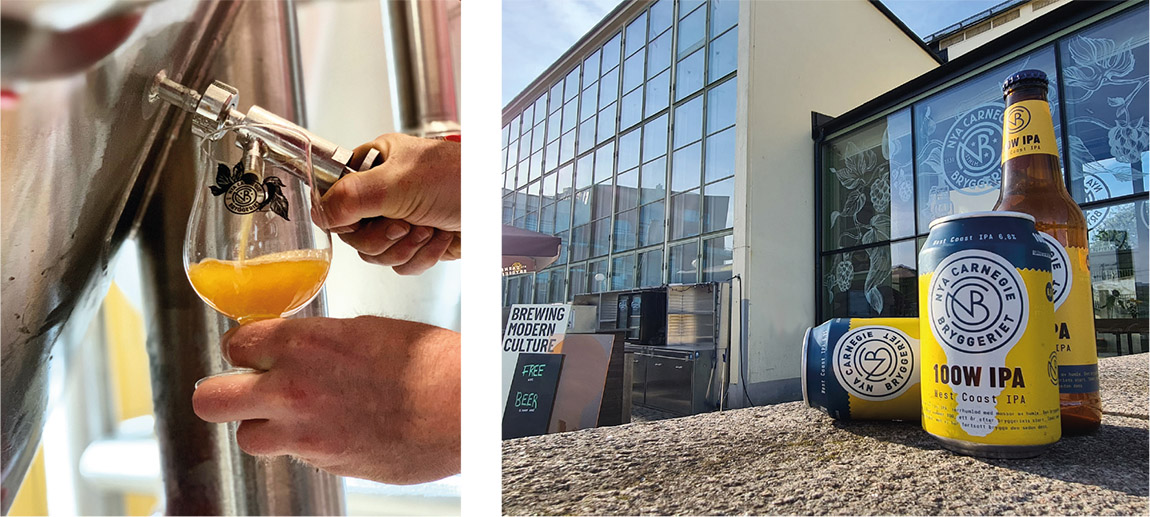 PU:REST, beer brewed with purified waste water
Nya Carnegiebryggeriet aims for circular brewing, the beer PU:REST being a great example. This is Sweden's first beer brewed with purified waste water, a collaboration between Nya Carnegiebryggeriet, IVL Swedish Environmental Institute, and Carlsberg Sweden. Together, they wanted to challenge preconceived notions about waste water and instead see it as a solution for the future. "This was a quirky project and received a lot of attention. There was a good bit of hype around it, both nationally and internationally," remembers Körmendi. "We had film crews from as far away as China and Vietnam, who came to find out about our pale lager made from waste water."
No doubt, there is always something exciting going on at this brewery. The CEO concludes: "Sustainability is key and we are constantly looking at innovative ways of brewing and using resources, as well as experimenting with ingredients for a modern twist on classic beers. But of course, the beer needs to be tasty as well!"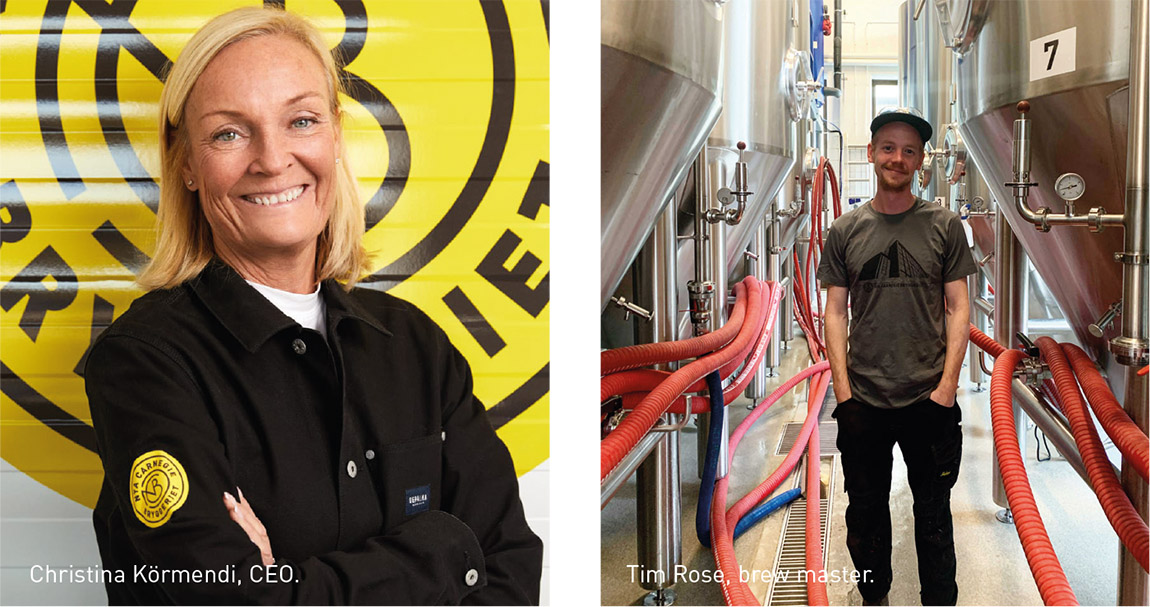 Brewery tour and beer tasting: You can visit Nya Carnegiebryggeriet to learn more about beer on a brewery tour followed by a beer tasting, have a bite to eat in the gastro pub, or just enjoy a beer in the bar. Opening hours: Tuesdays: 4pm to 10pm Wednesdays and Thursdays: 4pm to 11pm Fridays: 4pm to midnight Saturdays: 2pm to midnight Sundays and Mondays: Closed Web: www.nyacarnegiebryggeriet.se Instagram: @nyacarnegiebryggeriet
Subscribe to Our Newsletter
Receive our monthly newsletter by email