Oktoberfest Oslo: Beer, bratwurst and Bavaria – experience the traditional German Oktoberfest in Oslo City centre
By Alyssa Nilsen | Photos: Johannes Andersen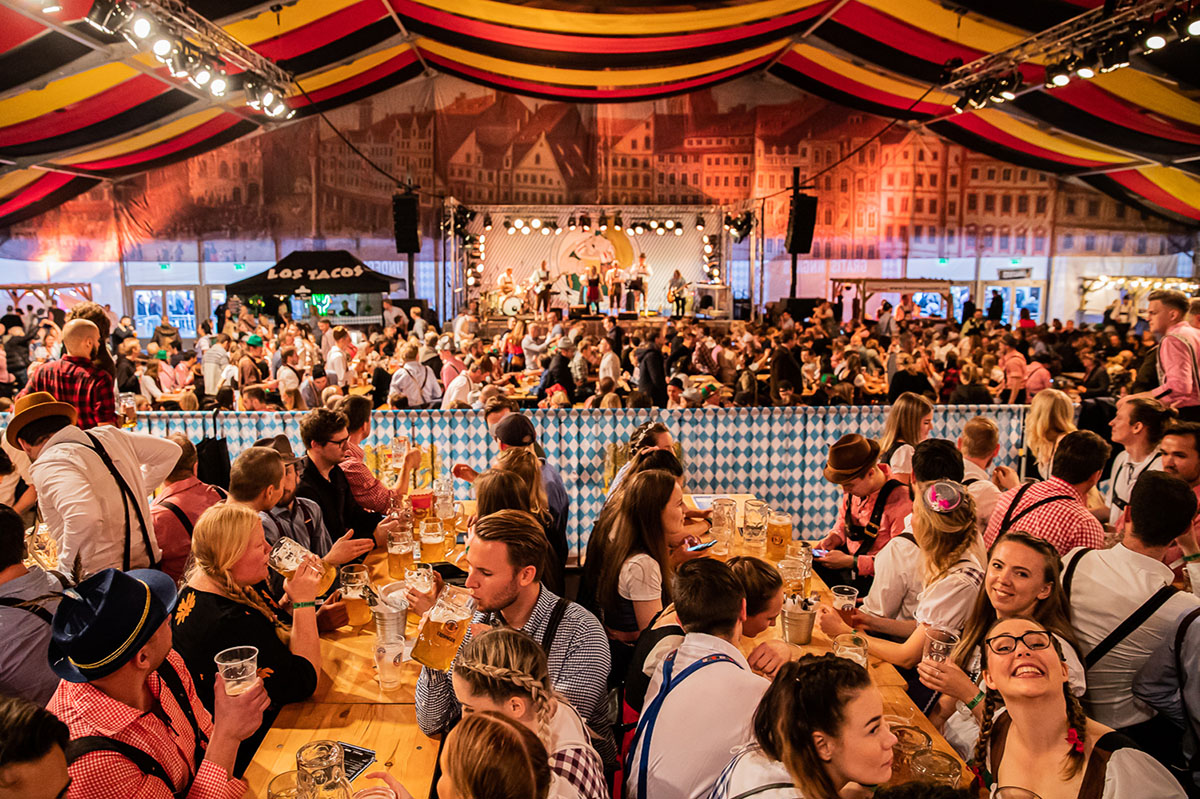 Lederhosen, Dirndl and beer served in giant seidel mugs while 'drinking songs' are sung loudly, are things you would normally associate with Bavaria and Germany. But in Oslo, Norway, Oktoberfest is also quickly becoming a popular autumnal tradition.
Each October, two large tents filled to the brim with 3,000 happy people indulging in German beer, food and traditions grace the Youngstorget square in central Oslo. Taking place during the last three weekends of October, Oktoberfest Oslo, Norway's biggest Oktoberfest, imports a little piece of Bavaria and Germany to the Nordics.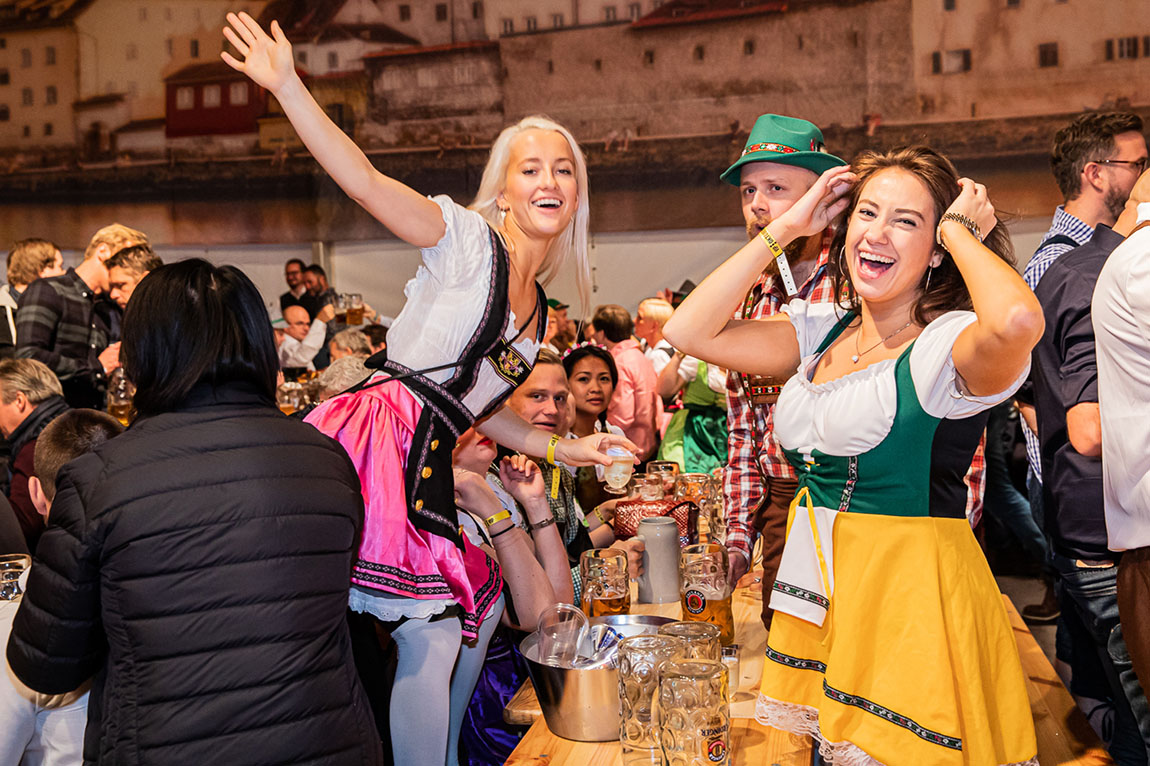 Dating back to the 19th century, Oktoberfest initially started as a celebration of the marriage of Crown Prince Ludwig – later King Ludwig I – to Princess Therese of Saxony-Hildburghausen. Having celebrated its 200th anniversary in 2010, it's one of the most widely celebrated German festivals, as famed internationally as the Irish St Patrick's Day or the Brazilian carnival parades.
In Oslo, Oktoberfest has been arranged since 2006, first in various smaller venues, before upgrading to the current large festival tents at Youngstorget in 2017.
History, tradition and beer
To get the perfect atmosphere at the festival, Tyrolean orchestra Ronald Schnipfelgrüber Tyrolerkapelle entertains the crowds with traditional singalong music and drinking songs. Everyone working the tents dons the Bavarian outfits of Dirndl and Lederhosen, and the tents are dressed up in black, red and yellow.
"A clear trend among the visitors over the past few years is that more and more of them also choose to dress up for the occasion," CEO Kalle Fostervoll says. "Women dress in the traditional Dirndl dress and men in Lederhosen, adding to the vibe and the experience of the festival. People put a lot of time and effort into their costumes. They go all in to fit into what we associate with Munich and Oktoberfest."
The festival aims to keep as close to the traditional Oktoberfest as possible, giving people the opportunity to really experience what a German Oktoberfest is actually like. Part of that means importing beer straight from Bavaria, many types of which are traditional Oktoberfest brands and beers.
Historically, only beer brewed within the City of Munich, from six traditional Munich-based breweries, was allowed to be served during Oktoberfest. The Oslo Oktoberfest expands the drinks menu with beers from the rest of the world, but guests hoping to sample German flavours will not be disappointed.
A little piece of Germany in Norway
Oktoberfest Oslo's efforts in making the festival as authentic as possible resulted in Germans travelling all the way from Germany to take part in last year's festivities when the German festival was cancelled due to Covid restrictions. "We like to call ourselves an extended part of the Federal Republic of Germany," Fostervoll laughs.
But there's more to Oktoberfest than just beer. German food is also on the menu, with meat delivered by Strøm-Larsen, including traditional sausages like Rostbratwurst, Currywurst and Cabbage Sausage. There are also dinner plates with burgers, various meats and plenty of sauerkraut, as well as an option of Mexican food delivered by Los Tacos. Vegetarian options are also available.
Tables at the festival fit four or ten people. Pre-booked tables include festival tickets as well as the option of booking sharing platters featuring meat from Strøm-Larsen, such as pork knuckles, wurst, neck chops, chicken, sauerkraut, potato salad and side dishes. Though tables can be reserved, more than one-third of the tables at the venue are available on a first-come first-served basis. VIP packages with drinks and serving platters included are also available for purchase.
Oktoberfest Oslo takes place on 13-15, 20-22 and 28-29 October For more information and to book tables, visit Oktoberfest Oslo at: Web: www.oktoberfestoslo.com Facebook: oktoberfestoslo Instagram: @oktoberfestoslo Snapchat: oktoberfestoslo
Subscribe to Our Newsletter
Receive our monthly newsletter by email