Oppigårds Bryggeri: Back to the roots of brewing
By Malin Norman | Photos: Oppigårds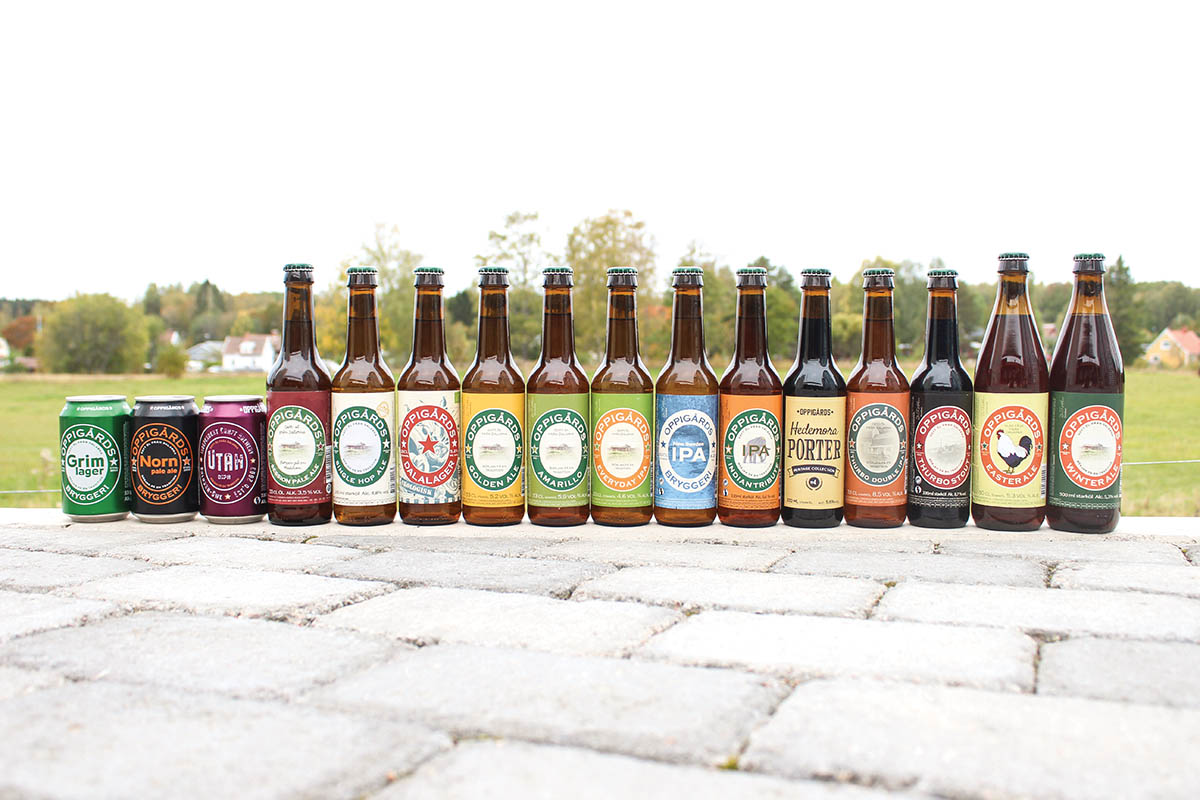 Oppigårds Bryggeri is one of Sweden's most popular craft beer breweries, praised over the years for high-quality, tasty brews. Its award-winning range will be extended this spring, with three new beers in the Heritage Collection.
Established in 2003, Oppigårds is one of the most successful craft beer breweries in Sweden, with numerous prestigious awards and best-selling beers to its name. Its first year in business, the brewery produced 8,000 litres for sale in the local area around the village of Hedemora in Dalarna. Now, the brewery produces around 2.2 million litres, available across Sweden. However, it is still a family-owned and independent business.
Following a number of successful years, and to meet increasing demand, a new brewery building was set up in 2016. "As an independent craft brewery, we need to have a plan for how to be profitable and survive long-term," says Björn Falkeström, owner and CEO of Oppigårds. "This means that we can decide how much we want to grow, if at all. Right now, we're the ideal size to maintain a sustainable production that also supports the local area."
Production centred on sustainability
Part of the long-term plan is a sustainable production model. For Oppigårds, this means taking care of by-products from brewing, and a large part is used as animal feed by farmers in the region. Spent grains consisting of malt residues from mashing become food for dairy cows, whereas yeast, hops and hot brake become prime pig food. "Not many breweries think along these terms," admits Falkeström. "Waste products are the down-side of brewing, and breweries should have a plan for how to handle this. It's second-hand produce; it can actually be used again."
Unlike other breweries, Oppigårds has its own waste water treatment plant. All the waste water from brewing goes to the plant located close by, and is purified until it reaches drinking level. The brewery is also constantly looking at ways of reducing overall waste by recycling, overseeing work procedures and conducting staff education.
"The brewery is the right size in order to handle waste products," reiterates Falkeström. "If you're too small, nobody is interested in the by-products. And if you're too large, transportation will become too expensive. At our size, we can easily distribute waste products to the farms in the local area. There's really no reason for a brewery to be bigger than this."
New additions to the Heritage Collection
In line with the sustainable approach, Oppigårds is going back to the roots of brewing by introducing some traditional beers and thereby extending the Heritage Collection, which already consists of Hedemora Porter. In early March, the brewery is launching Hedemora Pilsner, Hedemora Dunkel and Hedemora Weissbier in German-style half-litre bottles. These classic beer styles are well-balanced and easy to pair with food, and will likely become an appreciated addition to the range of beers it has at restaurants, as well as for the consumer at home.
"Over the years, we have embraced lots of new trends, brewing techniques and hops varieties," elaborates Falkeström. "For a while, brewers were trying to make more and more extreme beers, for instance stronger, hoppier and more elaborate IPAs. But when you've been in the industry for a while, you tend to eventually go back to the roots of classic beer styles." He concludes: "With the Heritage Collection, we want to highlight more traditional beers, from districts where they were first made. In our view, this is also a more sustainable way of looking at brewing."
About Oppigårds Bryggeri Located on the old family farm in the village of Ingvallsbenning in Dalarna. Produces around 2.2 million litres of beer every year. 80 per cent of sales are through the Swedish state-owned Systembolaget. Also available in Switzerland, Austria, Hungary, Slovenia, Italy, France and Spain. Best-seller: Oppigårds New Sweden IPA oppigards.com Facebook: Oppigards Instagram: @oppigardsbryggeri
Subscribe to Our Newsletter
Receive our monthly newsletter by email