Paulig Kulma: The wonderful world of coffee
By Ndéla Faye | Photos: Kim Öhman
Paulig Kulma, located in the heart of Helsinki, is a café, roastery and barista training institute. Kulma offers customers a multi-sensory experience that allows them to delve into the world of coffee. The coffee house puts sustainability and coffee at the centre of everything it does. The coffee's entire journey – from bean to cup – has been carefully thought of, through careful consideration for farmers and all the way to the baristas' expert knowledge and passion for their brew.
In 1876, Gustav Paulig set up a company that would grow into one of Finland's most successful businesses. Over the years, it anchored itself into Finnish people's daily lives as one of the most recognised coffee brands. Since its founding, Paulig has had a strong sense of entrepreneurship and vision for the future, all while creating new trends – and these things are still visible in the company today.
Paulig Kulma is a coffee house that serves freshly-roasted, hand-made coffee in Helsinki's city centre. Kulma is Paulig's flagship, and a stone's throw away from the first shop, founded by Gustav Paulig more than 140 years ago. The establishment's regularly changing coffee range consists of the latest trends in coffee from around the globe. Kulma's interior is aesthetically pleasing and funky – and very Instagrammable – making it a perfect place to taste coffees, cocktails or mocktails, alongside tasty food and cakes.
"Working in Paulig Kulma is a dream come true for coffee nerds like us," laughs Ella Takalainen, Paulig Kulma's café expert. Kulma prides itself on having the baristas with the sunniest dispositions in the whole city. "Everyone here is genuinely excited about coffee. Our staff is highly qualified and happy to talk about anything coffee-related, and serve customers their daily coffee, of course," she continues.


Sustainability is key
Customers are guaranteed to get the freshest coffee in town at Kulma, as their in-house roasters, Tomi Nieminen and Mihkel Jurimaa, roast the coffee beans on site. Each batch of coffee is lovingly roasted in small batches, using a small drum roaster, in order to preserve all the wonderful aromas and flavours of the coffee. The in-house roasting machine – named Bertha, as an homage to Gustav Paulig's wife – functions on biogas, which means that the coffee is roasted using 100 per cent renewable energy.
All Paulig Kulma's coffee is sourced through verified sustainable partnership programmes or certified sustainable sources. This is something the company is very proud of, as sustainability is a matter close to its heart. "Our thorough knowledge of the origins of our coffee and the long-term cooperation with farmers are crucial parts and the foundation of all our sourcing. The quality and great taste of coffee are only created through responsible behaviour. Sustainability is such an important part of what we do – and our great-tasting coffee is testament to that," Takalainen explains.
In addition, any coffee produced during tastings at Paulig Kulma is donated to a local charity, as Paulig Kulma feels that none of the precious coffee should be wasted. Sustainability, with the aim of being zero-waste, is at the heart of Kulma's ethos. Even the staff uniforms are made from recycled materials, and the coffee beans sold on the premises are wrapped in ecological packaging.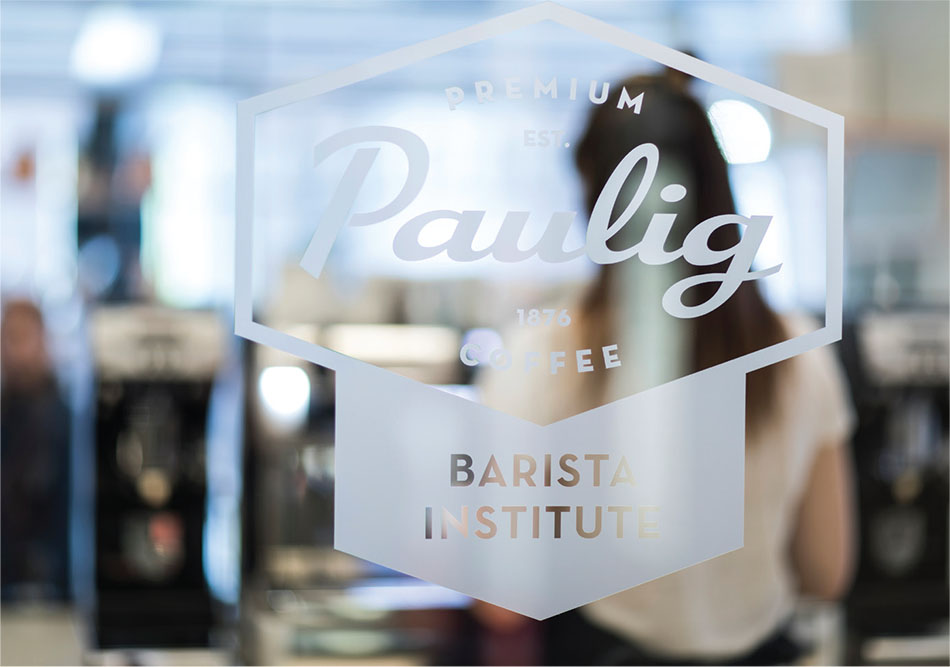 Training new coffee lovers
The Paulig Barista Institute is an internationally recognised and Speciality Coffee Association (SCA) certified training community, and part of the training is held at Kulma. The Paulig Barista Institute trains approximately 4,000 baristas annually, introducing them to the secrets of the wonderful world of coffee. "Kulma has a training room on the second floor, with windows all the way to the ceiling, so our customers can follow the newbie baristas as they learn new things. This is very much the vibe we wanted to create at Kulma: coffee is the focal point of everything we do – and it's fun and exciting, and we want our enthusiasm to rub off on our customers, too," says Takalainen.
The cherry – or froth – on top, are Kulma Live nights, which feature interesting talks, competitions, as well as music performances by various artists and DJs. "This is a perfect place to hang out and relax – and it's also a place where people can explore the world of coffee. Coffee is a wonderful, delicate and nuanced ingredient, and that is why we are so passionate about it – and what better place to enjoy it than here," the coffee expert concludes.
Web: www.paulig.fi/kulma Facebook: Paulig Kulma Instagram: @pauligkulma
Subscribe to Our Newsletter
Receive our monthly newsletter by email