Pincho Nation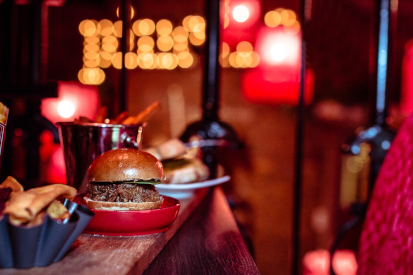 The app restaurant taking Scandinavia by storm
TEXT: JOSEFINE OLDER STEFFENSEN | PHOTOS © PINCHO NATION
Just a short walk from Nørreport station in the centre of Copenhagen, lies Pincho Nation, a restaurant where booking a table, ordering and paying is all done via their app. With small plates featuring food from across the world, colourful cocktails and a circus and Moulin Rouge inspired décor, Pincho Nation is sure to draw you in, whatever your taste.
The first thing you are greeted by at Pincho Nation is a lion that roars at you, before you are then given a bag of popcorn from the popcorn machine and shown to your table. And thus, the show can begin. Pincho Nation makes eating out a fun experience, where the diner is in control.
"Everything is controlled via our app, and we're the first app restaurant in the world," explains Flemming Christophersen, director and co-owner of Pincho Nation in Denmark. "The app is used to book tables, as well as for ordering when you're in the restaurant. And if you pay through the app as well, you earn bonus points that can be spent on dishes."
Small dishes at small prices
The dishes are served tapas style and each person creates their own board from the varied and large menu, which has very reasonable prices. "We always suggest people start with three or four tapas, and they can always order more." The dishes are ordered via the app and are then collected at the bar alongside any cocktails or drinks.
There is a general feeling of fun and happiness inside Pincho Nation, with the colourful décor and tasty and photogenic food, as well as the vibrant cocktails which are decorated with sweets. "We want to make it a place where people can have fun and relax. The food becomes the focus and there's a relaxed atmosphere throughout the restaurant."
Pincho Nation caters for all, with clear descriptions of ingredients, lots of vegan and vegetarian dishes and both classic cocktails and non-alcoholic mocktails, making it an easy place for everyone to enjoy a meal together. Pincho Nation have created a new dining experience where a fun culinary experience is at the centre of everything.
And for those without a smartphone or with a low battery, Pincho Nation have phones and chargers you can borrow!
Web: pinchonation.dk
Instagram: @pinchonationdk
Facebook: pinchonationdk
Subscribe to Our Newsletter
Receive our monthly newsletter by email