Ravintola NOOA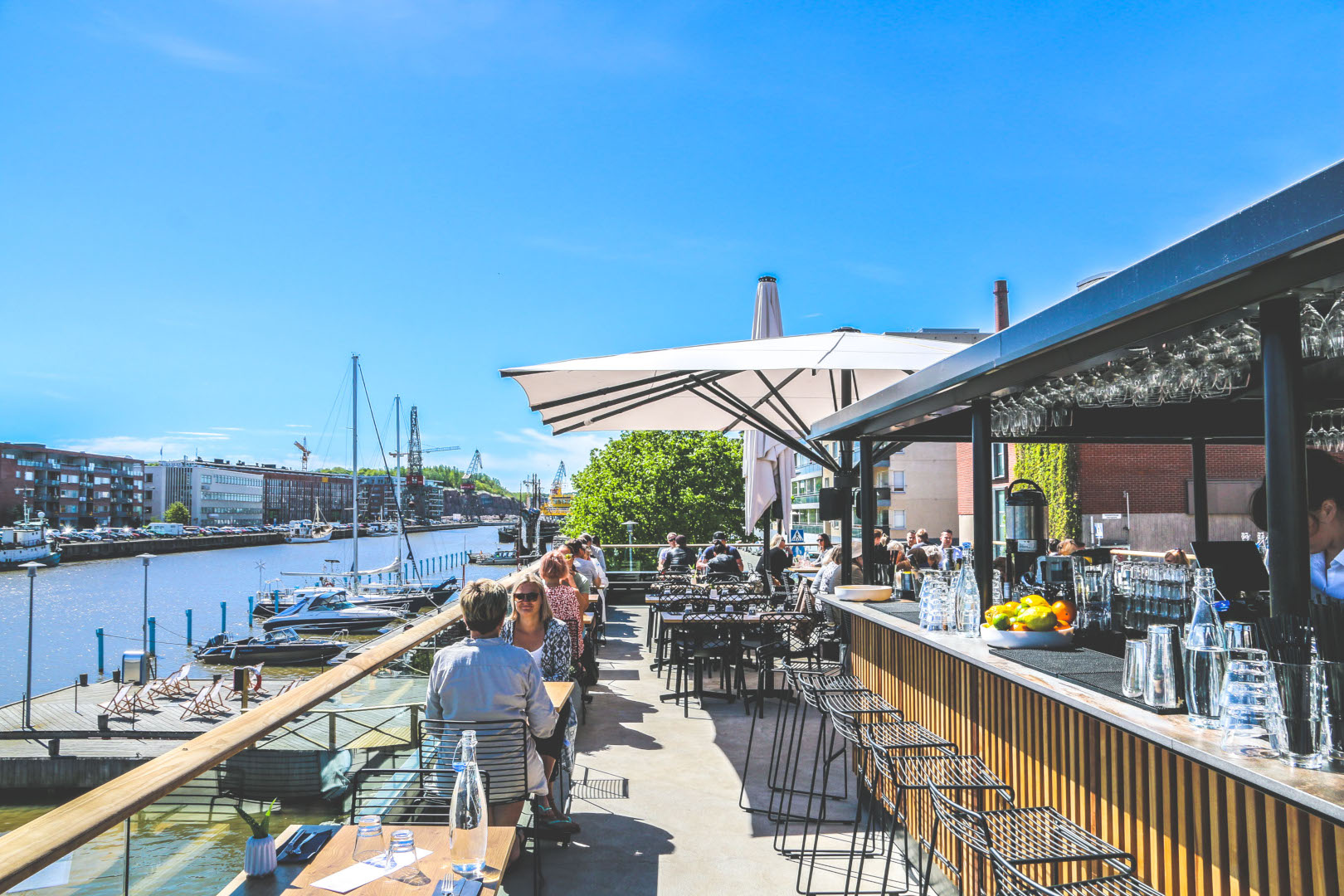 Riverfront dining
TEXT: NDÉLA FAYE | PHOTOS © MATIAS HAAPSAARI
Having opened one year ago, Ravintola NOOA is a 250-seat restaurant in Turku's guest harbour, located right in the city centre. Serving food with a modern Nordic twist, and boasting some of the best views over the city with its rooftop terrace, NOOA is the place to be for a relaxed atmosphere and great cuisine.
The stylish, large-windowed restaurant NOOA is a striking sight, located right on the Aura river. Built from metal, wood and glass, Ravintola NOOA is narrow and 33 metres long, resembling an ark, as the name indicates. The restaurant's décor is Scandinavian, and very modern and sleek, the lighting and furniture being the handiwork of local designers, Kudos Dsign. There are a lot of green, leafy plants dotted about the dining room, and wood and metal feature heavily in the décor, adding to the relaxed and stylish feel to the place. Having recently celebrated its first birthday, Ravintola NOOA has already charmed its way into many of the locals' hearts, and it has quickly become regarded as the top place to venture on a night out.
A terrace with the city's best views
With floor-to-ceiling windows, the place feels airy and spacious. The large roof terrace is one of the most popular places to go to in Turku, especially in the summertime. "Our roof terrace holds over 110 people, making it a lively and fun place to hang out in the summer," says Simo Hallikainen, Ravintola NOOA's head chef. "The terrace offers amazing views over the boats moored in the guest harbour, and a stunning panorama of the whole city is visible from the terrace," he continues. The restaurant also has a terrace down at the nearest pier, right on the riverfront.
A compact menu with a Nordic twist
NOOA's food is not focused on any particular style of cuisine – although all the dishes have a modern Nordic twist. The restaurant uses ingredients sourced from local producers wherever possible. "Many of our products are supplied by small, local producers, and supporting local business is important to us. The fish comes from a nearby fishmonger, and the vegetables come from a local greengrocer. All our dishes are created using interesting flavours, and careful consideration has also gone into making the dishes visually appealing," Hallikainen explains.
NOOA's menu is compact, with just a few starters and desserts and a handful of main dishes. The restaurant also has an extensive wine list, and diners can opt for a tasting menu that is paired with wines. Ravintola NOOA's focal point is an open kitchen, located right in the middle of the dining room. "The idea of an open kitchen also means that we want to keep things simple, and make food that is made from the very best ingredients," says Hallikainen.
Although the menu changes seasonally, one dish remains on the menu: the burger. "The beef burger is a staple. We wanted to make our menu easily accessible to all diners, and for there to be a good selection of dishes. Our burger is always made from Finnish beef, and our burger brioches come from a local bakery. From our fresh fish to vegetarian dishes, we feel that our menu is able to cater to all kinds of tastes," says Hallikainen. "We also wanted our portion sizes to be generous. We want our customers to leave satisfied," he laughs.
NOOA is also about to get a sister restaurant this summer, opening in nearby town Nagu's guest harbour. "The new restaurant will have a similar feel to it, but it will be a summertime bistro – a seasonal restaurant," says Hallikainen.
"We want to make everyone feel welcome. The relaxed atmosphere is such a big part of Ravintola NOOA's spirit, and our aim has been to make NOOA a place where customers can come and wind down, take in the sights and enjoy good food in great company. Our food is made from good-quality ingredients, and our menu offers something for everyone. We have an exceptionally beautiful location, diners are able to watch sailing boats moored in the harbour, and you can see Turku Cathedral from our roof terrace. This is the very best the city has to offer," Hallikainen concludes.
Facebook: ravintolanooa
Subscribe to Our Newsletter
Receive our monthly newsletter by email