Restaurant Broms: Your living room in central Stockholm
By Nina Bressler | Photos: Broms
R estaurant Broms was opened in Stockholm in 2013 but is already an established go-to place – with a bistro, bar and deli, it invites everyone to join anytime during the day to enjoy a beautiful breakfast, some afternoon cheese or perhaps a sumptuous dinner in a familiar and buzzing ambiance. 2020 brings many exciting developments to the table, alongside further steps towards becoming a gastronomic destination for locals, foodies and wine lovers alike.
Founder Anna Broms had a vision to create a space where everyone felt welcome when she opened her restaurant at Karlaplan in Stockholm. With an extensive background as a chef for high-profile restaurants in London, Spain and France, she wanted to incorporate that Southern Europe feel: welcoming, relaxed and always with first-class ingredients. "It was important for me to create an ambiance that invites everyone, and today we attract locals, celebrities, lone diners and big parties alike – a clear sign that we have succeeded," Broms says. The premises are decorated with art from her closest family and durable materials such as marble and mosaics, to create a familiar and rustic feel.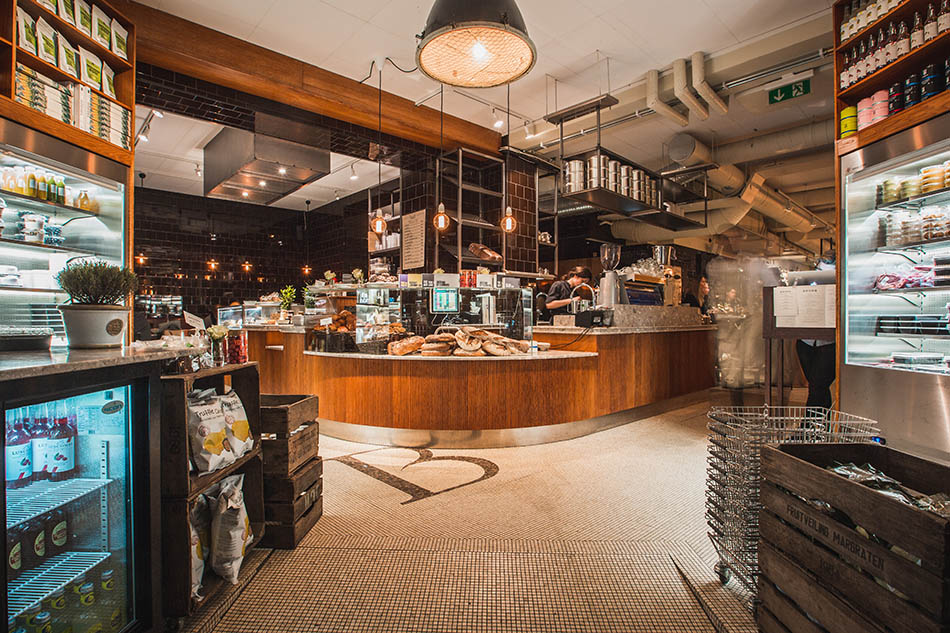 Starting this year, Broms is introducing a Gastronomic Calendar, which has been developed with the help of new head chef Magnus Persson, a well-known profile in the hospitality business and multiple medalist in the Swedish Chef Awards. The calendar will celebrate seasonal food, where events with exciting food profiles will teach guests more about the produce and the craft behind it. This January, they will be celebrating Swedish and Finnish meat, while February will be all about the Swedish 'semla' delicacy, and a whole week will be dedicated to early fruit and vegetables in May.
The deli offers Swedish as well as international delicacies – always top-quality produce, and a big part of it made in-house. This New Year, they are diving deeper into traditional food from Sweden and far beyond, and wine is on the agenda, too. "We want to be the obvious choice for wine lovers, and a new sommelier will bring some rare and exciting choices to our wine list," Broms says, and concludes: "We want to be a gathering point – not just for food and wine, but also for people. Come alone, with your friends, or why not meet new friends here?"
Web: bromskarlaplan.se Facebook: Broms Karlaplan Instagram: @bromskarlaplan
Subscribe to Our Newsletter
Receive our monthly newsletter by email