Restaurant Told & Snaps: A bite of Denmark's cultural heritage
Text: Camilla Pedersen | Photos: Ida Ejdrup Nielsen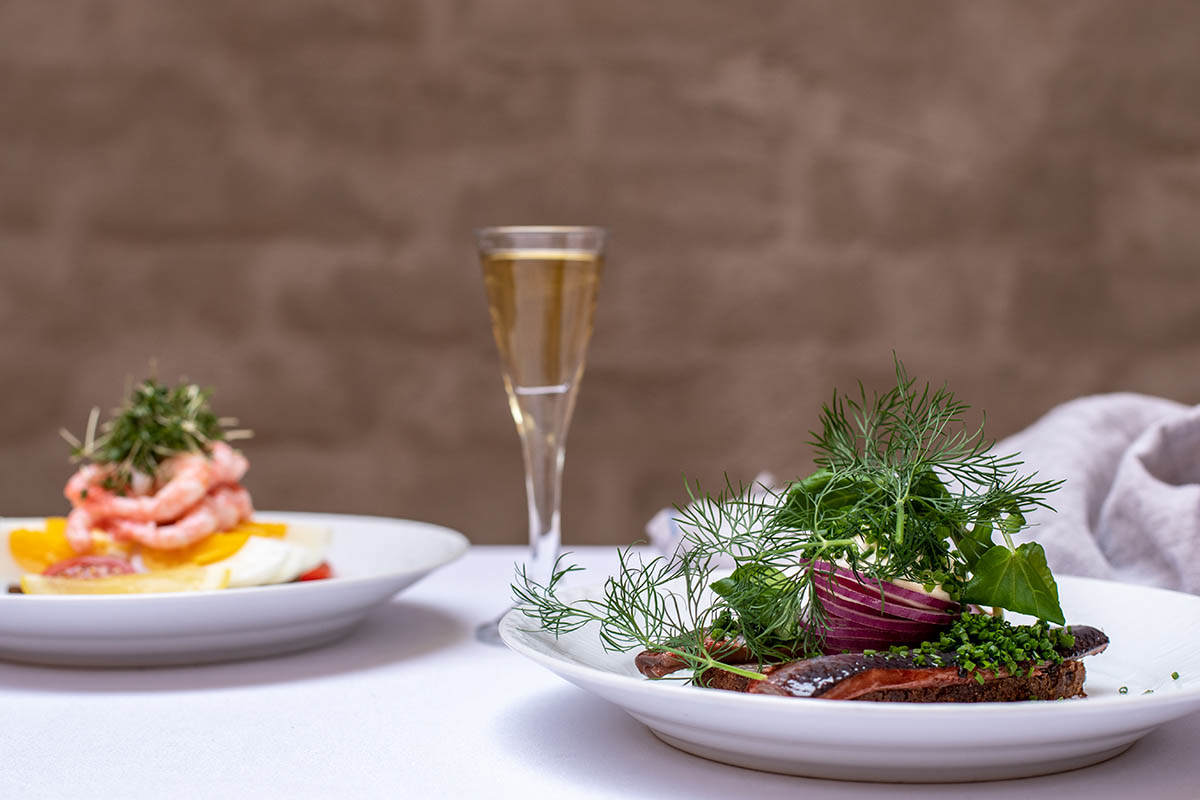 A staple on Danish lunch tables and a must-try for tourists visiting Denmark, 'smørrebrød' is getting the attention it deserves at Restaurant Told & Snaps – a traditional Danish lunch restaurant, located only a few steps away from the picturesque waterfront of Nyhavn (one more on the to-do list for many tourists), that serves the classic open-faced ryebread sandwich topped generously with some of Denmark's finest produce.
"Our smørrebrød is classic, but with a twist. The combination of buttered sourdough ryebread, careful flavour combinations of toppings, garnishes and relishes is a mouth-watering treat – also visually. Accompany your smørrebrød with a snaps, and you've had a taste of an important part of Denmark's cultural heritage," says Mette Borum, owner of Restaurant Told & Snaps. Borum opened the Danish smørrebrød restaurant in the heart of Copenhagen almost 20 years ago, and the establishment is as popular now as back then among locals and tourists alike.
A recipe for success
Curry herring with red onions, apples and egg. Pan-fried fillet of plaice with hand-shelled Greenland shrimps and homemade remoulade. Or how about warm liver pate with cucumber salad, pickled beetroot and bacon? While the varied menu offers something to satisfy any taste bud, the recipe for the restaurant's success is simple: a no-fuss approach and products of the highest quality – mostly organic and almost all homemade.
"Our remoulade, mayonnaise, pickles, apple puree – you name it – it's all homemade. Just like my grandmother did it. The only exception is the sourdough ryebread, which is freshly baked and delivered every day. If we had enough space, we would also make the bread ourselves," says Borum.
Not only the food, but also the interior is traditional. From the street, you take three steps down into the basement and are met by brown panels and wall paintings of royals – a colour scheme that is very different from the brightly coloured townhouses in the busy stretch of Nyhavn, only a few metres away. The tables are a bit close, but that's part of the charm. "It's not unusual for people to make new friends here, as it's easy to strike up conversation with the neighbouring table. We welcome people of all kinds, ages and nationalities. Especially with the New Nordic cuisine wave sweeping over Copenhagen, we often welcome tourists who are in Copenhagen to try renowned restaurants such as Noma and the likes, but who also want a traditional and authentic food experience. That is exactly what they get here," says Borum, who enjoys telling guests from afar the story about smørrebrød and its important role in Danish culture. "It's the story of our tradition for gathering around the table and enjoying a nice and simple lunch together. That's 'hygge' and an important part of Danish cultural heritage – a heritage that is deeply rooted in me, in big part because of my grandmothers. I decided to carry on that heritage by opening Restaurant Told & Snaps."
Say 'cheers'!
Told & Snaps isn't just about smørrebrød. As tradition prescribes, good smørrebrød is ideally washed down with snaps – and the restaurant doesn't just lend space to snaps in the name of the restaurant, but also physically on the premises, where they make the strong alcoholic beverage using only natural and seasonal ingredients. With a choice between adventurous flavours such as walnut, horseradish and browned butter, and more traditional styles, the list is just about as long as the food menu.
While Told & Snaps stays true to tradition, the restaurant is by no means stuck in the past. "We're always developing – not only new snaps flavours, but also ways to operate more ethically and sustainably. We used to serve eels, and the dish was one of our bestsellers, but we took it off the menu as eel is now an endangered species," Borum explains.
Whether it's the high-quality food, the innovative snaps menu or the cosy ambiance is hard to say – but the many locals who come back year after year after year to enjoy Borum's friendly welcome at the door and some of their favourite bites of Danish culture are a true testament that she's hit a sweet spot on Copenhagen's food scene.
Worked up an appetite? Find Restaurant Told & Snaps on Toldbodgade 2, Copenhagen. Mette and her friendly team are ready to welcome hungry guests every day from 11.30am to 4pm.
Web: toldogsnaps.dk Facebook: Restaurant Told & Snaps Instagram: @toldogsnaps
Subscribe to Our Newsletter
Receive our monthly newsletter by email