Restaurant Ultima: Remarkable tastes on responsible terms
Text: Mari Koskinen | Photos: Nico Backström
Hydroponically grown herbs, mushrooms grown in used coffee grounds, aeroponic potatoes and crickets in the lamps… Restaurant Ultima has brought fresh, innovative ideas to Helsinki's food scene, combining sustainability with a great dining experience. Top restaurateurs and chefs Henri Alén and Tommi Tuominen have created yet another success story, helping to reduce your carbon footprint and yet enjoy top-class cuisine.
Ultima opened in May 2018 at the best seaside location at the Market Square, right in the middle of Helsinki city centre. "Our ethos is based on sustainability and circular economy – without forgetting fantastic flavours and high-quality ingredients. We want to save natural resources for the future generations, too, and create an enjoyable dining experience with minimum waste," explains restaurant manager Saana Harjula.
"We focus on local ingredients; no less than 90 per cent of Ultima's ingredients come from Finland. We also grow some of them here at the restaurant," Harjula continues. This becomes clear for the guests, too; the vertical herb garden with a hydroponic farming system and custom-designed glass potato pots surrounds the guests in the entrance room. "Our chefs harvest just the right amount every day – hence zero waste," says Harjula.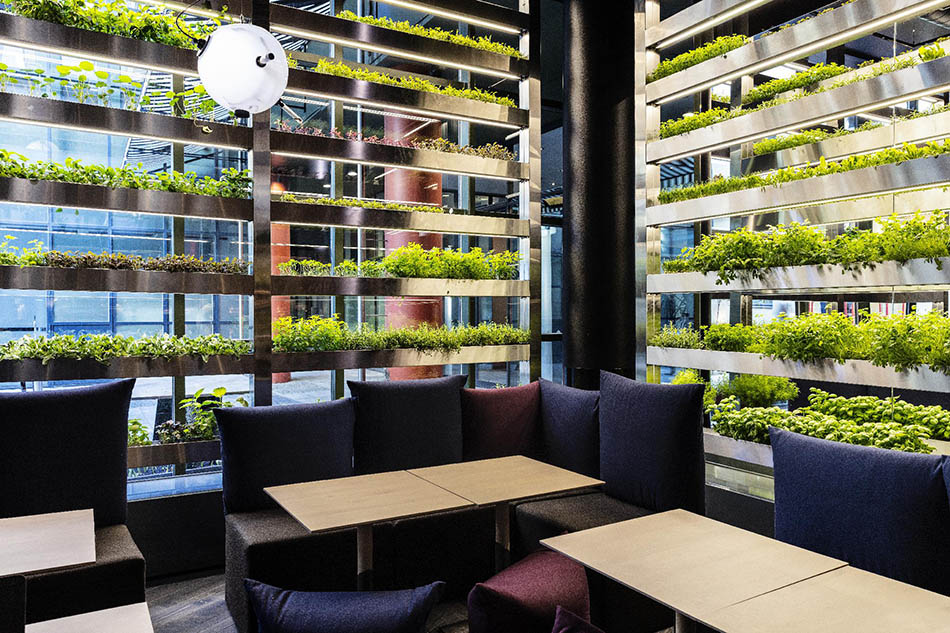 Unique design
The restaurant was designed by the renowned design and architecture studio Ateljé Sotamaa. There is a modern, futuristic feel to it, yet it allows guests to fully concentrate on the dining experience and exquisite cuisine.
Some of the interesting innovations combining contemporary design with functionality are, for example, the white, round Cricket Lamps that also function as miniature cricket farms, and Musphere – black glass sculptures which grow mushrooms in used coffee grains.
Food and flavour
Although Ultima is behind serious accomplishments in the area of responsible business, it has not made any compromises with regards to the quality of the food and the impeccable flavours of the dishes. Ultima offers seasonally changing five- and eight-course menus. "Our flavours are rooted in the Finnish soil, but we find inspiration from far and wide," Harjula says. "We like simplicity and clarity in our food."
There are also wine packages and stylish, non-alcoholic drinks designed to complement the food. Ultima is open for dining and, on request, for groups and private functions. "This month, our menu is focusing on fish. There is, for example, burbot, pikeperch and vendace roe on the menu," says Harjula.
Web: www.restaurant-ultima.fi Facebook: restaurantultima Instagram: @restaurantultima
Subscribe to Our Newsletter
Receive our monthly newsletter by email