Restaurant Urban – Culinary highlights in Kuopio
Text: Mari Koskinen | Photos © Pavel Kasinski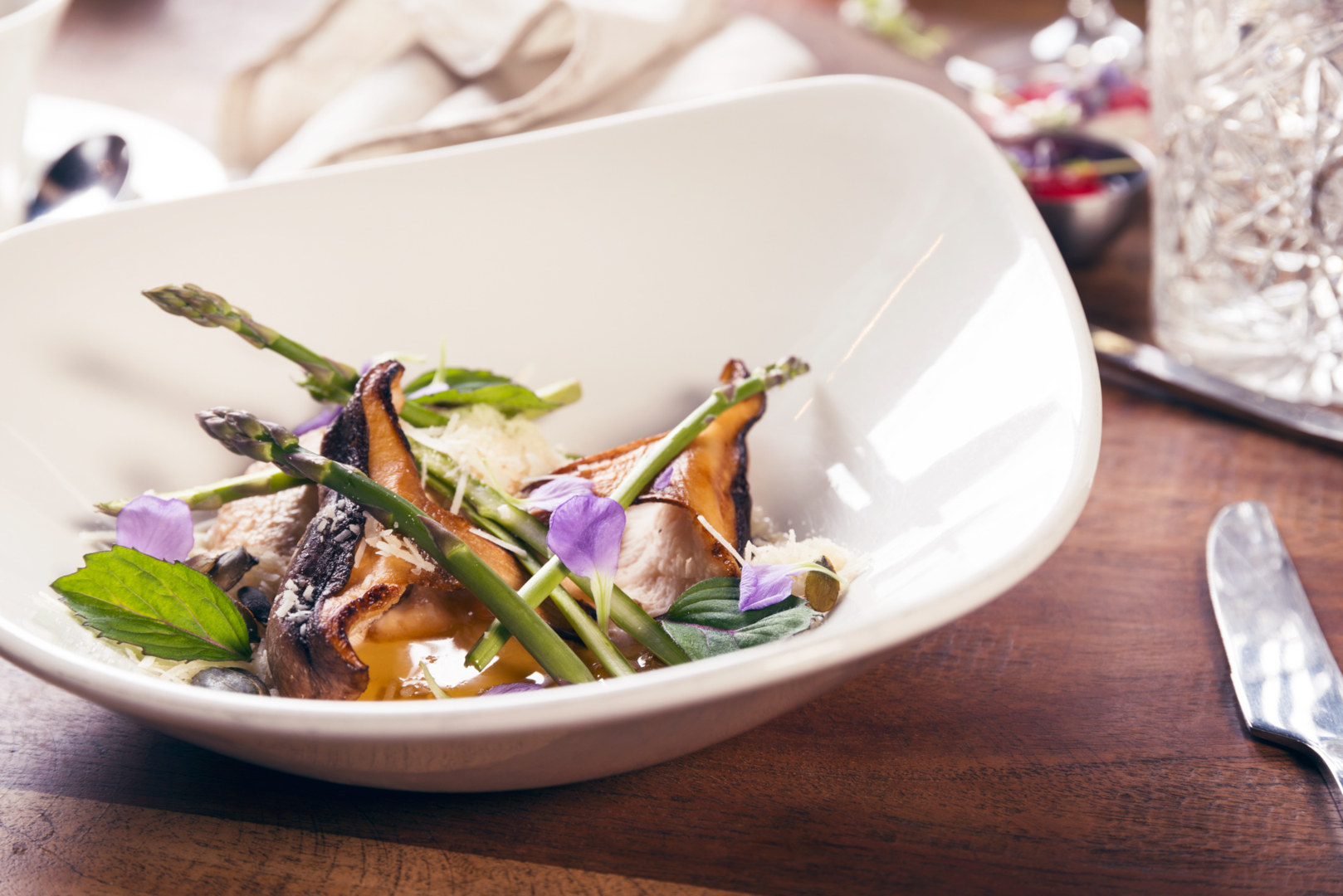 I n the centre of Kuopio is an elegant restaurant, famous for its exquisite lunches that leave everyone impressed by the beautifully decorated dishes and harmonious tastes. Restaurant Urban combines traditional French cuisine with modern international twists – yet always keeping it elegant and simple.
"We have now been open for six years," says Anssi Kantelinen, co-owner and head chef of the restaurant. "In the beginning, it was just two of us here. I was working in the kitchen and my wife, Anna, waiting tables." His wife, Anna Marttinen, co-owner and restaurant manager, has broad experience from the restaurant and catering business.
Urban has been popular since its opening. "We were surprised at how quickly people found us," Kantelinen says of the beginning of their story. "It made us happy that our cuisine attracted so many people." Urban serves lunch on weekdays, and one of the two lunch options is always vegetarian. "Vegetarian food has always been close to my heart, and I am happy if I can turn a meat lover into a veggie lover, even for just one lunch."
In the evenings, Urban caters for private functions of 20 to 50 people. Once or twice a month, they open the restaurant on the weekends, serving five-course surprise menus – evenings that have proven to be a real success and are fully booked months in advance.
Kantelinen himself is a familiar face to many, as he won the Top Chef Duels in 2015. It was the season when previously successful competitors came back to compete in passionate culinary duels, and his visually tempting and flavoursome dishes won over the judges. Another achievement under his belt is his own cook book, which received a nomination in the Gourmand Awards in 2017. The recipes come from Urban's kitchen and are all suitable for home cooking.
The restaurant has also reached some significant milestones already: in the spring of 2016, the restaurant became a member of the prestigious Chaîne des Rôtisseurs, and later in the year, they were voted best restaurant by the readers of the renowned food and wine magazine Gloria Ruoka & Viini.
Life-long inspiration
So how did Kantelinen become a chef, and where did he originally get his inspiration from? "I remember when I was 12 years old, I already knew I wanted to work with food," he says. "My roots are here in Kuopio. As a child I spent a lot of time with my grandmother; we went fishing and berry picking and worked in her garden, growing potatoes and vegetables. I also helped her storing and preserving the harvest. That way, I learnt to appreciate basic ingredients, like vegetables. Today, they are the key ingredients in many recipes."
He continues: "Another big influence was my father. He often took me out to eat, which gave me many opportunities to taste lots of different dishes – and this definitely fuelled my curiosity for food. I remember one time, when I was just a little boy, the chef brought our food to the table wearing the chef's whites and the tall white hat." He pauses. "That made quite an impression on the small boy – and perhaps took him a step closer to this career," Kantelinen reminisces on this precious moment. He is now a father himself. "At home, we cook ordinary food – but I want to pass on this tradition to my own children, and we eat out a lot; it does not need to be a special occasion."
Today, Kantelinen looks for inspiration in many places. "To balance the hectic months, we like to take a break from the routines and travel. Italy has always had a strong impact on my recipes. Our latest trip was to Vietnam, and their cuisine impressed me too. But I don't always have to get far away for inspiration; just strolling down the local streets or, for example, the beginning of a new season can give me an idea for a new dish."
Until now, the restaurant has been closed for the family's holidays, but now, with the help of the strong, professional team of four, they plan to keep the restaurant open all summer. When asked about other future plans, Kantelinen does not have to think long. "The most important thing is to continue to keep up the high standards. We are proud of our artisan food; we prepare everything ourselves and will not compromise on that. We keep our minds open and inspired for new things and update our recipes constantly to maintain a fresh feel."
New pizzas in the block
Kantelinen's new restaurant, Blocco, is a Napolese-style pizzeria serving artisan pizza and antipasto. It is located next door to Urban in Puijonkatu17, Kuopio. There, you can choose to either eat in or take away.
Kantelinen Facebook: Ravintola Urban Instagram: @ravintolaurban TripAdvisor: Restaurant Urban Blocco: Facebook: pizzeriablocco Instagram: pizzeriablocco ravintolaurban.fi
Subscribe to Our Newsletter
Receive our monthly newsletter by email