Ristorante L'Imperatore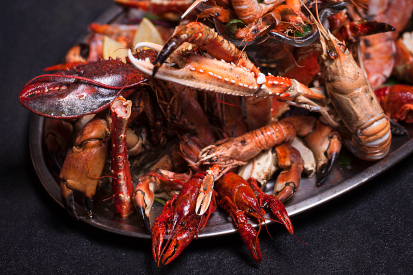 A unique shellfish restaurant in Copenhagen
TEXT: NICOLAI LISBERG | PHOTOS © RISTORANTE L'IMPERATORE

With fresh seafood, big portions, an authentic atmosphere and affordable prices, Ristorante L'imperatore will always go out of their way to give you an experience you will never forget.
Stepping into Ristorante L'imperatore is like stepping into Italy. The walls are painted with images of Italy, paintings of Venice are plastered all over the restaurant, and in the kitchen, Sicilian-born chef Armando di Raffaele is preparing your course in true Italian-style, as he has been ever since he opened up the restaurant two years ago.
"Authenticity is a keyword for us. There are a lot of good shellfish restaurants here in Copenhagen, but none with the same atmosphere that you'll find here. The interior design makes a difference and so does the fact that I prepare the dishes on recipes I learned, when I was living and working in Sicily as a chef," says di Raffaele, who grew up in a kitchen, so to speak.
His father had a restaurant in Palermo and di Raffaele quickly became a big part of that restaurant. In fact, he was still just a teenager when he became the chef at the restaurant. Since then, he has only refined his recipes. And so the guests at Ristorante L'imperatore are always guaranteed a spectacular food experience, which a guest made di Raffaele aware of not too long ago. "After he had finished eating, he came to me and asked if I was the owner of the place. I said yes, and he told me that he just wanted to pay his compliments for everything we had done throughout the evening. He said it really felt like being in Italy."
A spectacular experience
The restaurant's signature dish is the Grigliata Imperiale. A lavish and exclusive shellfish plate with everything you can possibly imagine. "We have guests travelling from far away just to try this dish, as there is really nowhere else you can get such an extravagant dish at such an affordable price. You get different kinds of lobsters, shrimps and crabs, and everything is completely fresh. There is nothing that has been frozen before we serve it. The way it has been prepared gives it a unique taste and the way it's served makes it lavish in every meaning of the word," says di Raffaele. Another famous dish at the restaurant is the Piatto Royale with steamed lobster, shrimps, Fine de Claire oysters and their well-known Vongole. It is a special kind of shellfish, which Ristorante L'imperatore prepares from an original recipe from Palermo, to give it a distinctive taste.
Happy hour and happy days
Usually, eating at a shellfish restaurant can be relative costly, but Ristorante L'imperatore have managed to put together an affordable menu for everyone. In fact, there are happy hours every day from Tuesday to Sunday, where you can try out their fresh oysters.
"It was a concept I first saw when I was in Los Angeles. I passed by this shellfish restaurant with a massive line in the middle of the day, because people wanted to eat oysters. I brought the idea back to Denmark, so now you can come here every day between 5 and 6pm, and eat oysters for ten Danish kroner a piece instead of the 30-35 Danish kroner that you often have to pay if you want oysters," says Di Raffaele.
The happy hour concept has been a big success and di Raffaele hopes to have caught the attention of the Danes when it comes to eating shellfish in general. "It seems like Danes are still not used to eating shellfish when not in Italy, or oysters when not in France, but it's improving. I hope that my restaurant can help open their eyes, so they realise that they don't have to travel to Italy to eat shellfish of the highest quality, have real Italian wines or experience a real Italian atmosphere," says di Raffaele, and adds: "Sometimes you might see one of our waiters bring out a guitar and start singing 'O Sole Mio. Not because they have to or because we are trying to force an atmosphere, but because it's who we are. We have fun while working and we want to share that fun with our guests. When the guests leave our restaurant, we want them to leave with a 'wow' feeling; a feeling of having eaten the real Italian way."
Web: limperatore.dk
Facebook: LimperatoreCph
Subscribe to Our Newsletter
Receive our monthly newsletter by email