Rørosmeieriet: Organic dairy products – in tune with nature
By Ingrid Opstad | Photos: Rørosmeieriet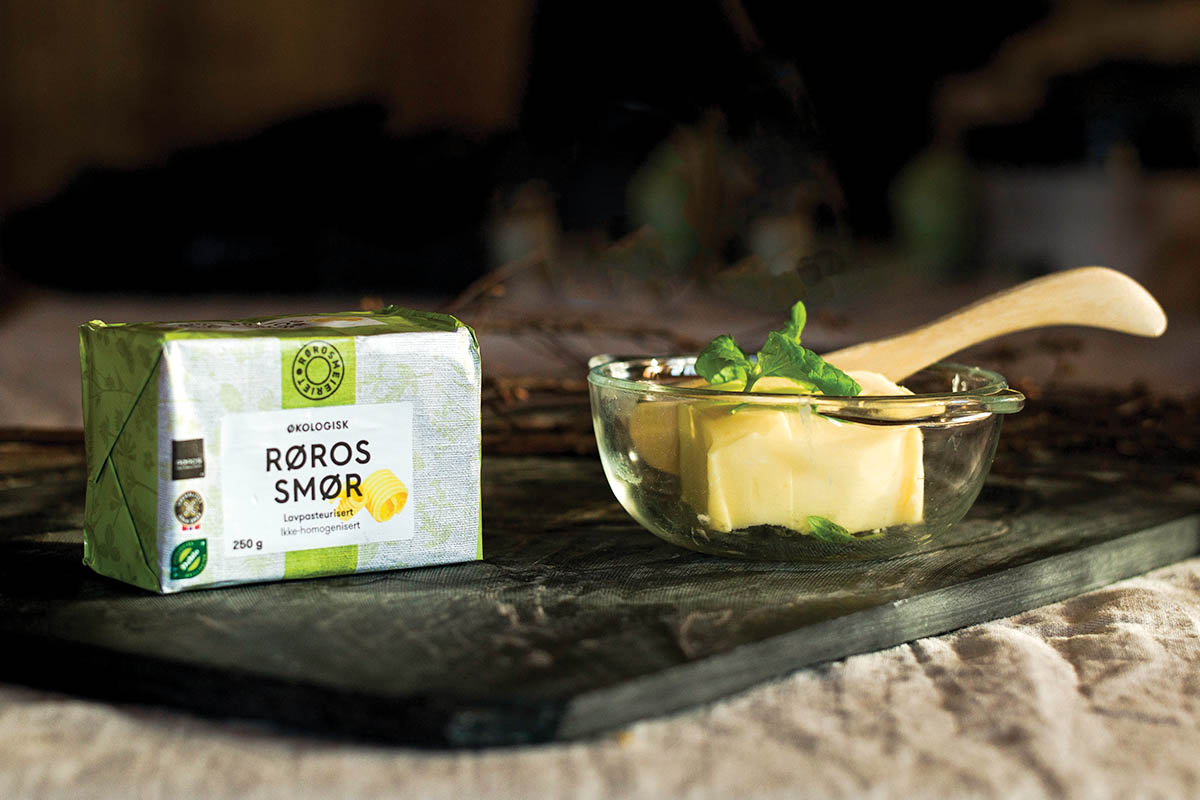 Focusing on craftsmanship and keeping in tune with nature, Rørosmeieriet is Norway's only fully organic dairy, offering a varied selection of high-quality products originating from the profound food traditions of the Røros region.
Located in one of Norway's leading regions for locally produced food, with long traditions when it comes to dairy, Rørosmeieriet is a company with a rich history. Its facilities at Røros date back to 1970 but have been renovated several times to keep up with modern technology and requirements. From 1977, the dairy was run by the largest Norwegian dairy product cooperative, Tine, but when the company was threatened with closure in 2000, four of its employees decided to join local eco farmers and founded a new dairy. Rørosmeieriet opened its doors in January 2001, with a new approach and newfound enthusiasm.
"Back then, the aim was to create more jobs than there previously were, while at the same time proving that it was worth having a dairy here at Røros. The goal was to provide a financially sustainable operation, not least to help utilise all the organic milk created on farms around the region," says Trond V. Lund, CEO at Rørosmeieriet. In 2013, all of these goals were reached, and today the dairy boasts 40 employees and impressive growth. "The goal was to process 1.5 million litres of milk, which we exceeded by 13 million litres last year," Lund says proudly.
Products favoured by chefs
The people behind Rørosmeieriet are passionate about producing high-quality products originating from the profound food traditions in the Røros region, offering a range of organic dairy products such as milk, cream, sour cream, butter, sour milk, fresh cheese and yoghurt. "You can tell that our products are the result of craftsmanship because of the flavour, and many of them are favoured by chefs all around the world because of it," says Lund.
Consequently, the Røros butter, which is the best-known product, can, for instance, be found at most Michelin-starred restaurants in Norway as well as at world-renowned Noma in Denmark, and even as far afield as in Singapore. "Firebake in Singapore uses Røros butter, among other things, to produce their own ice cream, and they say it's the best butter in the world!"
Gentle production and sustainability
As Norway's leading supplier of organic dairy products, Rørosmeieriet insists on maintaining a gentle production. "We try to treat the ingredients as carefully as possible, meaning that we use the lowest possible temperature with minimum pressure, and let produce mature and ripen without speeding up the processes. For instance, our butter takes an average of four and a half days to make because of its complex process," Lund explains.
Being one of the only dairies still using traditional methods, Rørosmeieriet stands out from the crowd. "We keep to the old-fashioned way of producing butter. The cream is acidified for a long time and then gets churned before dry salting with unrefined, Norwegian sea salt. We work to maintain its natural colour, firmness and taste," says Lund. As a result, the butter is less compact than other types, with an aromatic, slightly acidic and defined butter flavour.
Another key concern at Rørosmeieriet is sustainability. In 2006, they were the first dairy in Norway to use cartons made of only renewable materials. "Our first step towards becoming more sustainable was to use upcycled plastic, while also reducing the thickness of the carton. In 2018, we launched a new brown carton, which is more environmentally friendly since it doesn't have a printed layer," Lund explains. Besides, Rørosmeieriet has taken great strides in recent years to work on green energy and reduce greenhouse gas emissions by installing district heating and energy-efficient windows as well as carbon dioxide heat pumps.
Visit the new Opplevelsesmeieriet
Rørosmeieriet is excited to invite visitors to its new experience centre, set to open at the start of the summer and perfect for learning about history, food culture and dairy dissemination through stimulation of all the senses. It will offer guided tours and activities such as participation in product development. "We want guests to sense, experience and understand Rørosmeieriet through educational and fun experiences. You will have the opportunity to learn about the dairy and its history, taste products that may not be on the market yet, and try to make your own product," says Hilde Myhren, project manager for Opplevelsesmeieriet. "We want to convey the entire 'milkyway', as we call it – everything from what the cow eats to the finished product."
So far, parts of the centre are already open and have quickly become popular among not only school classes, businesses and pensioner groups, but also others who are simply curious of and genuinely interested in the products. Myhren recommends groups to pre-book their visit but also explains that there will be weekly guided tours scheduled throughout the summer, which anyone can sign up for and join. "There is much more craftsmanship in our dairy than many people might think, and many people today are unfamiliar with how food is made, so this is why people find it exciting to come here and actually see how it is done," Myhren says.
"In our shop, you can buy products from Røromeieriet, a glass bottle that can be refilled with milk, the Røros butter slicer designed for us by Bjørklund, and much more. And we have our own ice cream, which we believe is the best in the world, so I recommend stopping by," Myhren smiles.
Web: www.rorosmeieriet.no Facebook: rorosmeieriet Instagram: @rorosmeieriet
Subscribe to Our Newsletter
Receive our monthly newsletter by email