Røyk BBQ: Real American barbecue in Bergen, Norway
By Alyssa Nilsen | Photos: Tom Rune Flo
Right in the middle of Bergen, the city on the Norwegian west coast known for its tradi-tional wooden houses, its harbour and its tradition, you can find a little taste of the US. Røyk BBQ is Bergen's only barbecue restaurant, offering real American barbecue and street food in a cosy and relaxed setting.
Having experienced proper American cooking as an exchange student in San Antonio, Texas, during the '90s, restaurant manager and foodie Espen Næss Olsen had a dream of opening a real American barbecue restaurant in his hometown of Bergen on the western coast of Norway. With a keen interest in food, Næss Olsen always kept up to date on trends, news and what's happening on the food scene internationally, and found that street food, including barbecue, is getting increasingly popular.
So, when he got the opportunity to open a restaurant in Bergen, he grabbed it with both hands, and the resulting Røyk BBQ opened in March 2017. Along with his two business partners, Næss Olsen saw the possibility of going beyond just a restaurant, and the trio opened an adjoining spe-cialist gin bar called Ginial, as well as Kråken, a rock bar for the city's rock and metal heads.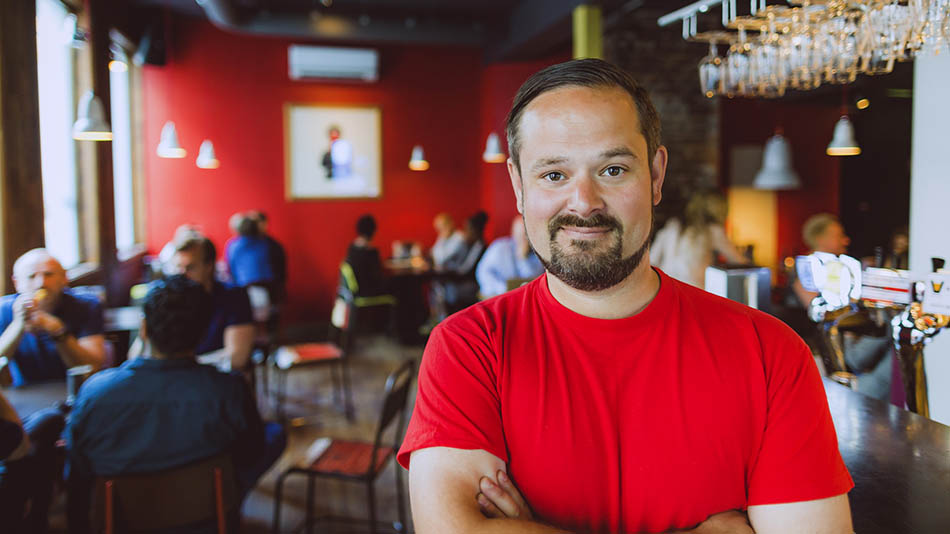 Despite being inspired by American street food, Røyk BBQ is a stylish and cosy restaurant, per-fect for a nice evening with good food and company. The menu consists of high-quality food, smoked in the restaurant's smoker oven, a Fast Eddy's™ imported from Oklahoma. "We smoke all our barbecue meat in there," Næss Olsen explains. "Beef, pork and chicken. This is so-called low 'n' slow barbecue, where the meat is smoked on low heat for up to 24 hours. The result is enormously tender and tasty meat."
The restaurant also boasts a large selection of beers, allowing for a perfect pairing with the food. The combination of food and drink is very important to Næss Olsen, whose background includes experience as both beer sommelier and wine sommelier. "I've also worked with gin before," he says, "and when my business partners wanted to add a bar to the concept, the choice of adding a gin bar was an easy one."
He adds: "Gin has had a resurgence in popularity and interest both in Norway and internationally. People choose to pay more for a specialist gin rather than multiple beers; it has become quite fashionable."
Ginial has a large selection of gins and tonics to choose between, and there are fancy Japanese ice cubes and lots of garnish. "It's a pretty nerdy bar," Næss Olsen laughs.
Good food, good drinks, and good music — all under one roof
For those wanting a more low-key night out with good friends and good music, Kråken on the top floor of the restaurant is perfect. The rock bar offers garage rock, punk and metal, board games, role-playing games, shuffleboards and a pool table. "And if people want to bring their own board games along, then that's always a good thing," Næss Olsen adds.
Games, beer and proper rock 'n' roll are all important ingredients at Kråken, and every now and then they put on gaming events, which are announced in advance online. There are also quizzes every Saturday, followed by a weekly event called Svart Lørdag ('Black Saturday'), where a black-metal DJ creates a proper dark atmosphere from 11pm onwards. Jo Aanes Rasmussen, who runs the bar, is one of Bergen's top cocktail bartenders and offers an obscure selection of liquors, fancy ice cubes and homemade syrups.
For those wanting to learn more about food and drinks, Røyk BBQ offers regular gin and beer tastings, and last year, Kråken held its first annual Halloween party. So, whether you're after a proper meal of American burgers or smoky barbecue – with vegetarian and vegan options, if needed – or a gin experience to remember, or simply to rock the night away with games, drinks and friends, Røyk BBQ has got you covered.
For more info on Røyk BBQ, booking, or a look at the menu, go to: Web: roykbbq.no Facebook: roykbbq For Ginial, go to: Facebook: ginialbar For Kråken, go to: Facebook: kraakenbar
Subscribe to Our Newsletter
Receive our monthly newsletter by email