Sagnlandet Lejre: Be part of history coming alive
Text: Louise Older Steffensen | Photos © Sagnlandet Lejre
Lejre Land of Legends is not a museum. There are no dusty exhibition booths and no angry custodians telling you not to touch anything, and your dog can roam around and bask in the sun – just like you and your family. At Sagnlandet Lejre, history comes alive and you can touch it, taste it and even live it.
Are you a Viking at heart? Pining for the Iron Age? Long ye for the simple, honest life of a 19th-century farmer or the live-hard-die-hard career of a Stone Age hunter? Or are you quite happy where you are, thank you very much? Perhaps you've yet to find out – well, the place to do so is Lejre Land of Legends, half an hour west of Copenhagen by train. Since the 1960s, these glorious rolling hills have been on a journey back in time, taking modern-day children and their adults along for the ride. The past is explored through ever-evolving reconstruction, reenactment and experimental archaeology in the capable hands of historical experts and enthusiastic volunteers.
"An ancient Chinese saying states that 'I hear and I forget; I see and I remember; I try and I understand'. That's what we live by here," says head of communications, Sanne Jakobsen. "Our guests can walk around an Iron Age settlement, interact with people living temporarily as Vikings, and see how it feels to shoot a Stone Age bow, sail a dugout canoe or cook a meal in the 1800s without any modern technology."
Live in the past
The huge open-air experience centre is brought to life thanks to people like Inger Heebøll the pot-maker, who reproduces clay creations from the earliest Mesolithic through to the 19th century. Her pots are used throughout Lejre Land of Legends, including in the newly renovated 19th-century eatery Videsøhus, which has been brought back to its days as an illicit inn. "Lejre was a really popular day out in the 1800s; it was one of the first spots for Constitution Day parties, where rich Copenhageners would swan about in rowboats and challenge each other to games of nine-pin bowling. That's all back now."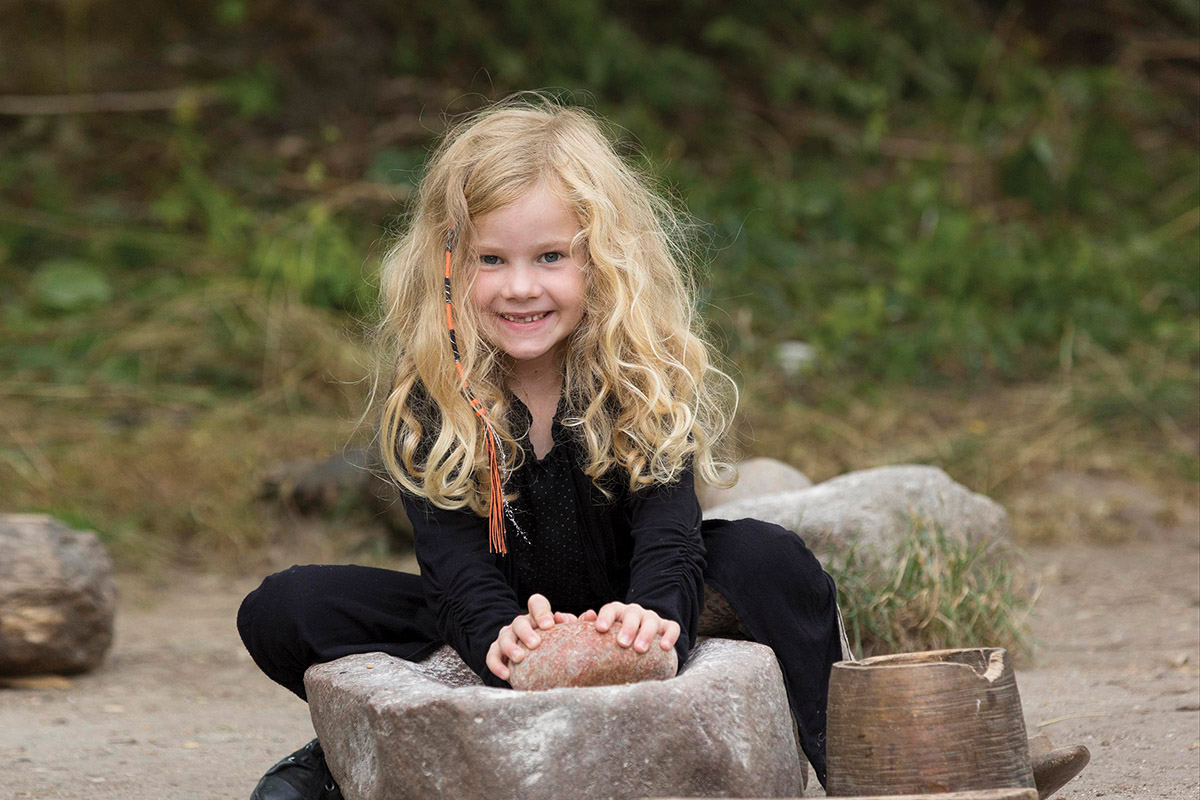 Places like the textile workshop, which recreates historical garments, dyes and textiles through experimental archaeology, are constantly adding new, valuable information to historical research, and you can be part of this history-making in action. What really makes Lejre Land of Legends special, however, are the normal, everyday families who opt to spend their holidays living as Vikings, Iron Age or 19th-century farmers, bringing the past alive unlike anywhere else. It could be you, too, if you dare.
Entrance is free with a Copenhagen Card. Web: sagnlandet.dk Facebook: SagnlandetLejre Instagram: @sagnlandetlejre
Subscribe to Our Newsletter
Receive our monthly newsletter by email