Scandinavian Everyday Heroes: Petter Uteligger
Summiting the streets of Oslo
TEXT: JULIE LINDÉN | PHOTOS © PETTER NYQUIST
It started as an idea he just could not shake. Adventurer, film maker and photographer Petter Nyquist had filmed a light-hearted project in Las Vegas when he befriended two men living on the streets of the prosperous city. Despite Nyquist's 11 expeditions to the Poles and two to Mt Everest, the idea scared him more than anything he had done before. In November 2014, he left his family, home and possessions behind to live on Oslo's streets for 52 days. The subsequent TV series, Petter Uteligger, is an ode to his most challenging adventure and the friends he made along the way.
"We met a couple of guys who lived in the tunnels under the city, and they let us stay with them for a few nights," says the 37-year-old when recalling the Vegas trip he embarked on with a colleague four years ago. "We spent a Friday gambling and sharing laughs, having an absolute blast. We just wanted to hang out on their terms. I got more and more curious about how these people were able to create a meaningful existence without having their basic needs – proper shelter, food, care – met. I realised I could find answers to those questions a mere half hour from my home in Norway."

Petter Nyquist spent seven weeks documenting what life on the streets can be like. He hopes the docuseries Petter Uteligger will help humanise the people he met to the wider public.
Overcoming fears of the unknown
Midnight, 12 November 2014. Nyquist has read his two-year-old daughter a good night story, kissed his girlfriend goodbye and closed the door to his west-of-Oslo house. He is wearing a few layers of clothing, carrying two cameras and 30NOK for the metro ride into central Oslo – substantially less than what is normally required for his expeditions, which are planned for months and to the utmost detail. In a few days, the familiar mental toil of reaching the summit of the world, or the coldest corners of the planet, will seem minuscule.
"A few days in I got quite paranoid," says Nyquist. "The lack of sleep does that to you. It's a well-known form of torture, I guess." Sleeping on benches, on floors, and – after some time – a small concrete 'cave' behind Oslo Central Station, his sleep was interrupted more often than not. "I always felt like I was being watched, like I was on somebody's radar. I wouldn't say there was one time when my fear peaked, despite hearing stories of rough sleepers being hit with bats and iron bars; it was a case of constantly being alert to what could happen and what might be lurking around the corner."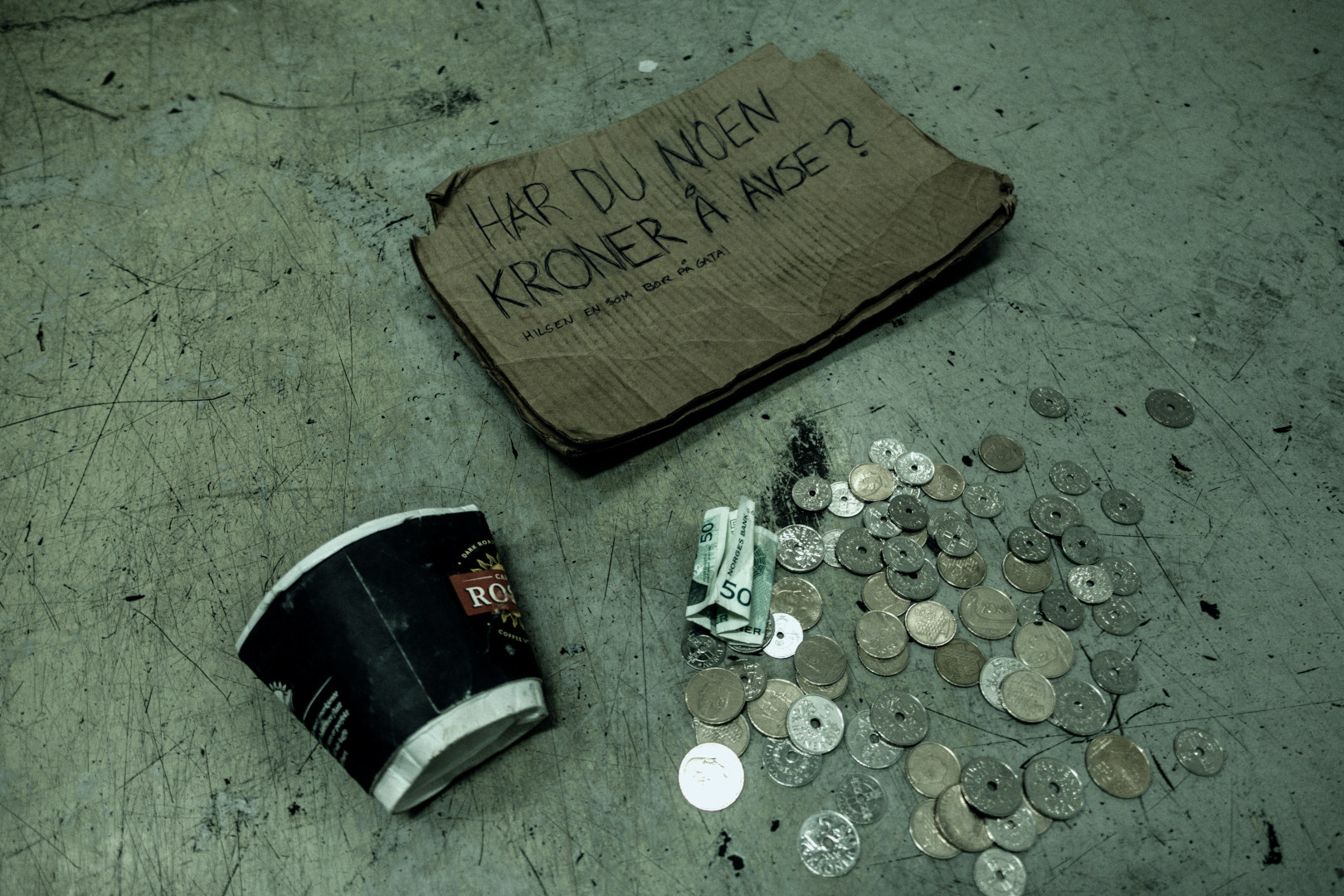 Humour, warmth and generosity
Although the initial trials made Nyquist painfully aware of the difference between his normal existence and life on the streets, he says prejudices were quickly laid to rest. "Arriving in Oslo that first night meant encountering a whole new world. Faces, people and silhouettes are different after midnight, and it was a frightening experience." The next experience was extreme hunger, and an environment of heavy drug use. Nyquist's only means of making money for food was begging and recycling plastic bottles.
"Still, it only took me about 24 hours to make my first friend. The subsequent warmth I felt from many of the people I met was what surprised me the most about the project. They shared their lives and possessions – including food – with me." The first friend in question was Svein, a person Nyquist describes as central to the narrative of the series. "We ended up bickering like an old married couple," laughs Nyquist. "His humour, warmth and generosity stay with me. We developed a special friendship that we've maintained to this day," he says, explaining how they recently spent some time at Svein's, catching up and decorating a Christmas tree. "He is, like many of the other people you meet in the series, very open. He made his life available to me because he wanted people to see what his reality is like."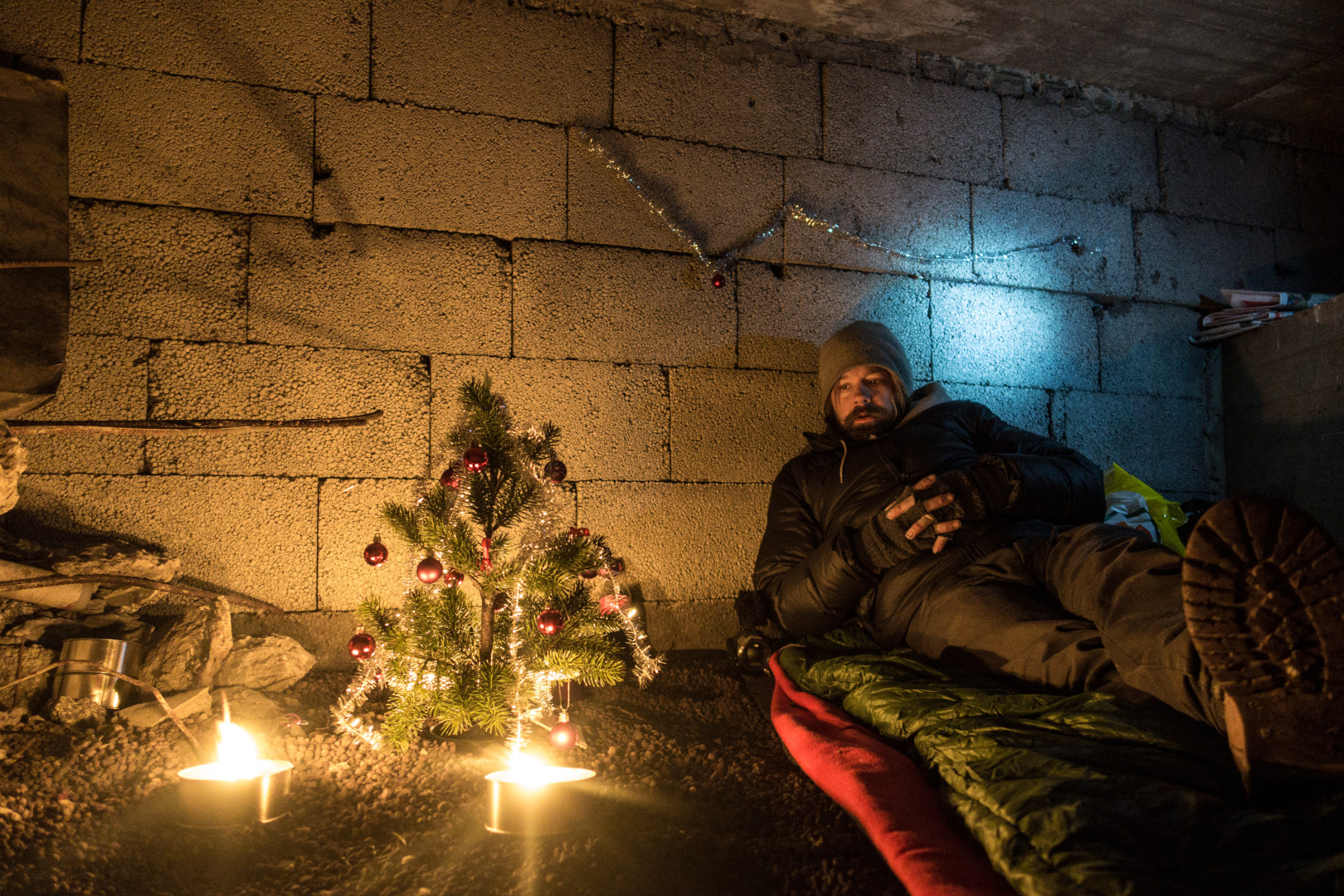 Nyquist celebrated Christmas in a small 'cave' behind Oslo Central Station. During the entire duration of his project, Christmas Eve was the only time he called home.
"Smile. Chat with them. Recognise them"
Evening, 9 December 2015. Nyquist and the friends he made on Oslo's streets present Petter Uteligger (of which the last episodes are airing this month) at Parkteatret, Oslo, to lengthy, wild and standing ovations. Nyquist has just described the despair, cold, hunger and meaninglessness he felt during the seven weeks he lived a life very different from his own. Yet, the prevailing feeling is one of hope, closeness and care. "One day as I was begging, I had a cup of coffee flung over me as a woman missed the dustbin she was aiming for. She didn't look my way," he says from the stage. "But – I also had numerous people buy me food, or stop to chat. One day…" he stops. "I made 62NOK begging. 42NOK were from a woman selling =Oslo [a Norwegian equivalent of Big Issue]. I felt bad taking the money from her, and told her about the project. She smiled and said 'you need it as much as I do'."
That Nyquist wanted the series to exude positivity amidst all the reality is palpable. So how can we help improve conditions for those living on the streets? "Smile. Chat with them. Recognise them as people," says Nyquist firmly, revealing that he is currently working on a new project involving disadvantaged people. "Hopefully, this too will help make these people human. Maybe even realise some dreams."
Subscribe to Our Newsletter
Receive our monthly newsletter by email