Sevags Grækeren: A piece of Greece in Denmark
Text: Josefine Older Steffensen | Photos: Sevags Grækeren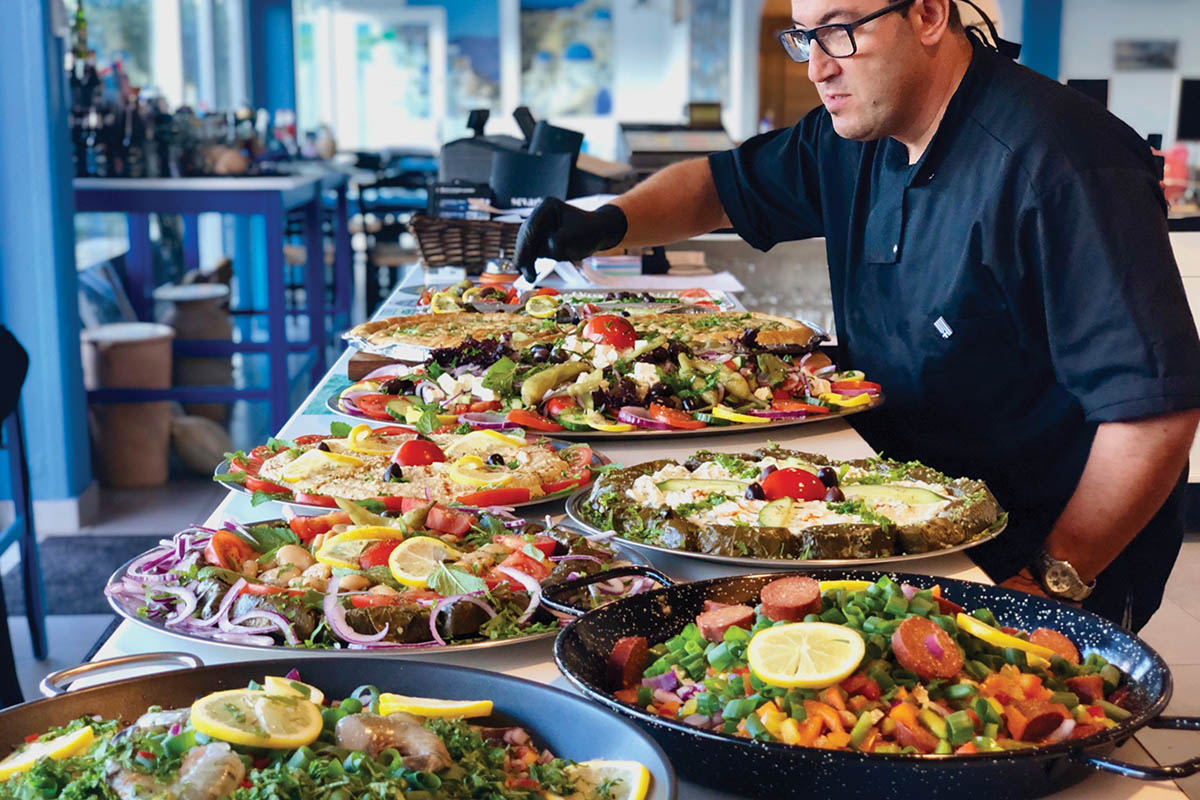 Along the coast, slightly north of Aarhus in Egaa, you'll find yourself being transported to a warmer place as soon as you step through the door of Sevag's. This Greek restaurant has stolen the hearts of the locals with its delicious food, warm welcome and friendly service.
Sevag Aharounian, who is Greek with Armenian heritage, has lived and cooked in Aarhus since the 1990s. Seven years ago, he decided to open up his own restaurant: Sevag's. "I wanted to open an authentic Greek restaurant in Aarhus and to transfer a little piece of Greece to Denmark, in order to show people what Greek food and hospitality truly are," explains Sevag.
As soon as you step inside, you are met with a welcoming smile, hug or even Sevag calling you by your name, if you are a regular. "My restaurant became my second home when I opened it. I spend a lot of time here and welcome familiar and new faces every day. It's important for me to create a friendly, warm atmosphere. I truly want people to feel at home."
Sevag the Greek of Aarhus
Sevag is in fact famous in Aarhus and is more commonly called Sevag the Greek. The restaurant is run by Sevag himself and his son Garo and daughter Nannor. "If you've never tried Greek food before, I'd suggest you try our meze. It's lots of small hot and cold dishes, giving you the opportunity to try a good variety of Greek specialties, and it's aromatic, tasty and colourful," says the restaurateur. His own personal favourite starters are dishes such as kolokithokeftedes, pikilia, saganaki meli and Retsina wine. Sevag's mix grill, authentic moussaka and arni sto fourno, which is slow-roasted lamb, are some of his favourite mains. He recommends enjoying them with ouzo or a glass of wine. "For dessert, I would definitely recommend Greek yoghurt with honey and walnuts, followed by a glass of samiotiko liqueur. Καλή μας όρεξη και στην υγεία μας. Οπαααm," he smiles, the latter meaning 'bon appetit, cheers and opaaa'.
The restaurant, which seats 70, is usually fully booked on weekends, and their take-away option is also incredibly popular. Outside of this, they can also be booked for events and special occasions.
"Before starting Sevag's, I worked in another family-owned restaurant with my oldest brother and my dad. The touching thing about having been in the restaurant business for nearly 30 years is seeing your regular guests and their families grow older with you. We may have catered for their wedding, now we're catering for their child's Christening, and later for that same child's confirmation. It's really a wonderful privilege to be a part of people's lives in that way," says Sevag.
The popular Greek
Every year in Aarhus, an award is given to the city's best restaurants, take-away, brunch and more. There are several categories and the locals vote for their favourites to win. In 2014 and 2015, Sevag's won, and in 2016, they came second, while in 2017, they were dubbed Southern European Restaurant of the Year in Denmark.
"All of these awards are a nice way to confirm that we're doing a good job, and it's a good reward for our efforts and the hard work we do. But it also gives us a drive and an obligation to continue to provide great food and experiences for our guests. The expectations are high, and we exceed them by doing our job with love, passion, dedication and hard work," explains Sevag.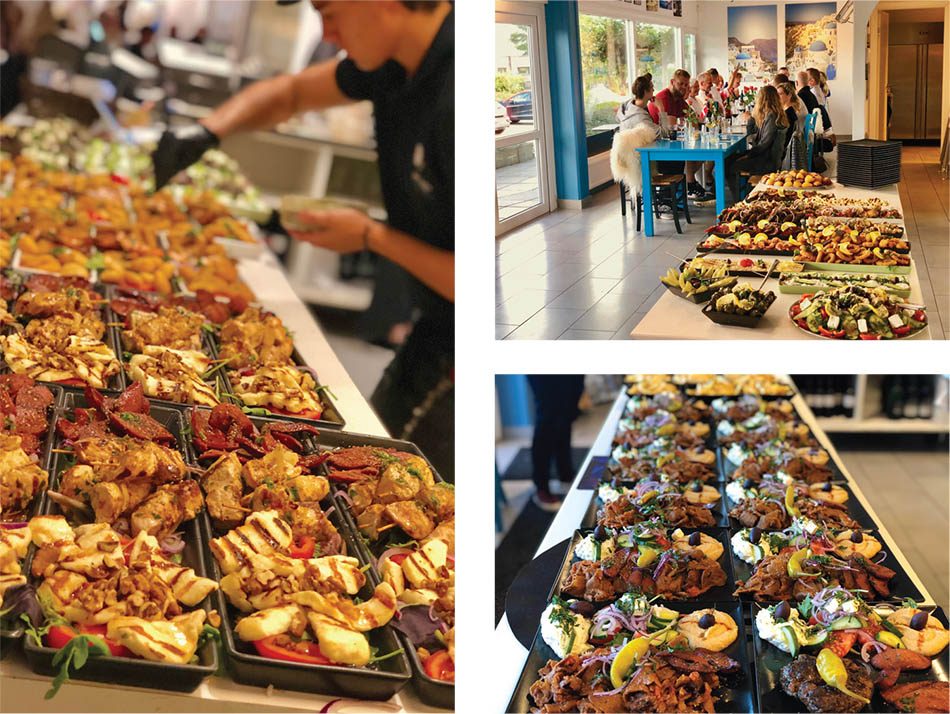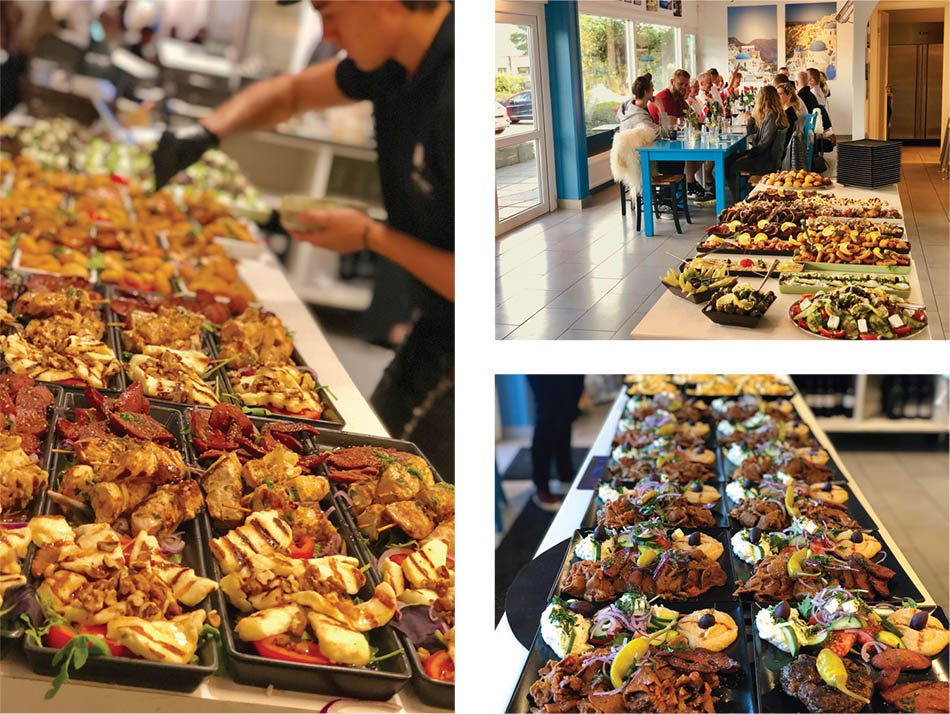 Something for everyone
The great thing about Greek food is that there is usually something everyone will like. Whether it is a pita suvlaki with tzatziki or nice, grilled lamb chops with Greek potatoes, the Greek cuisine has lots of options to suit all tastes, ages and dietary preferences. There is always help at hand when it comes to recommendations and guidance, should you have any special wishes or requirements. "For the recipes, you'll have to marry the chef," Sevag jokes.
"However busy we are, we want people to feel welcome, whether that's by stopping what we're doing to give them a heartfelt welcome or by helping someone to navigate the menu," he continues. "It's all about giving people great, authentic Greek food, good service and a fantastic experience at a decent price point."
Combining Denmark and Greece
"In Greece, I'm known as Sevag the Dane, and in Denmark, I'm known as Sevag the Greek," Sevag laughs. "In some ways, I feel like I'm an ambassador for Greece and through the food, my hospitality and my passion, I want to show what Greece has to offer. I feel very privileged that I managed to combine my Greek culture with the Danish one. I feel that by establishing Sevag's in Denmark, I have managed to create a small, Greek island in Aarhus, where everybody is welcome. Opaaa."
Web: sevags.dk Phone: +45 86176222 Facebook: Sevags Instagram: @sevags_graekeren
Subscribe to Our Newsletter
Receive our monthly newsletter by email