Skagen Fiskerestaurant: Fresh seafood, live music and splendid surroundings
By Heidi Kokborg | Photos: Skagen Fiskerestaurant
What started as just one seafood restaurant in Skagen in 1970 has since grown to be a successful restaurant chain with four locations and a boutique hotel. At Skagen Fiskerestaurant, you'll experience friendly and attentive service, live music, fantastic surroundings and, of course, seafood delights to please your taste buds.
If you love seafood, Skagen Fiskerestaurant will most definitely hit the spot. Here, you can gorge on dishes such as deep-fried flatfish, pan-fried fish cakes with homemade onion compote, Norwegian lobster bisque, monkfish burger, steamed clams, fish and chips à la Skagen, marinated herring, and much more.
"When I bought Skagen Fiskerestaurant in 2012, I thought there was a lack of focus on seafood in Denmark. Even though you can never be more than 50 kilometres away from the ocean in Denmark, most restaurants revolve around meat. That is why I wanted to focus on seafood instead," explains Jesper C. Winter, owner of Skagen Fiskerestaurant.
A couple of years after buying Skagen Fiskerestaurant, Jesper C. Winter thought it was time to expand the restaurant and allow other Danish people to get a taste of the delicious seafood they were serving their guests in Skagen. In 2016, Skagen Fiskerestaurant opened their second restaurant, this time in Copenhagen, at Illum ROOFTOP. Shortly thereafter, the restaurant grew with two more locations in Aalborg and Copenhagen: one at Budolfi Plads in Aalborg, and one more on Esplanaden Copenhagen.
"All four restaurants have extraordinary locations with amazing outdoor seating areas. In Skagen, the restaurant overlooks the marina, and in both Aalborg and Copenhagen you can get a feel of the big city life while enjoying a lovely meal," says Jesper C. Winter.
Skagen Fiskerestaurant also makes their own Skagen Bjesk, which is made from myrtle, sea buckthorn, cranberries and walnuts. This is an absolute must-try when dining at one of the restaurants.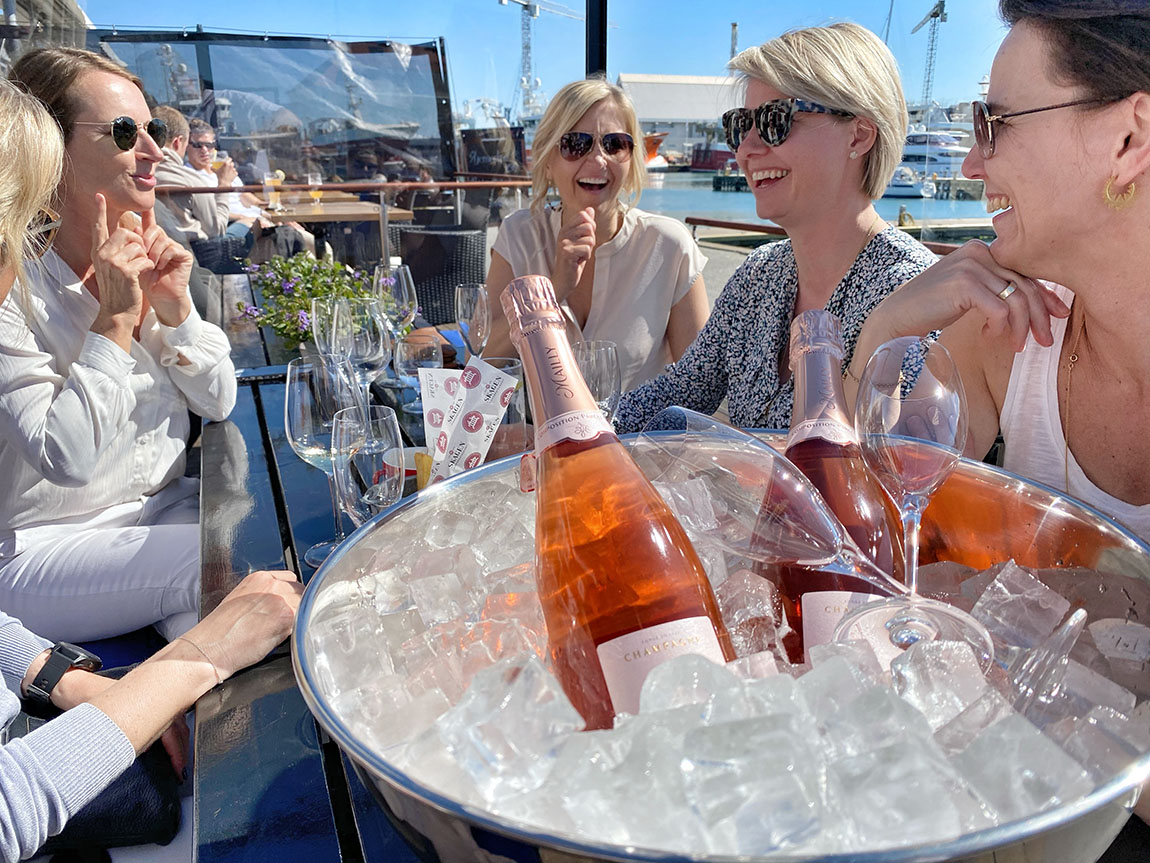 A restaurant for everyone
Whether you visit the restaurant in Skagen, the one in Aalborg or one of the two restaurants in Copenhagen, the experience is the same. You will be served the same high-quality seafood, and you will be met by equally friendly staff.
"We pay attention to detail, and we think about everything we do. It is important to us that the service is friendly and attentive, and we pride ourselves on giving our waiters and waitresses the proper knowledge to serve our guests exceptionally," says Jesper C. Winter. "It is also very important to us that everyone feels welcome at the restaurant. Whether it's a young couple, a family with young kids, tourists, or elderly people. Our restaurants welcome everyone, and we wish for every person to have a lovely dining experience here."
While changes have been made since the beginning in 1970, the heart of the restaurant is very much the same. Some of the old recipes are still used today, and they are just as big of a hit with guests now as they were in 1970. Inside each restaurant you'll also find sand on the floor, which is a fun little gimmick that has been part of the restaurant concept since the beginning.
Another characteristic of Skagen Fiskerestaurant is live music. On the weekends you can experience live music or stand-up comedy while enjoying a glass of wine and seafood. This is particularly lovely during summertime, when you can sit outside and soak up those long summer nights.
Enjoy a well-deserved midday break
While many people associate restaurants with dinner, Skagen Fiskerestaurant also offers a delicious lunch menu. In fact, what could be better than taking a midday break, enjoying a delightful meal, and just watching life unfold in the city? Whether you choose to visit the restaurant for lunch or dinner, one thing is guaranteed: your taste buds will be pleased.
"We only serve high-quality food, and whenever possible we choose organic. Everything is from Denmark, which also means that the menu may vary slightly from season to season. It is of great importance to us that our food is sourced in Denmark, as we wish to reduce our carbon footprint," explains Winter.
Sustainability is something Skagen Fiskerestaurant is constantly aware of – not just in getting the produce and seafood from Denmark, but also in terms of improving packaging and reducing the use of plastic.
The full Skagen experience
If you wish to visit Skagen Fiskerestaurant in its hometown of Skagen, don't cheat yourself from getting the full Skagen experience. The town is one of the cosiest in Denmark, with a rich history and stunning nature. Jesper C. Winter and his wife also own Skagen Harbour hotel, a lovely boutique hotel that serves a tasty breakfast in collaboration with Skagen Fiskerestaurant. This truly is a wonderful way to get the full experience of Skagen.
Web: www.skagenfiskerestaurant.dk Facebook: Skagen Fiskerestaurant Instagram: @skagenfiskerestaurant
Subscribe to Our Newsletter
Receive our monthly newsletter by email