Skaldyrsfestival: Celebrating Denmark's bountiful sea
Text: Josefine Older Steffensen | Photos: Skaldyrsfestivalen
In Denmark, you are never more than 52 kilometres away from the coast, and with 8,750 kilometres of coastline, it is no wonder that Danes have a close connection to the sea. Limfjorden cuts through northern Denmark and is famed for some of the world's best oysters and for having a wide range of delicious seafood. Limfjorden and its many delicacies are celebrated at Skaldyrsfestival, the shellfish festival in Nykøbing Mors every year, where young and old gather to enjoy the best of the sea.
On 5 and 6 June 2020, Nykøbing Mors harbour will host over 16,000 guests, who are there to try Limfjorden's delicacies. The harbour will fill with tents serving everything from a traditional Danish fiskefrikadelle (fish cake) to fresh oysters and beer-steamed mussels – all while there are also plenty of events for young and old, where they can learn more about the local area.
"There really is something for everyone, and the atmosphere is great. Whether you want to simply drop by to have lunch, spend the whole day here or have the popular, and often sold out, seafood buffet in the evening, it can all happen here," explains Lars Tang, chairman of Skaldyrsfestivalen.
Throughout the festival, there are events happening that allow young and old to learn more about the local area. Skaldyrsfestivalen works closely with the Technical University of Denmark (DTU), who put on an event for kids where they can touch and taste the animals from Limfjorden. "It's a complete kids' dream where everything is explained in fun and interactive ways and where everything is allowed," says Tang.
There are also ribs and boats taking guests out to the sea to fish and explore the local mussel farm. "It's important to us that people feel more connected with their food and understand more about where their seafood comes from and why it's important to take care of the local environment. It's always exciting to realise the many treasures our backyard holds," Tang enthuses.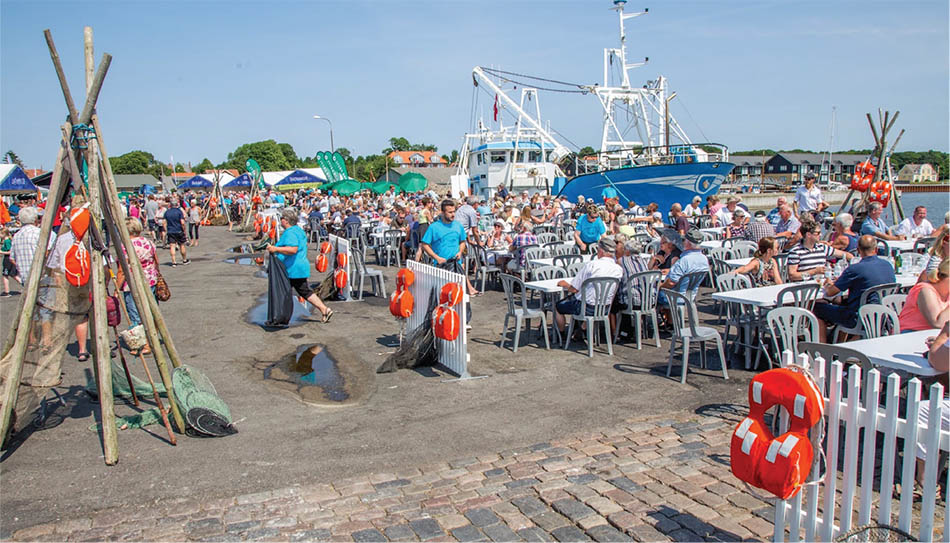 Eat to your heart's content
The best way to showcase the bountiful Limfjord is to make the most of the delicacies it has to offer. The stands provide a great opportunity to try a variety of the food on offer or enjoy dinner while looking out towards the sea. The festival also puts on a seafood platter that can be shared between two to four people. This year, the festival is also making a tapas board with small delicacies for two to three people to share. Both the platter and the board are created by the chefs at the festival and have different dishes specially made to make the most of the ingredients from the sea.
Skaldyrsfestivalen has also become known for its seafood buffet, which is served on both the Friday and the Saturday evening. Each evening, over 700 people sit down to enjoy the delicious dishes created by the chefs, which include fresh prawns, trout salad and baked cod, to name just a few of the many dishes served. On the Friday, the buffet will be accompanied by jazz music, whilst the Saturday buffet will have a Danish 'danseband' (dance band) to accompany the delicious food.

"Our chefs are excellent at adding new spins to the food. Even if you've been to the festival every year since it started in 2005, there'll always be something new to try. Of course, we offer the classics, as there's a reason why they're classics, but it's also fun to open people's eyes to different ways of preparing the seafood and shellfish," explains Tang.
Nykøbing Mors is the shellfish capital of Denmark, which also means that its annual festival celebration is hugely popular. People book accommodation as well as the buffet in advance, meaning that all of the above usually end up selling out. "It's a good idea to plan in advance if you want to try the buffet or need a place to stay, although our local tourism board is excellent at finding accommodation for people even if it's at the last minute. If the buffet sells out, there's lots left to explore and eat at the festival, so it should never be a deterrent for coming – it's simply a heads up if you really want to try it," explains Tang with a smile.
If you love shellfish and seafood or you simply want to find out more about what the Danish seas have to offer, the festival is a must-visit. There is a great atmosphere where people are relaxed and enjoying themselves, whether they are there as a family, dropping by for dinner after work, or have travelled to taste the delicacies. The shellfish festival is bound to be something both you and your taste buds will enjoy.
– 5-6 June 2020 – Nykøbing Mors harbour. – Admission to the festival is free. – Tickets for the events can be bought online or on the day. – Beware that tickets to the shellfish buffet sell out every year, so book in advance. Hotels are often booked early, but the local tourism board www.visitmors.dk does its best to find accommodation for everyone who wants to visit. www.skaldyrsfestival.dk
Subscribe to Our Newsletter
Receive our monthly newsletter by email