Sleep among the stars at Hardanger Panorama Lodge
By Celina Tran | Photos: Hardanger Panorama Lodge
Need a break from the hustle and bustle of the city? Based in Hardanger in western Norway, the family-run Hardanger Panorama Lodge is a perfect escape. Stay overnight, 11 metres above ground in their magnificent tree-top huts, with access to excellent local culinary and nature experiences.
Most children dream of a tree-top cabin where they can give parents, chores and reality the slip, exchanging them for a little bit of magic and adventure. As grown-ups, escaping our loud urban areas and strict routines and immersing ourselves in a more simple, beautiful and natural environment is just as tempting. Set against the magnificent backdrop of the Hardangerfjord, a stay at Hardanger Panorama Lodge offers just this.
"I designed and built our tree-top huts myself, while Claudia is responsible for the interiors," says Arild Opheim, who runs Hardanger Panorama Lodge with his partner, Claudia Saathoff. "A stay here is quite unique, as guests find themselves 224 metres above water. It's a true nature experience. You're all alone with the view and the silence. It's very peaceful."
Norway's very own treehouse master?
Opheim explains that it all began in 2016, when he found himself binging Animal Planet's Treehouse Masters, glued to the television as Treehouse Pete built hut after hut. Then, a lightbulb flashed in his head. "I became fixated on the notion of a unique treetop cabin and began playing with the idea," he says.
It came to fruition two years later in August 2018, when his vision finally stood tall – 11 metres above ground, to be exact. It was an elevated hut, supported by pillars, from which guests could enjoy a spectacular, rolling view of Hardangerfjorden. The Hardangerfjord is not only important to Norwegian Romantic Nationalism and art, but also serves as a holiday destination for avid hikers and nature-lovers. Guests at Hardanger Panorama Lodge can also enjoy the view of Hardangerfjord at night, under a sky bright with stars.
"We had long been pondering what we would name the hut. We couldn't decide. One night, when we were returning from the barn, Claudia pointed to the constellation in the sky and asked me what it was called, to which I answered, Orion," Opheim says. When the name had tumbled from his lips, the couple simply looked at each other. No words were exchanged, but they both knew that Orion would be the name. The bedrooms in Orion are named after three stars that shine bright above the hut on cloudless nights: Alnitak, Alnilam and Mintaka.
Now that the modern, three-bedroom Orion has been perfected and fully equipped, it's on to a new project. "Aquila, which is Latin for 'eagle', is an even larger hut than Orion. Unlike Orion, it won't be surrounded like trees, so rather than a tree-top cabin, it'll just be a hut hovering mid-air. It will have a large glass front, allowing guests a view of the surrounding nature. I'm quite excited about this. I don't think it's been done before – at least, not to this extent," enthuses Opheim.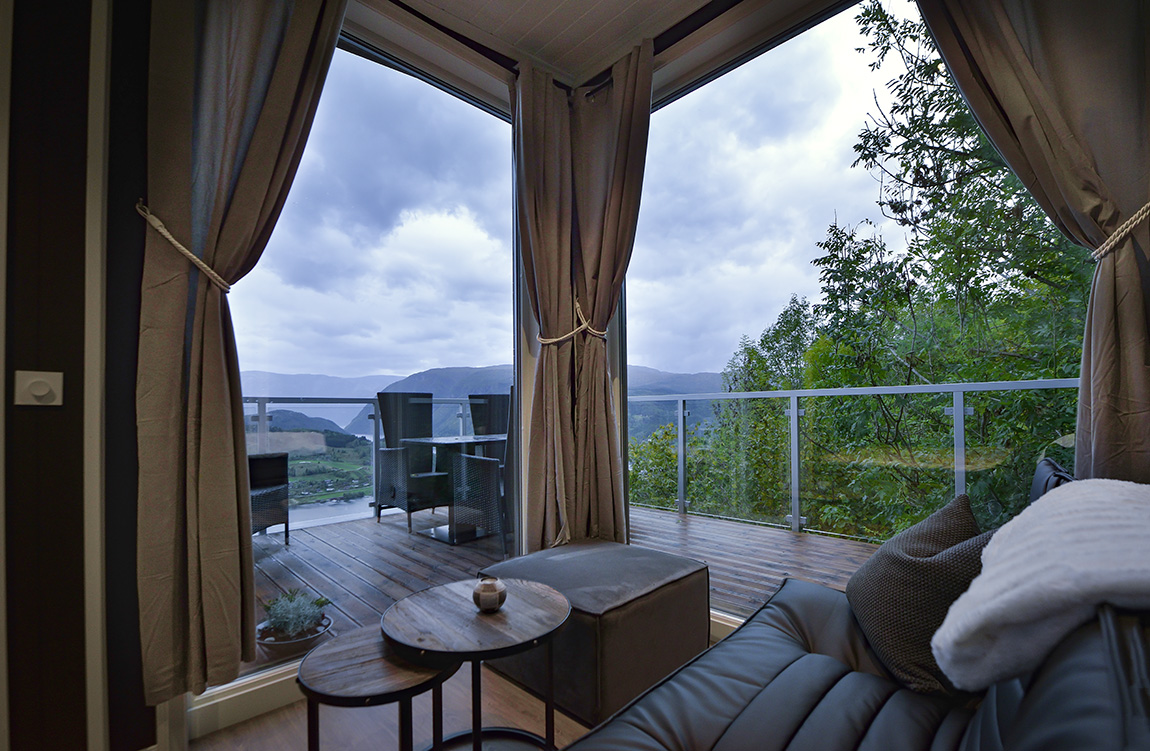 Local experiences and collaborations
Hardanger is home to a vast natural landscape, rich in hiking trails. Whether you're looking to spend time in the mountains, forests or by the fjord, there is something for you. One of the unique experiences avid hikers can expect from Opheim and Saathoff is their dedication to finding the perfect, personalised hiking trail for each and every one of their guests.
"We offer guests the opportunity to chat with us about their hiking wants and needs. Based on length, terrain and experience, we draw them a map that they can follow on their adventures," says Opheim.
Kayaking, boat trips and waterskiing are additional options for active guests. But, if you'd rather take a step back from the adrenaline-filled activities, don't fret. Hardanger Panorama Lodge is situated close to Syse Glas, a local glass blower, as well as the Olav H. Hauge Centre, which offers insight into the poet's life and work. Plus, the hut is only a short walk away from the farm Syse Gard, Hardanger Juice and Cider Factory, and the craft bakery Kádn & Alde. Between the three local places, guests are guaranteed to find a range of excellent culinary experiences.
If you want to treat your tastebuds while enjoying the excellent view, Syse Gard, which produces its own sausages, dried and cured meat, ribs of mutton and a large selection of jams, amongst other things, can deliver a feast straight to your doorstep. "I'm very proud of our collaborations with these local farms and factories, and encourage guests to visit them for an extraordinary experience," Opheim says.
Web: www.hardangerpanoramalodge.no Instagram: @hardangerpanoramalodge Facebook: HardangerPanoramaLodge
Subscribe to Our Newsletter
Receive our monthly newsletter by email