Sørlandschips: Crisps with personality
By Alyssa Nilsen | Photos: Sørlandschips
Sustainability, a low environmental footprint, innovation, local produce and crisps full of personality and flair: Norwegian crisps brand Sørlandschips is paving its own way making one of Norway's most-loved snacks.
The story of Sørlandschips is like a modern fairytale. Co-founder Leif Arne's friend returned to the south-coast town of Kristiansand from a holiday in Canada, carrying a plastic bag full of kettle crisps. Sharing the goods with his friends, the group mused about how inconvenient it would be to have to travel back to Canada every time they craved the thick, crunchy golden flakes that were unlike any other crisps they'd ever tried. "We'll just have to make them ourselves then!" Leif Arne shrugged, and so they did – slicing potatoes, skin and all, dowsing them in peanut oil and baking them slowly in the oven. Sørlandschips was born, and the rest, as they say, is history.
30 years later, Sørlandschips has become one of the biggest and most-loved crisp brands in Norway and is the country's defining brand in kettle crisps. Selling not only locally in Kristiansand but also nationwide, it has become one of the staples of the Norwegian concept of 'lørdagsgodt', or Saturday treats.
Sørlandschips was the first brand to introduce Norway to the concept of kettle crisps, the rustic crisp utilising the whole potato, rather than peeling off the skin before cooking. This not only adds to the feel and the taste of the crisps but also helps battle food waste on an impressive scale. "It benefits both the taste and the environmental footprint of the brand," says CMO Daniel Bernstein. "We save more than ten million potatoes' worth of food waste per year just from keeping the peel on the potato!"
The potatoes are locally sourced, from 50 farms in the surrounding area. The farmers bring their potatoes to the factory, and 27 minutes later they can get a bag of crisps labelled with their own farm, containing crisps made from their own potatoes, in return.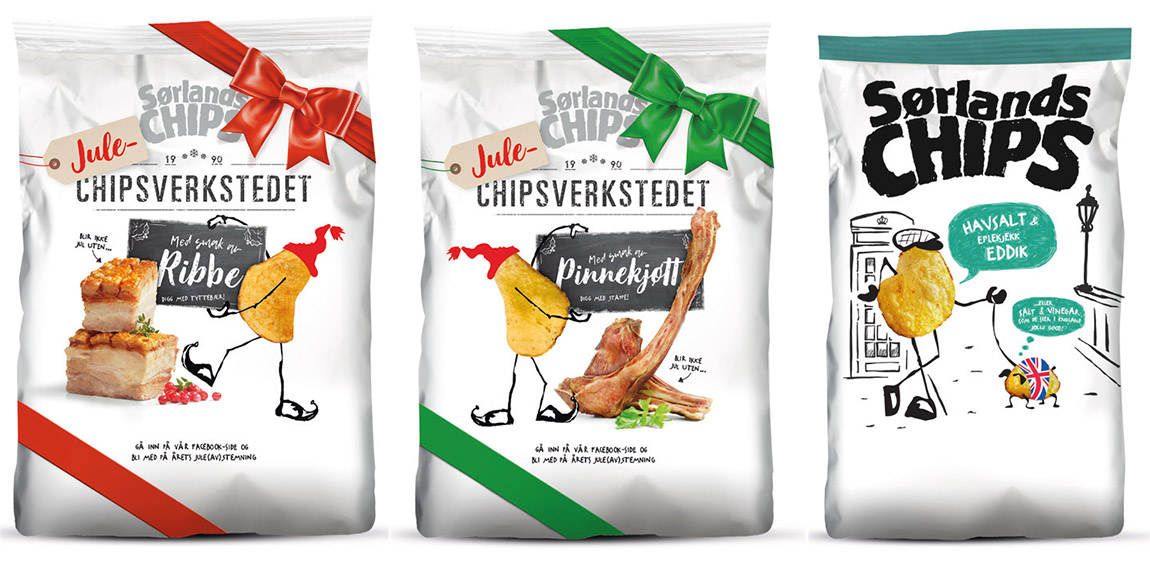 Adventurous and playful
Not only is the environmental footprint important to Sørlandschips, the brand also contributes to the local community by training, employing and providing language courses to immigrants. This led to a 2021 nomination for Mangfoldsprisen, a prize awarded by the Norwegian government for outstanding use of immigrants' skills in working life. "Having immigrants as part of our workforce brings a whole new warmth and joy to the factory," says Bernstein. "We are that little crisps factory that is also a family."
With a multitude of flavours, two different types of crisps (the original and the world's thinnest version of the original), vegan options and a concept unlike any other, Sørlandschips has charmed its way into people's hearts. The bags, rather than just depicting a generic bowl of crisps, all feature individual cartoon-like crisp characters – each with its own distinct personality, much like the different flavours. The sea-salt crisp hangs out on a sunny beach while the sea salt and vinegar character wears a sixpence and walks a dog draped in the Union Jack past a London phone booth.
Rather than the straight, thin, rounded flakes most brands present, Sørlandschips' crisps are wonky, curly, folded and perfectly imperfect. During a poll a few years ago, the brand asked Norwegians whether they preferred the straight or the bent crisps, and the bent crisps won by a landslide.
This adventurous and playful spirit is also demonstrated in the flavours Sørlandschips presents. There are the familiar ones, like sea salt, crème fraîche, and sea salt and vinegar, but also some more unusual ones like sea salt and rose pepper, sweet chilli, and sea salt and truffles. A couple of times a year there are also special edition crisps being released, like the two varieties of very Norwegian Christmas crisps, which will return in time for the holidays: one with 'ribbe' (pork belly with cracklings), and one with 'pinnekjøtt' (that's lamb ribs) – the two traditional dishes most Norwegians eat on Christmas Eve.
Sørlandschips is one of the few snack brands out there whose merchandise is truly sought after. Wearing Sørlandschips products is so popular that the brand has opened up its own webshop, containing socks, tote bags, sunglasses, beach towels, shirts, and other fun things bearing the Sørlandschips logo and crisps characters.
Leif Arne, the co-founder and face of Sørlandschips, is still as involved as ever – not only in terms of the production, but also through social media, music videos, live performances and other appearances, tying it all together and giving the brand that personal, local touch.
Web: www.sorlandschips.no Facebook: Sørlandschips Instagram: @sorlandschips
Subscribe to Our Newsletter
Receive our monthly newsletter by email