Spirit of Hven / Backafallsbyn: From grain to bottle, with an artist's touch
Text: Linnea Dunne | Photos © Spirit Of Hven
"From the steeping of the grain through to the malting, drying, milling and so on, we do everything here and bottle the finished product on our premises," says Anja Molin, co-owner of Spirit of Hven, one of the world's smallest pot still distilleries. But while the distillery's size is humble, its reputation is anything but.
Henric Molin, the other owner, is often described as a whisky geek. But perhaps that is one of the major strengths of this distillery. "He is obsessed with getting oak for the casks that grew in the right place and knows exactly where he wants to get the spices from. Everything is done manually, completely without machines, always in small quantities," Molin explains. "Get the final product, and you can actually smell it."
Small-scale preciseness
The small-scale approach always was, and still is, a conscious aim, putting quality over quantity at all times. Precise control over the distillation has come to define the Spirit of Hven brand and fascinates its many fans across the globe, so much so that developing spirits for other brands has become part of their operations. "We are never going to be a huge distillery – that's out of the question. And the small-scale approach is really palpable when you get here. You can feel that it's a family-run business," says Molin. "But what that means is that we simply don't have the capacity to keep releasing whisky after whisky and give all these products the marketing they deserve – so it makes perfect sense to create recipes for others."
A state-of-the-art laboratory means that spirits can be tested and analysed down to the tiniest detail, revealing everything about additives, ageing processes and every single ingredient in every bottle. "Our machine actually smells – yes, it really has a sense of smell," Molin enthuses. "What we can do here is quite amazing, not to mention how important it is. Let's not forget, this stuff is dangerous if you don't know how to handle it!"
You could forgive a multi-award-winning spirits producer for wanting to keep all its delicious recipes to itself, but branching out makes perfect sense, insists Molin. "An artist is a creator, and developing new recipes is a way to keep creating. Henric is an artist in this field, and by developing recipes for other brands he can keep creating even when we've exceeded our capacity to release new whiskies."
In addition to creating recipes to order and occasionally producing spirits for clients, Spirit of Hven offers testing and analysing facilities and even designs distilleries for other producers. "To have all this expertise despite being so small is quite extraordinary," says Molin. "But of course, it's all about our focus on quality – quantity means nothing."
The beauty of local
Sustainability is an integral part of the Spirit of Hven distillery, not just because of recent eco trends but simply because the operations depend on it. That extends to life as a whole in Backafallsbyn on the little island of Hven in Öresund between Sweden and Denmark, where Spirit of Hven, in addition to whisky, gin and spirit tastings and distillery tours, offers hotel accommodation, restaurant dining and conference facilities in a peaceful setting.
Surreal in its beauty, the nature here also explains the rich agricultural heritage of the island, something that furthers the distillery's mission to use local produce whenever possible. It may seem obvious, but it is rarely as tangible as here: sustainability, quality and loyalty to the locals make an unbeatable cocktail. And the visitors love it.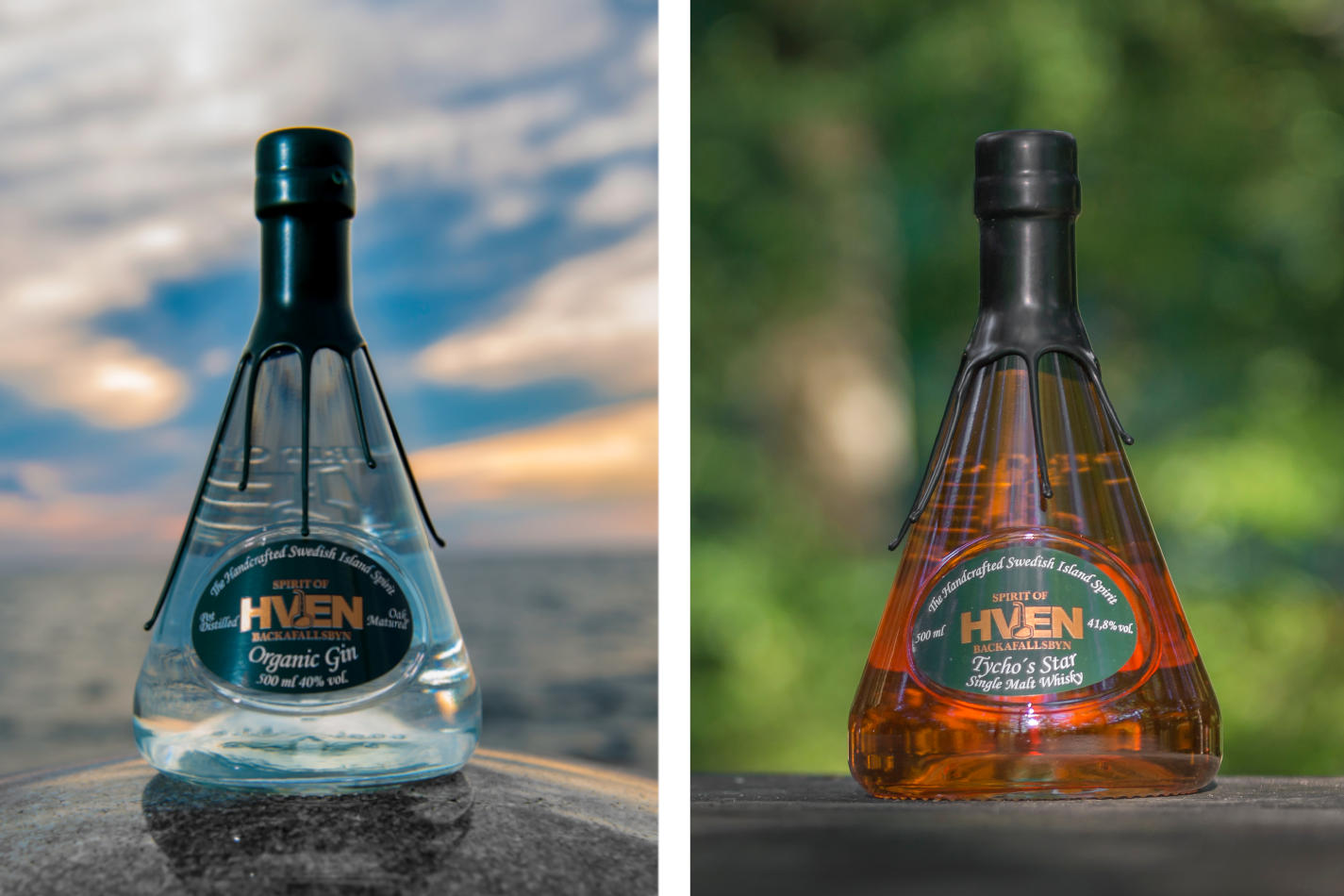 World's best whisky
In December last year, the Spirit of Hven Sankt Claus whisky won the Whisky Advocate's 22nd Annual World Whisky of the Year Award, receiving the ultimate proof that the work it is doing is nothing short of outstanding. "There are no words to describe how big this is," says Molin. "It's such an honour. Even Henric, who doesn't usually care much about what anyone thinks, is delighted to have got this acknowledgement." Although the Christmas-themed whisky is now completely out of stock, Spirit of Hven can rest assured that connoisseurs from all over the world will be at the ready when another batch is released.
With a world-class laboratory, near cult status reputation, and best whisky in the world – where will the distillery go from here? "We will continue to improve and to put quality first," says Molin determinedly. "Our visitors are one of our greatest resources. With tastings every day, we can make sure to continuously tweak our drinks until they're just perfect."
Spirit of Hven products The Spirit of Hven distillery's product selection includes oak matured and pot distilled… Single Malt Whisky Tycho´s Star Single Malt Whisky Seven Stars No.1-7 Single Malt Whisky Single Cask Sankt Claus Single Malt Whisky Single Cask Sankt Ibb Hven Organic Gin Hven Organic Navy Strengt Gin Hven Organic Vodka Hven Organic Aquavit Hven Organic Summer Spirit Hven Organic Winter Spirit For more information, please visit: backafallsbyn.se or www.hven.com
Subscribe to Our Newsletter
Receive our monthly newsletter by email