Stockholms Bränneri: Stockholm-based gin distiller prepares to scale up guest area
By John Sempill | Photos: Linda Svensson
Starting a distillery wasn't something founders Anna Wikner and her husband Calle ever actually dreamt of. For the pair, who met during their studies in the city of Lund in the south of Sweden, a professional path in engineering was the original plan. Until they left for Canada, that is, and realised that Vancouver had something that Sweden didn't.
"Vancouver is a real lifestyle kind of city; a lot of people live there for that reason," explains Anna. "We also discovered that distilleries were popping up all over the place."
These distilleries weren't merely production factories, but also meeting places for gatherings or a night out. "You could visit them for a drink in the cocktail bar in connection with the distillery," she continues. "This is where we hung out with our friends. We asked ourselves why this didn't exist in Sweden and in Stockholm."
This triggered a chain of events that eventually saw the couple, who had a great passion for food and drink, visit several different distilleries along the American west coast. They became friendly with a lot of them and started distilling vodka as soon as they got back home to Vancouver. "We used chemistry kits like the ones you had in school," Anna fondly recalls. "We had a camping burner at one end and distilled vodka with different spices. It started to taste like gin, which sparked an idea."
Gin has always been the couple's preferred spirit. They started reading up on it and explored ways to bring their new business idea to Sweden. "We actually started the company while still living in Canada," Anna reveals. "Also because we felt that if we moved back, we would fall into old routines and not start our project."
They started looking up distillation equipment while still in Vancouver. They eventually found the perfect match, but quickly realised that a second-hand distiller wasn't an option, simply because of the dawning of the gin boom. "So we had to order a new one," she says. "The turnaround time was six months, which was an eternity, because we just wanted to get started!"
Creating a destination
The couple came back to Sweden in the late summer of 2015, and their new distiller was set for delivery. The problem was that they didn't have anywhere to put it. "We forgot to think about that," says Anna with a twinkle in her eye. "We wanted a space somewhere in town, preferably in Södermalm – otherwise a cool building somewhere on the outskirts, which we could turn into a destination. Like an old railway station or a brick building."
They eventually set up shop in an old Jaguar workshop, only two blocks from their home on one of Stockholm's main streets, Folkungagatan. Since then, Stockholms Bränneri has organically taken over more of the building. "Just recently, we signed up for even more space, which I believe was the office space for the old Jaguar workshop," Anna explains. "That space will be turned into an additional visitor area for guests and visitors – a gin bar, open three days a week for tasting events and bar evenings. That excites us a lot. We have tasting events several times a week, but this will enable us to be even more accessible."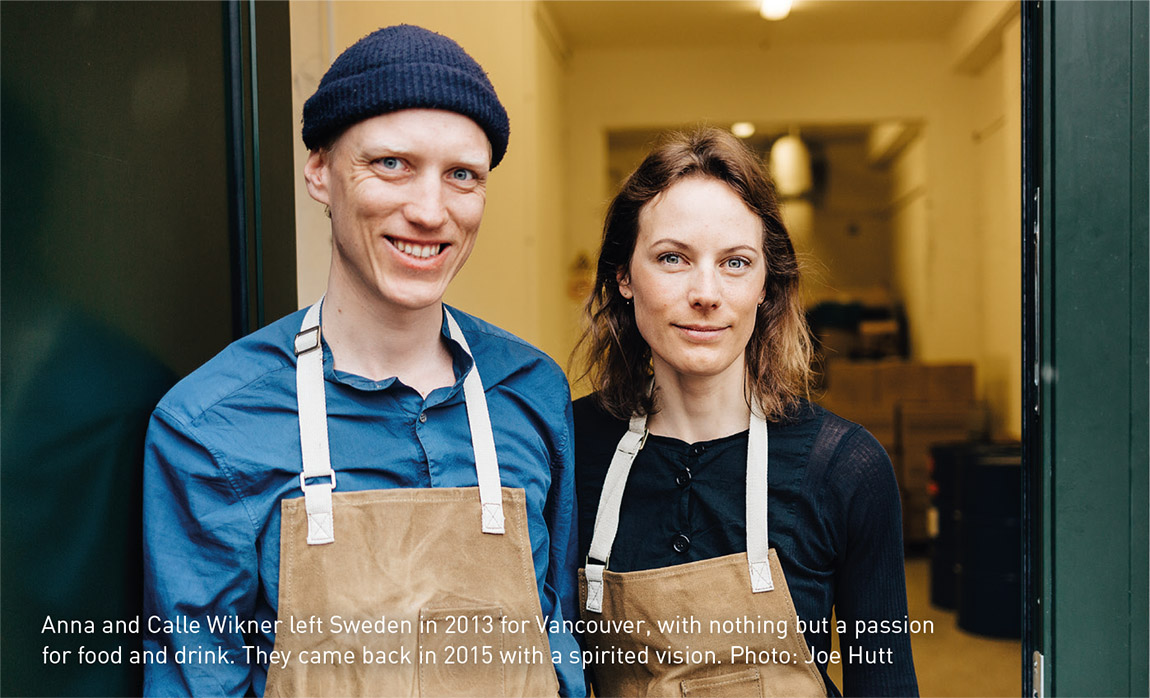 A taste of the Nordics – and innovation
Taste-wise, Stockholms Bränneri focuses on all things Scandinavian. And since it's right in the middle of town, the urban touch is there, too. "The Nordics inspire us a lot," Anna reflects. "From the rowan-berry that grows in town to the cherry blossom in Kungsträdgården. We produced a gin together with a local hotel, with pineappleweed. It's a wild camomile blossom that grows through the asphalt. We never want to stop surprising. It shouldn't be obvious what our next product will be."
And let's not forget to mention that it's all organic. Speaking of which, Stockholms Bränneri has developed ways of making use of its by-product. One example is their own hand sanitiser, which can be purchased on the website. This also helped them land the award for Improver of the Bar Industry 2020, at the Bartenders' Choice Awards.
In addition to high-quality Nordic gin and a sustainable hand sanitiser, the distillery also boasts a wide range of merchandise on the website. If you think the bottles have a slight clinical look, you aren't mistaken. "When we started, my husband and I really fell for the history of gin," says Anna. "It's based on genever from medical herbs, and it began as stomach medicine. That's why we made the connection to pharmacy bottles. Calle and I knew from the start that we wanted to work with pharmacy bottles. We searched a long time for a bottle that we thought looked right."
Stockholms Bränneri is more than a gin company. It's a lifestyle. When you uncork one of their bottles, you're part of the family.
Web: www.stockholmsbranneri.com Facebook: stockholmsbranneri Instagram: @stockholmsbranneri
Subscribe to Our Newsletter
Receive our monthly newsletter by email