Stora Sjöfallet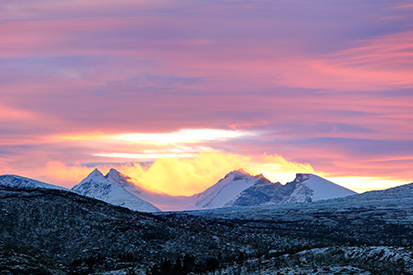 Catch the northern lights in Swedish Lapland
TEXT: SOFIA SCRATTON | PHOTO © SOFIA SCRATTON
Are the northern lights on your bucket list? "If you're lucky, you might see them during dinner in our restaurant," says Håkan Sundström, owner and manager of Stora Sjöfallet, the only hotel in the Laponian area of northern Sweden.
The Laponian area is inside the Arctic Circle and a UNESCO World Heritage Site that boasts extraordinary natural beauty, with snow-covered mountains, lakes, rivers, marshes and primeval forests. It offers peace and relaxation and many adventures can be found in the pristine natural scenery.
Stora Sjöfallet Mountain Centre is managed by Håkan and Petra, both outdoor enthusiasts who have spent their whole lives in the area. The mountains and wildlife have plenty to offer, such as hiking, fishing, guided boat tours, kayaking, ice climbing, and snowmobile safaris.
To see the northern lights, you must visit in winter. "The northern lights in the Laponian area are very powerful due to being so close to the Arctic Circle. It is the same light that you see in Abisko, one of the well-known destinations for viewing the northern lights in Sweden. We've had groups of guests who have travelled here mainly to get a picture of the northern lights."
The Laponian area and Stora Sjöfallet have something for all seasons, not just winter. In the summer, you can try ice-fishing on a frozen lake while wearing a T-shirt and feeling the sun warm your skin. Summer is also the season of the midnight sun and 'white nights', when it never gets truly dark. Scandinavians like to make the most of the increased light and longer days, and a great once-in-a-lifetime experience is to hike over the mountains under the light of the midnight sun.
There are many hiking and cycling trails nearby, and kayaks and canoes can be hired to explore the lakes and rivers. For those who are looking for an exceptional adventure, the staff at Stora Sjöfallet can help arrange a helicopter tour, an increasingly popular option with guests, to visit the untouched lakes and rivers that cannot be accessed by car.
Stora Sjöfallet has a restaurant that serves locally sourced food. Elk and reindeer-meat are always on the menu, as is fish from local trawlers on the nearby lakes of Langas and Satis. Vegetarian dishes are also available.
Subscribe to Our Newsletter
Receive our monthly newsletter by email