Stormen Konserthus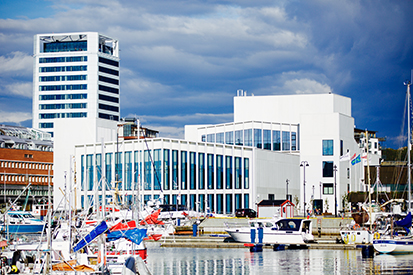 Taking Bodø by storm
TEXT: INGRID OPSTAD | PHOTO © STORMEN KONSERTHUS
Stormen Concert Hall is a vibrant and innovative arena for art and culture events, with world-class acoustics that ensure optimal conditions for everything from classical masterpieces and concerts to theatre, dance shows and conferences. Ever since opening the doors to its brand-new building in November 2014, the popular venue has been taking Bodø by storm.
"The cultural quarter and Stormen have been in the making for the last 30 years, so it has been a long process. But we are thrilled to now have a prime location on the harbour, right in the heart of the city," director Rolf-Cato Raade explains. "The name Stormen was a result of a local competition. It symbolises not only the long and stormy process but also a lot of what the building represents in terms of being robust, as well as the typical weather here in the north," he says.
Stormen has become an important part of Bodø and its thriving culture scene, featuring a state-of-the-art library and an award-winning concert hall. These two impressive new buildings offer a modern expression and an urban design. The culturally vibrant hub has seen a recent increase in popularity and record attendance this year.
"Our aim is to be one of Scandinavia's most vibrant and innovative concert halls, with a diverse mix of local, national and international stars on the programme," says sales and marketing manager Benedicte Kilvær Eilertsen. She believes that the excellent acoustics and the amazing atmosphere have a lot to do with their success. "Renowned artists like Leif Ove Andsnes, Eldbjørg Hemsing and Mahler Chamber Orchestra have performed several concerts here, and they are overwhelmed by the quality of Stormen Concert Hall. This makes us very proud!"
Stormen consists of three halls, including the iconic club stage Sinus, the small hall and the main hall. The latter, a unique multi-purpose hall that can house more than 900 spectators, is used for everything from opera and theatre to concerts and other performances. "All of our rooms are very flexible and can be quickly rearranged, making the perfect foundation for an array of great cultural experiences all under one roof," Raade smiles.
Subscribe to Our Newsletter
Receive our monthly newsletter by email