Strandhotellet: Discover the homely island of Bornholm
By Karen Gilmour Kristensen | Photos: Anders Beier & Marie Louise Munkegaard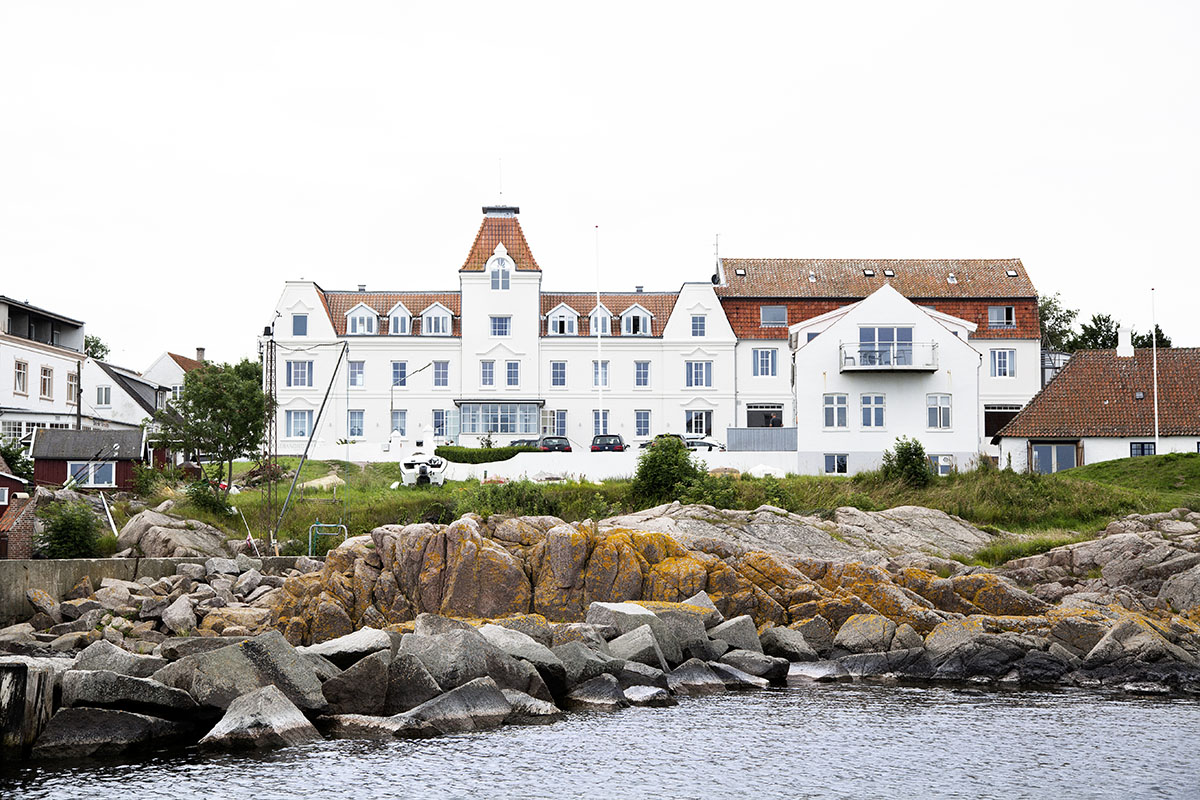 A homely feel and incredible sea views are two key attractions of Strandhotellet ('The Beach Hotel') on the Danish island of Bornholm. Located in the small town of Sandvig, it lies just a stone's throw from the Baltic Sea.
"We're practically placed in the waterline, close to the cliffs," says Pia Bajlum, who runs the hotel with her husband, Kasper Bajlum Müller. "This sets us apart from other hotels on Bornholm and makes us attractive for tourists who wish to go hiking in the beautiful countryside."
Originally built in 1895, the hotel has 45 rooms to meet most needs – including family rooms, doubles, triples and connecting rooms – making it a perfect place to stay for singles, couples and families alike. Families mostly visit during summer, but Strandhotellet is open all year round, also for conferences. "During spring and autumn, we try to attract guests by hosting events such as jazz concerts and lectures," says Pia. "We aim to make Strandhotellet an active house, not just a hotel."
A mix of old and new
For Pia and Kasper, the adventure began in 2016. Originally on the look-out for a new summerhouse in Sandvig, the couple discovered a dilapidated building that turned out to be Strandhotellet. A sign in the window read: 'Tenant wanted'.
After some consideration, the couple decided to go for it. While the journey hasn't been without bumps on the road, both Pia and Kasper are content that they decided to pursue the project.
On 1 April 2017, the couple received the keys to Strandhotellet, and on 1 May, they opened for bookings. "We opened a hotel in a hideous condition," Pia recalls. "The rooms were old and the carpets worn out."
It all changed a couple of years later, when Pia and Kasper got an investor on board, who made it possible to renovate all the rooms from top to bottom. Today, most of the bathrooms have been modernised and most of the furniture is new or vintage.
Although Strandhotellet has undergone a much-needed makeover, Pia and Kasper are aware of the building's history, and they strive to make this visible to their guests. "We try to reflect the history and the soul of the place," Pia explains. "We respect the old building while adding our own personal touch. Our guests can tell they're in a private home, and they like that. As the hosting couple, we like to go the extra mile to ensure they have a good stay with us."
The Island of Sunshine
Guests typically come from all over Denmark, but the couple has also had visitors from as far afield as New York, Miami, New Zealand and Hawaii. "A few times, we've had big weddings with guests who flew in from around the world," says Pia. "Mostly, our foreign guests are Swedes, Norwegians and Germans who are fascinated by the nature on Bornholm."
Strandhotellet has also had guests from all over Europe and the UK. In recent years, Bornholm has gained more attention and popularity internationally. One of the main reasons is its unique topography, as this is the only place in Denmark with a landscape featuring cliffs.
Moreover, it's easy to get here. You can fly to Copenhagen from all over the world, and from there, you can fly directly to Bornholm in about 40 minutes. There is also a ferry service.
Known in Denmark as 'the Island of Sunshine', Bornholm is charming. What used to be a fishing island is currently evolving into an experience destination, known for its local food and craft industries such as glassblowing, ceramics and beer.
Bornholm's past as a fishing island is reflected in the history of Strandhotellet, something the hosting couple love to tell guests about. "Whenever the fishermen returned home, this was where they came to spend their money," Pia explains. "From the 1940s and right up until the 1980s, Strandhotellet was the place to be if you wished to party, eat and drink."
Intimate atmosphere
A stay at Strandhotellet is meant to provide guests with a well-deserved break from everyday life. That's why there are no TVs in any of the rooms. "We recommend our guests go and explore the surroundings of Strandhotellet instead," Pia says.
"For us it's important that this is a place where visitors can relax," she adds. "Especially Danes will feel like they're far from home after a short journey, because this location is so different from anywhere else in Denmark."
Due to Strandhotellet's size and location, Pia and Kasper find that it's easy to create an intimate atmosphere there. "We host a lot of business meetings from eight to 100 people," Pia says. "They're often combined with a yoga session on the beach, a bike ride or a visit to the local brewery."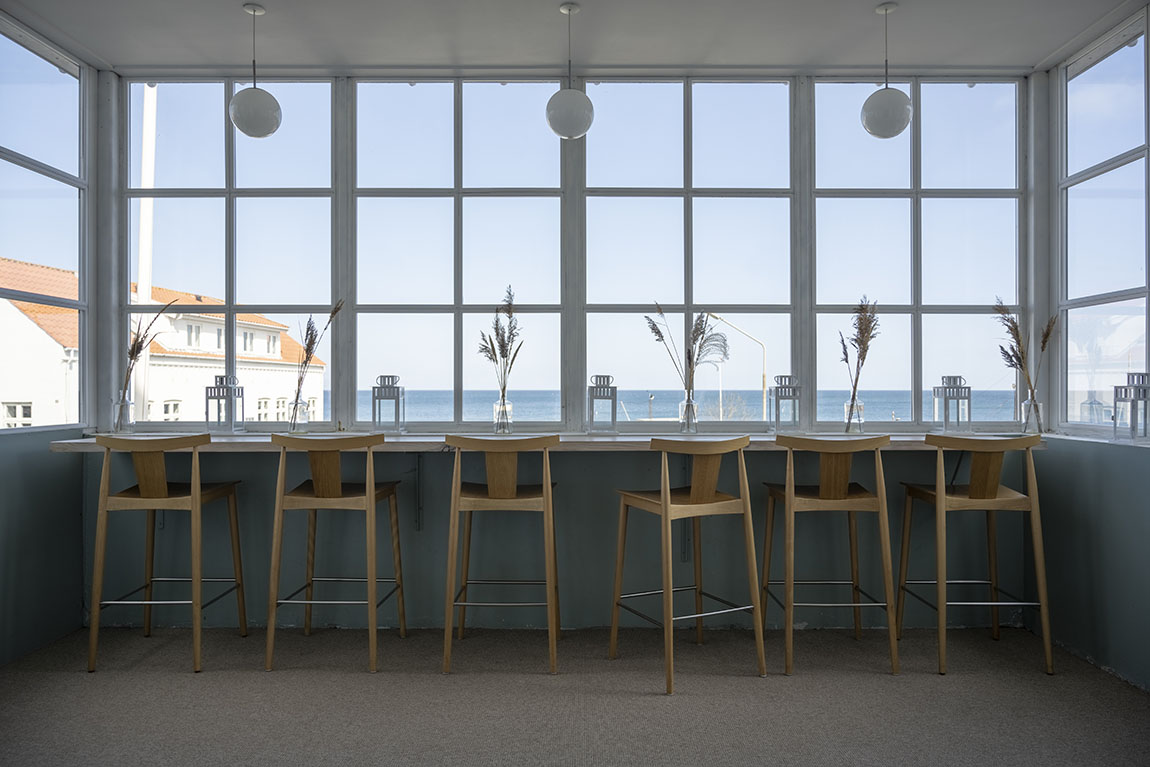 Web: www.strandhotellet.dk Facebook: Strandhotellet Sandvig Instagram: @strandhotellet.dk
Subscribe to Our Newsletter
Receive our monthly newsletter by email