Summits and saunas in the hidden fjord Enjoy exciting adventures and luxurious comfort in one sustainable package
By Alyssa Nilsen
Norway is a country full of hikes, experiences and adventures waiting to happen, many of which are often off the beaten track. To help make them more accessible, companies Ræin and Kilsti have teamed up, offering nature experiences and accommodation in one package.
Some of the more popular hiking destinations in Norway can prove a challenge for anyone craving nature experiences without the crowds and busy paths of the iconic viewpoints. Luckily, there are still plenty of serene and beautiful locations to explore. One of them is located midway between Ålesund and Geiranger.
Local outdoor adventure company Ræin AS specialises in bringing people richer experiences in the Norwegian wilderness. Not only do they offer year-round guided trips, hikes and educational courses, but they do so with sustainability, cultural heritage and preservation in mind.
"We focus on arranging trips to the less known peaks and trails in the mountains and fjords of Sunnmøre," says Ræin founder and CEO, Britt-Ingunn Tafjord Walle. "This eases the strain on nature but also gives people the local nature experiences they crave. The iconic places you see on social media are facilitated to make them easy to reach, which ruins the natural beauty of nature and culture. The less famous and less known places can make for a much greater holistic adventure, and an equally breathtaking one."
Rather than taking out big groups of people, Ræin limits the number of participants. This lessens the strain on the environment while strengthening the experience and the communication between guests and guides. Collaborations with the local communities, sustainability and active dissemination ensure that tourism doesn't negatively impact the communities, nature, wildlife or climate.
The limited number of participants also allows adjusting each trip to the group's wishes, adding experiences or elements accordingly. For private groups, tailor-made tours can also be arranged with a step-by-step plan plotted out in advance. The Ræin-Kilsti experience, lasting up to four days, ranges from a low-difficulty level to the more advanced, meaning that you can sign up regardless of prior experience. Seasonal gear is available to rent on location.
Relax and rejuvenate at a design cabin with a sauna
One of Ræin's collaborators is Kilsti Compact Lodge, a small cabin hotel located in Fjord municipality in Sunnmøre. The hotel consists of three, soon to be four, design cabins – each with room for two, featuring a living room, a dining area, a well-equipped kitchen, a bathroom and a bedroom. The large floor-to-ceiling windows ensure panoramic views in all directions, bringing nature up close. There's even a window on the bedroom ceiling, allowing guests to gaze up at the stars, watch the sunrise, or even catch the aurora borealis, right from the warmth and comfort of a lush Hästens double bed.
"We want our guests to be able to keep close to nature without having to let go of comfort," says Kilsti CEO, Niels Christian Haatuft. "Soon, we will also be adding a new cabin, meant as a social space with lounges for hanging out when groups are coming through."
Kilsti and Ræin have joined up in a partnership to offer all-inclusive experiences all year round. During the winter, guests can experience back-country skiing in the mountains surrounding the lodge, with professional, local ski guides. After a calm first day with check-in, information and getting comfortable in your cabin, the next two days are spent touring the mountains during the day and enjoying the sauna and some good, locally sourced food in the evening.
The sauna has panoramic views of the hidden UNESCO World Heritage fjord, Tafjorden, making it the perfect way to relax and rejuvenate sore muscles after a day in the mountains. The fourth day offers a late check-out, allowing guests a slow and relaxing breakfast rather than the usual stress of leaving a hotel. Extended stays at the cabins are possible for those who want to spend an extra day or two relaxing or adventuring on their own.
Kilsti Compact Lodge is built on a plot of land partly located in the UNESCO World Heritage area of the Western Norwegian fjord landscape. Each cabin has a porch with outdoor furniture and an outdoor fireplace for those who want to prepare their own meals. For those who wish to indulge in the local, seasonal delicacies, Kilsti, in cooperation with local food producers, offers VIEN food boxes. This is a box with ingredients and food items from local farms, which guests can prepare with the recipes included and enjoy at the cabin.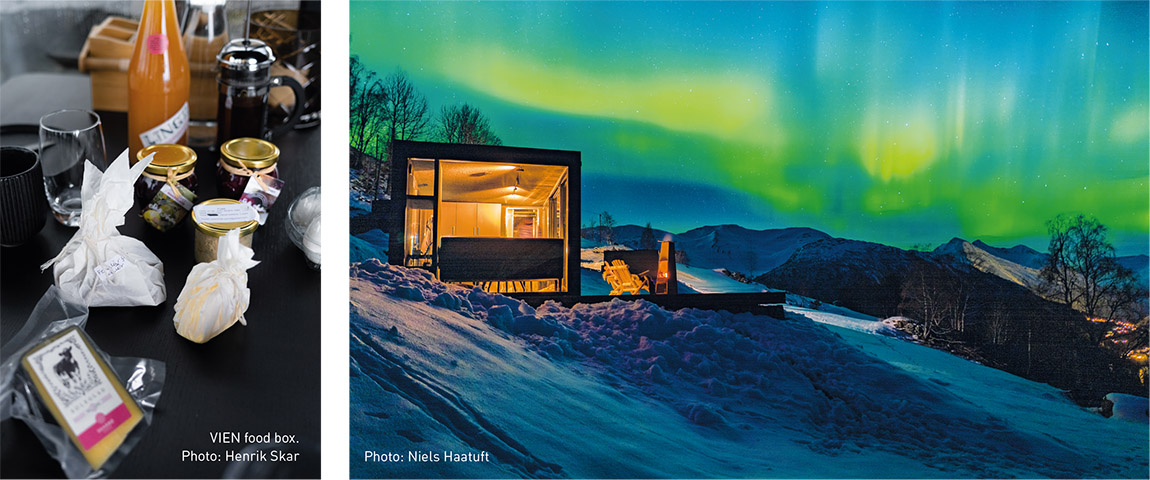 Visit Ræin and book your trip online at: Web: www.raein.no Facebook: raeinsustainableadventures Instagram: @raein_sustainable_adventures Visit Kilsti Compact Lodge online at: Web: www.en.kilsticompactlodge.no Facebook: Kilsticompactlodge Instagram: @kilsticompactlodge
Subscribe to Our Newsletter
Receive our monthly newsletter by email