Sundbytunet bryggeri & destilleri: Exclusive craft beer for travellers at Gardermoen
By Ingrid Opstad | Photos: Sundbytunet brewery and distillery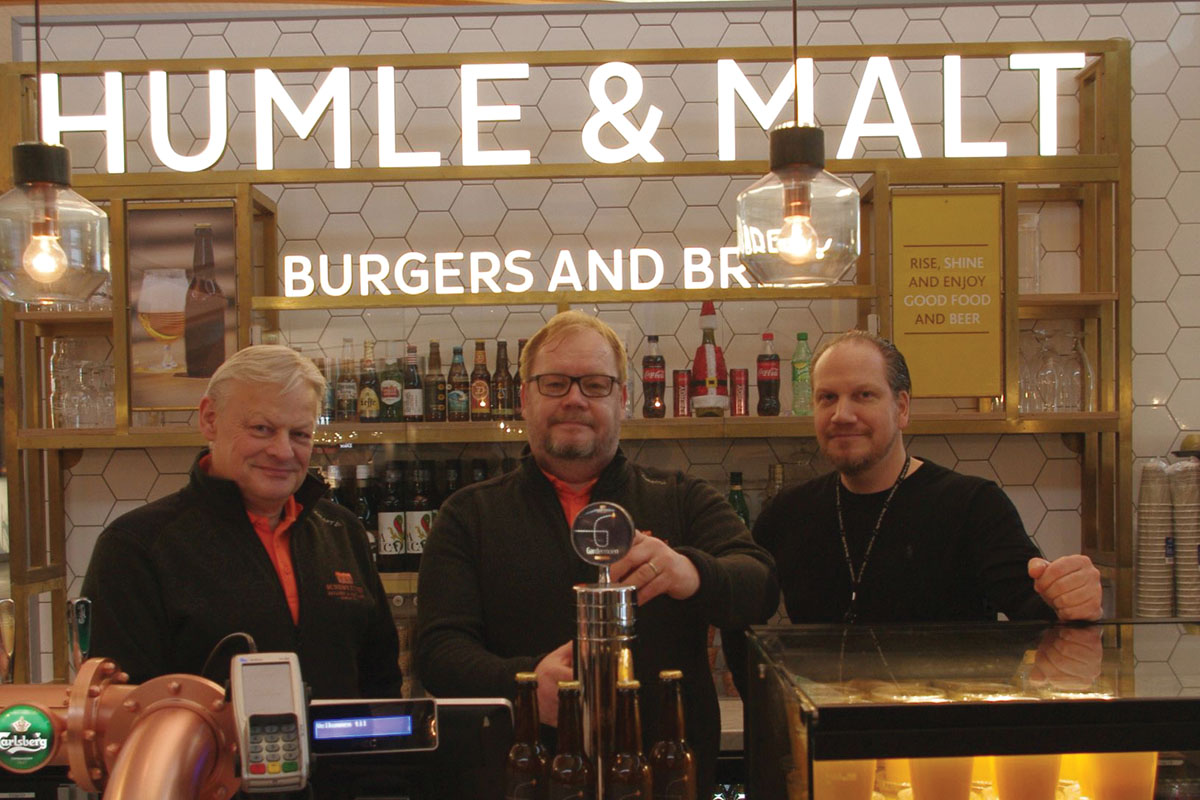 T he next time you travel through Oslo Gardermoen, take a moment to sit down and taste a unique and exclusive craft beer. Here, at selected eateries inside Norway's biggest airport, is the only place you'll find Gardermoen Pils served. It is a locally produced beer, brewed by Sundbytunet brewery and distillery on tradition and love.
Focusing on quality and local values, Sundbytunet brewery and distillery, located just a few miles from the airport, has since 2011 been producing bespoke Norwegian beers using traditional methods and the finest ingredients. Based on a family farm in Jessheim, which has been in operation through seven generations, the small brewery is proud to provide a new, exclusive craft beer for travellers.
Last year, the brewery produced about 35,000 litres of beer, which is served at several restaurants, bars and hotels, as well as being supplied to both shops and Vinmonopolet branches around the country. But its Gardermoen Pils is found exclusively at Humle & Malt, Food Truck Festival and Fiskeriet at Gardermoen airport. "Gardermoen Pils is a flavourful pale lager with a refreshing, hoppy aroma, which comes from using specialty malts and noble hops. We consider ourselves an artisanal brewery, so this beer is served unfiltered, which we believe makes for a fuller taste," says Frank Werme, head brewer at Sundbytunet.
Gardermoen Pils was created in collaboration between Sundbytunet and HMSHost-Umoe F&B Company, an F&B company in Norway operating several food chain concepts within airports. "We aim to promote and support locally sourced ingredients, local companies and sustainability, so it was a natural choice for us to collaborate with Sundbytunet, which has a long history in the area. Together, we can offer our guests something unique when they visit our restaurants," says Rune Aasen-Vaksvang, F&B manager at HMSHost-Umoe F&B Company.
Served both by bottle and on tap, the latter being a new addition in 2019 in response to popular demand, Gardermoen Pils is a versatile beer that fits all settings, whether accompanied by food or enjoyed on its own – a delicious lager that delights the palates of travellers at the airport while they wait for their next adventure.
Gardermoen Pils can be found here at Oslo Airport: – Humle & Malt at gate A4 in the domestic area. – Food Truck Festival in the non-Schengen area. – Fiskeriet at gate E9 in the international area. www.sundbytunet.no Facebook: Sundbytunet Bryggeri
Subscribe to Our Newsletter
Receive our monthly newsletter by email