Supermarket – Stockholm Independent Art Fair – Art for the people
Text: Liz Longden
O ver the past 13 years, Supermarket – Stockholm Independent Art Fair has grown from plucky rebel to major event on the international contemporary art calendar. This year's fair will see more than 150 artists from 45 cities across the globe descend on Sweden's capital for four days of glorious, chaotic, immersive art – and everyone is welcome.
The term 'alternative' is bandied about often, but in the case of Supermarket, Stockholm's only independent and international art fair, it is quite literally true. The event was founded in 2006 in playful opposition to the Market contemporary art fair, which also opened in the city in the same year. "When Market started, they had a very aggressive marketing approach, which made it clear that their focus was all about the buyer, not the artist. But our belief is that art becomes less important when you treat it as a commodity," explains Pontus Raud who, along with Andreas Ribbung, is Supermarket's founder and project director. Minimarket, later renamed Supermarket, was the result – an independent art fair, showcasing only galleries run by artists themselves, with the stated aim of focusing on artists, not saleability, and of making contemporary art more inclusive and more accessible.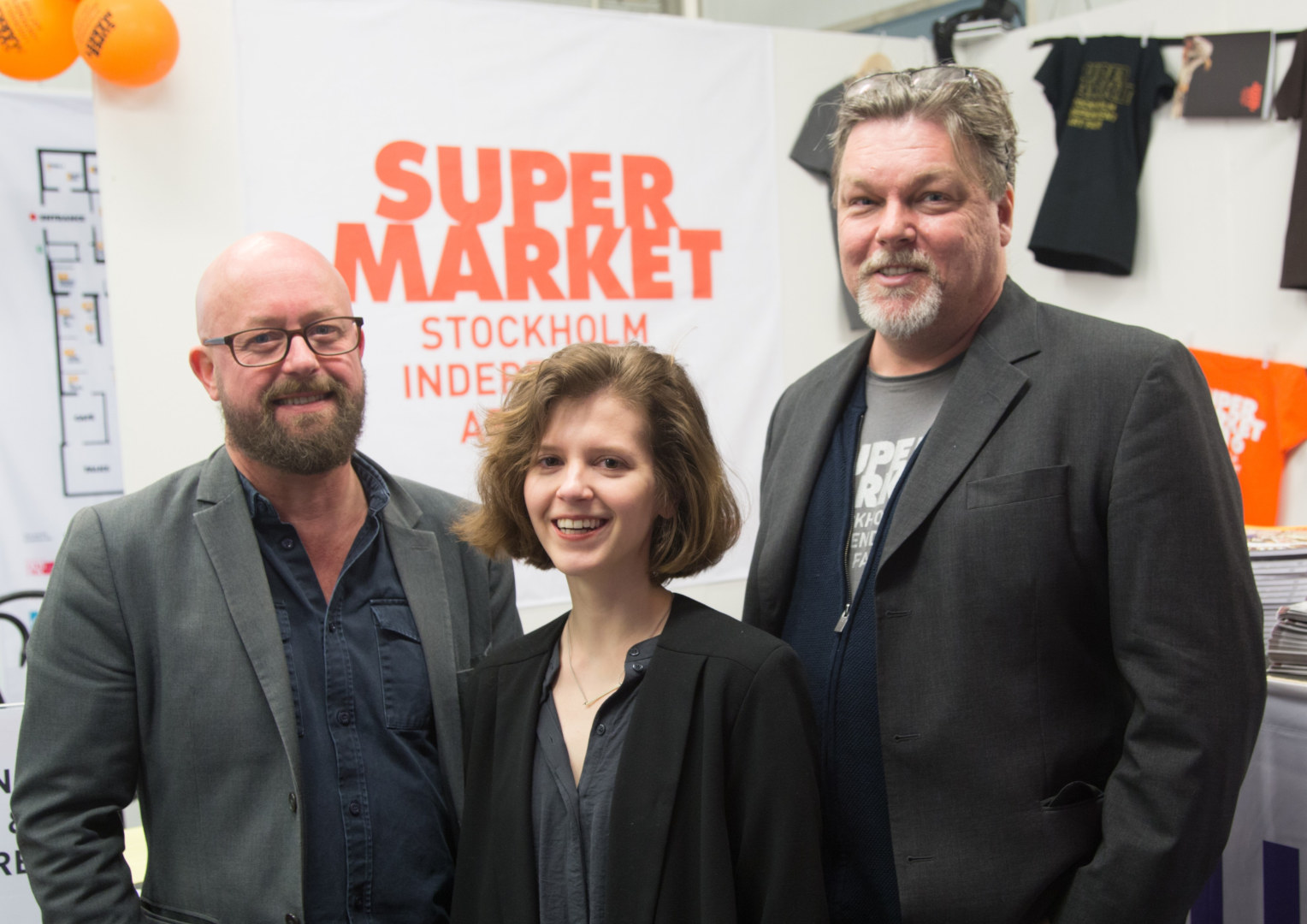 13 years on, Supermarket has become a role model for independent art fairs across the world and gained an international reputation for its anarchic, interactive approach. "We want to help bring contemporary art to a broader audience, and to do it in a way that gives a fun, dynamic experience," Raud says.
Reaching out
Described by one major Swedish national newspaper as 'punky, political, creative chaos', Supermarket is partly about challenging norms of how art can and should be experienced. This is evident in the physical set-up of the fair – a cluster of individual booths which together form a vibrant hub of artistic activity, where both the public and artists can mingle and share in artistic experiences that can be alternately surprising, disturbing, moving or amusing.
In addition to encouraging spontaneous interactions between artists and the public, the art fair also organises an extensive programme of performances and talks. "There are performances going on everywhere, all the time, on-stage, off-stage, so you have this really fun, inclusive, and somewhat unpredictable feel," Ribbung explains. "Part of the reason for doing it like this is to make it more accessible and to reach out to people from different backgrounds and different ages. And, actually, the great thing is that everyone finds something they like, and something that speaks to them, because there is such diversity."
Public outreach is also a motivation behind the Supermarket magazine. Published each year in conjunction with the art fair, and included in the price of the entry ticket, the magazine shares ideas, discussion and debates form the artist-run art world, giving a voice to artists and connecting them to a wider audience.
Bringing in
The principle of outreach and inclusivity is not limited to the public, however. One of the stated aims of Supermarket is to give exposure and networking opportunities to contemporary artists from across the world, who might not otherwise be able to share their work internationally. "Many of the smaller artist-run spaces that we exhibit are working quite locally and do not have the funding to take part in the more commercial art fairs. And they might also not be interested in presenting their projects to that kind of audience, who are mostly collectors," explains project manager Alice Máselníková. "So it is also about bringing in those artists who do not fit in the traditional art fair, and, in doing so, offering a wider perspective."
The result is a fascinating snapshot of international contemporary art, with the 2019 programme including artists from cities as diverse as Izmir, Tbilisi, Tel Aviv, Puebla, Saint Petersburg, Birmingham and Montreal.
Supermarket will this year move to a new venue near Hammarby Sjöstad in the southern part of Stockholm, and, for the first time, will also see a number of exhibitions and events in artist-run spaces across the city. The move is the latest step in the development of an event that has by now gained international renown within the contemporary art world.
"We want to keep reaching out to new audiences, and to a more inclusive audience, with people from different backgrounds and ages," explains Máselníková. "Whether we do that through our public programmes, the venues, or through other initiatives, helping to bring contemporary art to more people and to make it more accessible is going to continue to be our focus."
Subscribe to Our Newsletter
Receive our monthly newsletter by email