SuRi: Breaking the waves
Text: Louise Older Steffensen | Photos: Ricky Molloy
When the old fish market buildings on the harbour of the idyllic Danish town of Holbæk became available in 2004, Henrik Nielsen and Poul Bøje Nielsen knew they had to make a move. The friends had grown up together in the region, and both were professional chefs. "We'd worked together for ages already," Henrik explains, "we shared a long-term dream of setting up a restaurant; one which would be heavily immersed in the local community". Years before the trend of emphasising on regional produce took off, the pair succeeded in creating a dining experience which allowed visitors to experience the very best local ingredients through cooperation with farmers and producers in the region. Today, with Restaurant SuRi they have over ten years of experience in dishing up delicious local produce – and their hard work has been rewarded with several awards along the way.
Henrik and Poul first started a restaurant together in Holbæk in 2000, but soon needed more space in order to keep up with rising visitor numbers. The fishing halls proved the perfect location and the pair set up SuRi – named from an amalgamation of their mothers' names – right by the water and just a stone's throw from Holbæk town centre. Easily reachable by train or car from the capital, the island of Funen or nearby Roskilde Airport, ancient Holbæk features cobbles, colourful thatched cottages and classic Danish architecture.
Founded in the 13th century, the town has grown to become the largest in north-western Zealand. Holbæk lies on the shore of the Ise Fjord, once a popular haunt for the Vikings and a historically significant source of fish for Zealanders. While commercial fishing has become less important for Holbæk in recent years, the harbour retains its strong links to the sea, and now, Restaurant SuRi benefits from fresh fish hauls every day.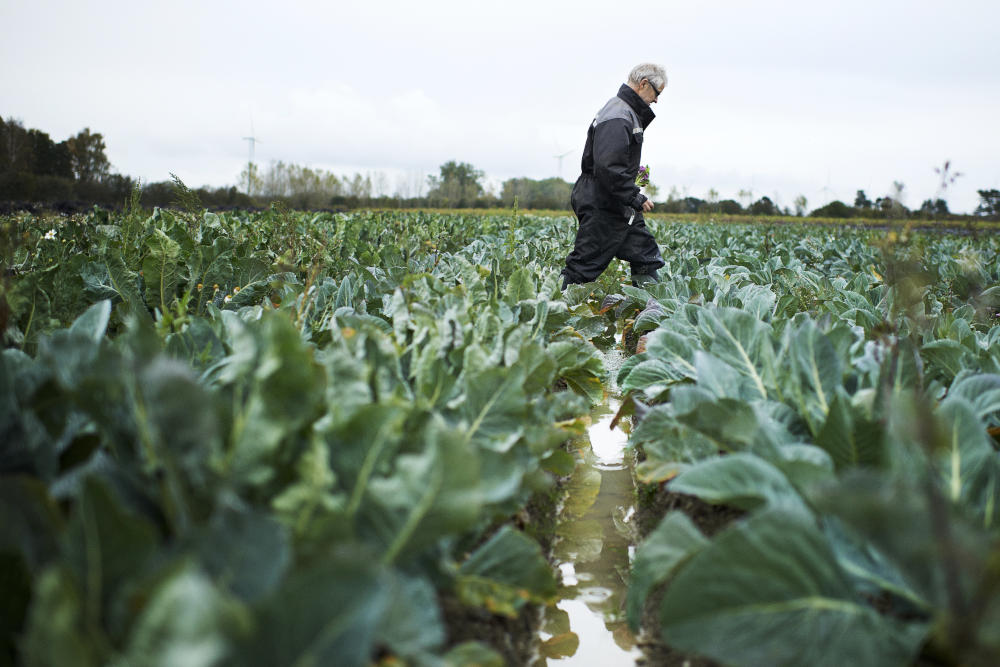 Quite the catch
To take advantage of their maritime location, Henrik and Poul set up a fishmonger's and delicatessen as part of SuRi, enabling locals and visitors on the go to pick up traditional Danish delicacies prepared daily by the restaurant's chefs. The delicacies offered vary depending on what has been caught in the fjord, but SuRi's own smoke oven ensures that classics such as smoked herring or mackerel are often available even outside of the dine-in menu. In March this year, SuRi was elected one of the finalists in the 'Fish and Seafood' category by the Danish Guide to Eating Out (Den Danske Spiseguide). Henrik was also pleased to discover that SuRi has been included in White Guide's 2015 survey of the best restaurants in Denmark.
Pride of place, however, goes to The 'Local Cooking' competition they won in 2013. The competition, which covers the whole of Zealand, requires at least 75 per cent of ingredients in the restaurants' menus to be locally produced and puts emphasis on creativity and quality. Henrik sounds slightly disappointed when we speak to him two days after the 'Local Cooking' 2015 final: "We were placed second this year," Henrik explains, "after our other restaurant, Elmely Kro, which Poul now runs." He laughs: "It's healthy to have a bit of internal rivalry, though – it keeps you on your toes!"
SuRi's experienced staff do not rest on their laurels, and the seasonal nature of their ingredients allow the team of six chefs and apprentices to try out new exciting combinations and techniques on a regular basis, although they always base their dishes on classic cooking to ensure that quality remains top-notch.
Community and co-operation
For those less keen on seafood, a wide range of traditional and inventive meat- and vegetable-based dishes are available in both the delicatessen and in the restaurant. Diners choose several smaller dishes, allowing them to experience exciting combinations in one sitting. As with the fish, almost all of SuRi's meat and organic produce is sourced locally. Over the years, Henrik and Poul have developed partnerships with over 30 local farms and suppliers, such as Ørnberg Vin, a local vineyard. These collaborations have proven mutually beneficial. In 2013, SuRi published a book detailing the work and lives of their suppliers in northern Zealand, and the restaurant's reputation for local commitment and culinary excellence has seen it featured regularly on Denmark's TV2 channels. Shortly after SuRi opened its doors, Holbæk's business board awarded the restaurant with their 2005 Innovation Prize, recognising the effort put into creating a restaurant which contributes positively and constructively to the local community.
Over the sea
Henrik and Poul have worked closely with local artist Mogens Grønbech to create a space which reflects the bountiful agriculture of the island of Zealand and the maritime location of the restaurant. Grønbech, who has also headed projects for Queen Margrethe and Carlsberg, used materials and natural decorations from the nearby ocean and countryside to create a sleek modern space evocative of the region's nature, quietly underlining the restaurant's focus. The resulting rooms have become light, airy and cosy, and large windows enable guests to glance out across the fjord to one side and the ancient town to the other.
In the summer, the restaurant opens up unto a large terrace positioned directly on the mole, making the diners part of the life of the harbour. It is possible to get even closer to the sea, as SuRi also encompasses Black Louis, a beautifully restored 1950s ferry, which is available for conferences, meetings and social events. It can also travel to other harbours to accommodate those who cannot make it to Holbæk.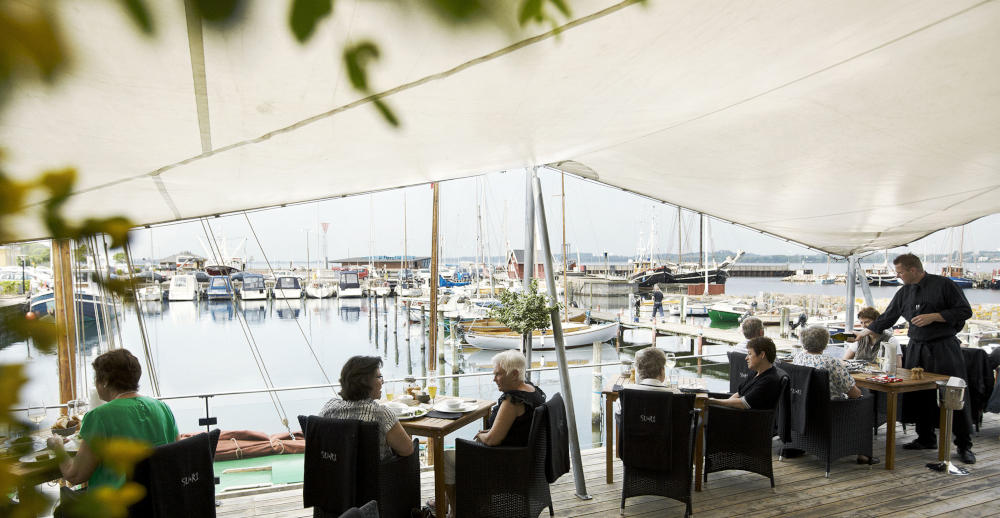 The team
The restaurant can also be booked for special occasions. Even the Queen has enjoyed lunch at SuRi, when the rooms and terrace accommodated 90 visitors. "It was great fun," Henrik recalls, "a lot of work, of course, but it really gave us all confidence in our little restaurant." SuRi also caters out of the house, preparing food for anything from intimate dinner parties to large-scale conferences or jubilee celebrations. "We have menu suggestions, of course, but we love to work with clients to give them exactly what they're looking for." The kitchen team can create anything from breakfast sets to canapés to three-course menus, and the waiting personnel can be hired to provide professional service at events. "I know it's a bit of a cliché, but the people really are the best bit of SuRi," Henrik concludes. "We've got lovely staff who've been with us for years, friendly customers from far and wide, and great relationships with our community and suppliers."
Henrik encourages international visitors to call or come by. For more information, please visit www.suri.dk
Subscribe to Our Newsletter
Receive our monthly newsletter by email