The art gallery of Norway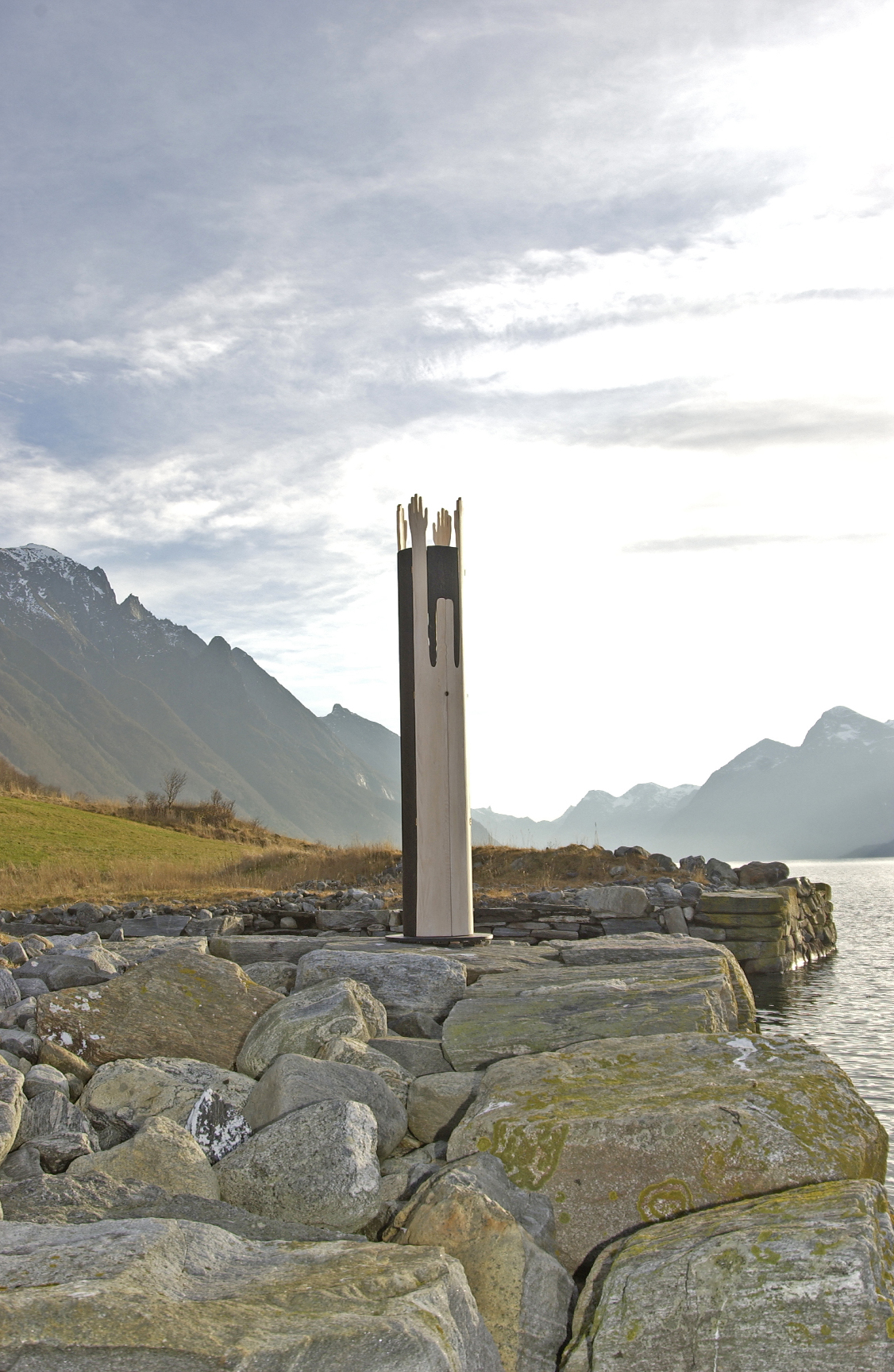 In Møre og Romsdal's Tusvik, visitors can experience not only strikingly beautiful furniture art, but also the landscape it is inspired by. Often called the most beautiful landscape in the world, the mythical, impressive mountain peaks and green valleys of the western Norwegian county, and Sykkylven municipality in particular, make for an experience unlike any other. Welcome to Cylindra Gallery: a symbiotic experience of art, furniture and nature.
"Even if these objects are meant for indoor use, I like to bring them out into the
nature because it creates some very beautiful photos," says Kjellbjørn Tusvik of Cylindra Gallery. The inspiration from surrounding sceneries is clear in objects such as the Mountain Peak series, he explains. Creator Peter Opsvik agrees: "Mountain Peak, the chair, table and cupboard, is inspired by the landscape of this area. They all look like sharp, craggy mountain peaks. As with the other objects in the series, the top of the cupboard represents a majestic range of mountain peaks, which in this case rises up to two meters in height."
From cylinders to furniture
Cylindra AS was founded in the late 1980s, based on Peter Opsvik's design. The aim of the company was to create wooden, cylindrical-inspired furniture. The idea for the unique design came to him as he was experimenting with cylindrical shapes in the beginning of the same decade. "When I worked in graphic art and paintings on paper or canvas with only two dimensions, I often wished to have a basic form that could be shaped freely and still be functional," Opsvik notes. "The solid wood cylinders made my dream come true." Thus, in 1989, Opsvik teamed up with Tusvik to develop an initial range of 20 furniture objects, including chairs, tables, cupboards and wardrobes. Today, the cylindrical furniture's combination of artistic expressions and practical function is renowned all over the world, with objects exhibited at museums and art shows in cities such as Chicago, New York and London. Currently the entire collection consists of more than 200 different pieces designed by Opsvik.
Sykkylven – an innovative heart of inspiration
Despite worldwide success, it is the municipality of Sykkylven that remains the main inspiration for the gallery's originators. Mainly an industrial community where furniture and furnishing manufacturing is the dominant industry, Sykkylven provides a strong crafting legacy and innovative spirit. A Centre of Expertise and Inspiration has recently been established by competitors and suppliers in the furnishing business, which is also supported by local institutions, as well as the municipality of Sykkylven. The idea is to create a centre for the furniture industry, so it may continue to succeed on the international scene. "'Design, Create, Live,' have become important elements in our daily life. In September last year a successful pilot project was completed in cooperation with Oslo National Academy of the Arts. The centre is now up and running," says Tusvik.
An extraordinary experience
At the gallery in Tusvik, visitors can buy many of the pieces in the exhibition, like for instance the Silhouette of a Man, a hanging wall cabinet with not much space inside, but decorative on the wall. You will admire these beautiful cabinets for years to come, but the gallery is not just about buying objects, Tusvik stresses: "It's nice to have our own gallery, a place where we can meet people with an interest in our sculptural furniture, listen to their opinions and test our theories on how to work with our pieces. You see, working with objects that are both art and furniture is something quite special. We are not just offering an object; we are also selling a story." As an extension of these stories Tusvik explains that he often finds parallels between proverbs, texts and the descriptions of Cylindra objects. "Sometimes I find text that goes very well together with photos of our objects, and I also like to combine proverbs with the names of the pieces. For instance, Khalil Gibran's The Prophet gives this verse: 'And forget not that the earth delights to feel your bare feet and the winds long to play with your hair'. I like that," he says proudly. So, whether you are looking for a new piece of unique furniture, an inspirational art exhibition or simply a different evening out, Cylindra Gallery might just be the place.
By Julie Lindén, published in Scan Magazine issue 76 | Photos: Gallery Cylindra
Subscribe to Our Newsletter
Receive our monthly newsletter by email