The Lodge: Escape to an extraordinary hilltop oasis
By Nina Bressler | Photos: Ulrika Olsson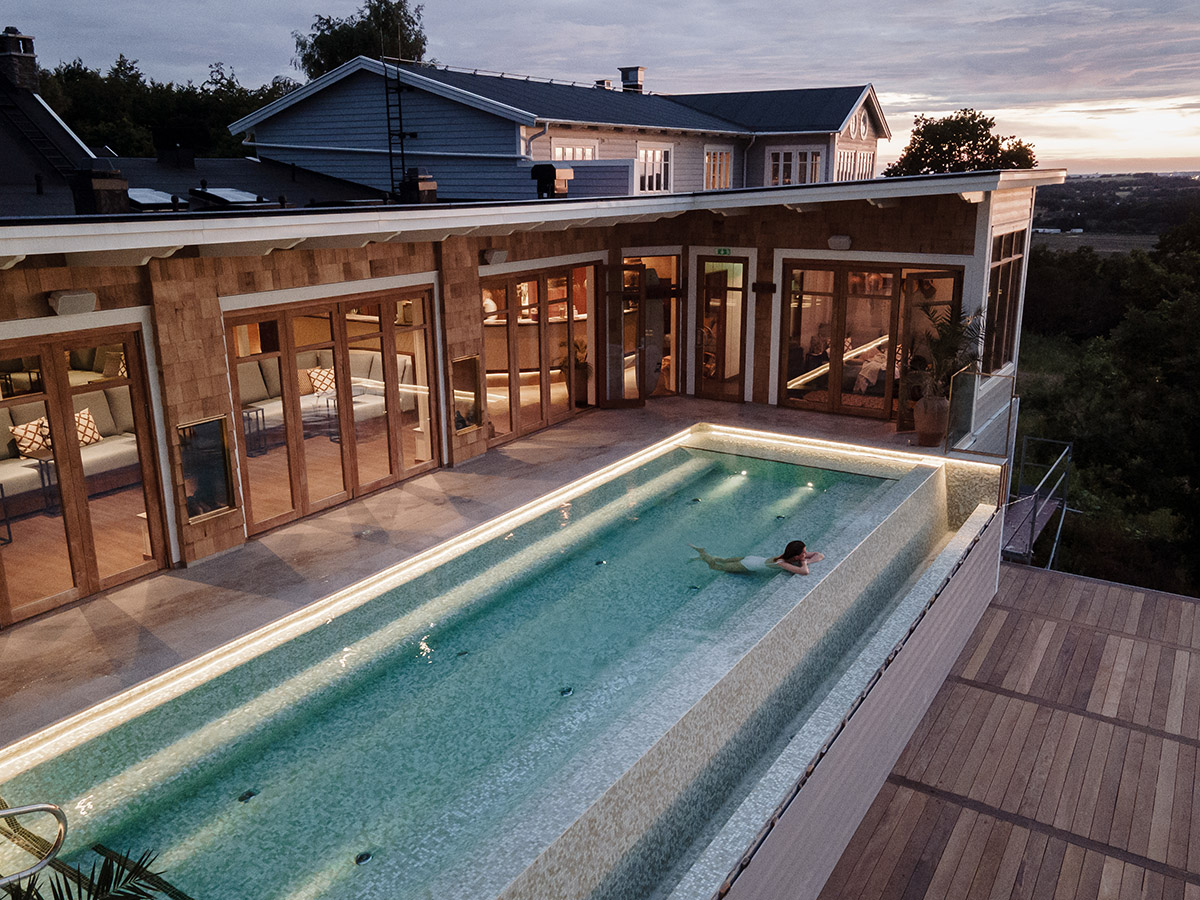 The Lodge has become a hub for pleasure seekers, food lovers and spa fanatics near and far. The resort offers more than just a night away; it's an experience for all the senses. Their unique location, in combination with spectacular food, drinks and surroundings built in a New England style, sets the perfect scene for a unique getaway that brings guests back again and again.
The spa and resort is located on Romeleåsen, a hillock where the view is nothing short of spectacular: an unobstructed vista all the way to Malmö, 40 kilometers away, and the Öresund bridge, approximately 50 kilometers away. The location was originally home to a small hunting lodge, the Romele hut, which drew visitors keen to explore the unique nature.
The Lodge was founded by three Swedish friends and adventurers who travelled the world together. It was after an inspiring trip to the North American east coast that they realised they wanted to start a business back home, incorporating the New England style into their venture. They were given the once-in-a-lifetime opportunity to take over the Romeleåsen location, and The Lodge was born, receiving its first guests in 2006. 16 years and multiple awards later, it remains a top choice for innumerable food and wine lovers looking for a relaxing weekend away.
Find your home away
"The Lodge is not just offering a hotel, spa and restaurant as separate entities. Our wholehearted focus is on delivering an experience where everything is connected through wholesome choices. Our restaurant, Heaven, serves a four or eight-course meal of world class standard, where unique flavours are at the centre, meticulously paired with the wine. We use local produce to create dishes that are inspired by our surroundings, the Skåne fields and forests, a landscape that has so much to offer. It's so peaceful here and we want to offer a relaxed exclusivity, a luxurious getaway for every person who seeks a break from the ordinary," says Camilla Persson, commercial manager at The Lodge. The 22 double rooms are divided in two areas: the Treetop Lodge with a spectacular suite; and the Cabins, connected to the restaurant and spa via wooden-clad walkways that are illuminated during the evenings, bringing another magical touch to the resort.
Aloha! Honulele Spa – a little slice of Hawaii
Welcome to Honulele Spa – the most recent addition to the Lodge, a blend of Polynesian treatments, tropical ambience and organic products. Despite its novelty, the spa has already won the World Luxury Spa Award two years in a row. "We haven't misspelt Honolulu, contrary to what many people believe, but it's named Honulele because of its Hawaiian meaning: it means the jumping turtle that, according to legend, would lead sailors back home. We want to guide our guests in the same way, back home through recovery and enjoyment in our spa," says Persson.
It's located right atop the hillock, overlooking a steep drop and offering breathtaking views over the landscape below and a gorgeous sunset every evening, weather permitting. A tropical atmosphere envelopes the facilities, where hotel guests along with day guests are treated to rejuvenating, restoring and relaxing activities. An eye-catching infinity pool, 12 metres long with a consistent temperature of 38 degrees, in addition to a cold bath and sauna, provides the perfect opportunity to unwind and let deep breaths flow through both body and soul.
Relaxing treatments
Are you looking for serious relaxation? Then Honulele Retreat is your answer, where their Aloha Spa Ritual offers 90 minutes of pure restoration through seven different treatments, inspired by Polynesian knowledge and unique techniques. A dedicated host offers guidance throughout each treatment, and afterwards, all guests are welcomed into the VIP section for relaxation in the pool and spa facilities.
Food and drinks can be enjoyed with a relaxing backdrop of the panorama view across the billowing fields below. "The location of this place is quite simply something else. We are located in one of the rare, elevated spots in an otherwise flat province, giving us that viewpoint many other facilities lack. Sitting on our restaurant terrace, watching the sun slowly dipping behind the horizon, is incredibly soothing and, in combination with the spa, food and our comfortable lodges, a visit here is simply something out of the ordinary: an escape to another world," says Persson. This hidden gem, nestled into the lush, enchanting province of Skåne, welcomes you.
Four or eight-course dinner and spa day is included in all hotel bookings. Guests without hotel bookings are also welcomed for day visits to the spa and restaurant. Less Ordinary company meetings can also be arranged. Web: www.thelodge.se Facebook: The Lodge Resort Instagram: @thelodgeresort
Subscribe to Our Newsletter
Receive our monthly newsletter by email