The Swedish Chamber Orchestra: Setting the tone for classical music – now and in the future
By Amanda Düring
They strongly believe in what they do. They work hard and make sure to develop, with the future always in sight and with heritage in mind. We are of course talking about one of the world's most successful orchestras, the Swedish Chamber Orchestra. Touring internationally, recording albums and now starting their own podcast – these are just a few of the things that make this group vibrant and always relevant.
With a lot going on, it's indisputable that the Örebro Concert Hall really is the place to be. Here you'll find the members of the Swedish Chamber Orchestra, all 39 of the musicians with each their own rehearsal room, something that is rare. The freedom that it gives, to have their own space, is an important part of the orchestra's success. It gives each and every one of the musicians a security and a homely spot in their everyday work space.
"The difference between a chamber orchestra and a symphonic orchestra are two buses," jokes Gregor Zubicky, artistic manager for the orchestra, "but the sound they create is bigger than the sum of its parts. We're bringing classical music, and sometimes we add a modern twist. We're so glad to be able to bring our music not only to Swedish audiences, but also on tour internationally. The reception we get when we meet our audience is absolutely fantastic, both at home and on tour."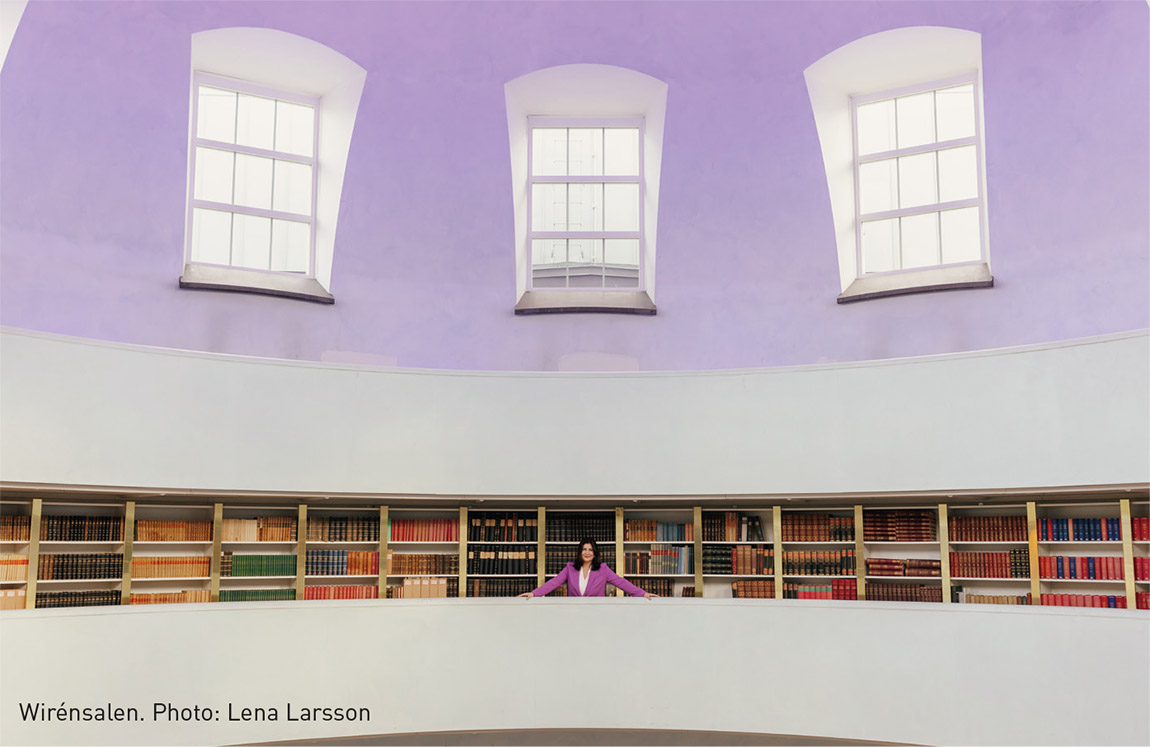 Dausgaard and Fröst – the conductors
One of the reasons why the Swedish Chamber Orchestra has gained international renown is its conductors, starting with the previous conductor Thomas Dausgaard, who developed the orchestra's rich sound and stood for continuity, stability and hard work during his 22 years with the orchestra. In 2019, he handed over the baton to Martin Fröst, a well-known clarinettist with significant international recognition. With Fröst as conductor, a new era started that increased the orchestra's artistic scope.
"We're privileged that everyone we work with is so talented; not only our own musicians, but also the international musicians who join us and bring their own competence and perspectives. In doing so, we keep classical music alive and continue to develop the sound with every new meeting," says Emily Öjdemark, marketing manager.
Recently, Martin Fröst won the International Classical Music Award for Artist of the Year. Considered one of the breakout stars of his generation, he is known for his boundary breaking performances, both as a solo clarinettist and as a conductor. He performs regularly in roles with orchestras such as the Royal Concertgebouw Orchestra, the New York Philharmonic, the London Philharmonic and the Saint Paul Chamber Orchestra among others. He was recently voted the Greatest of All Time as one of the three greatest clarinettists of all times, the other two being Benny Goodman and Artie Shaw.
"Fröst certainly shapes our performances and elevates them to a level that we're all so pleased to be able to share with our audience," says Zubicky. "He's great at bringing out the best in our highly professional musicians and selecting pieces that really showcases everyone's talents."
Soundscapes – the Swedish Chamber Orchestra podcast
One of the key aspects of the orchestra's work is bringing those talents to everyone – including people who may not consider themselves classical music fans. "Market research has shown us that people sometimes think that they don't like classical music, but when they attend a concert they find that they actually do like it," says Öjdemark. "They get swept up in emotion while listening. That's magic!"
"We want our concerts to be as accessible as possible, to everyone, and that's one reason why we started Soundscapes – the Swedish Chamber Orchestra podcast. It is a conversation led by Zubicky and always with a guest, like guest conductors, solo artists or solo musicians of the week. There will also be episodes where Zubicky and Fröst are discussing classical music, performances and more," says Öjdemark.
To make classical music more widely available, the orchestra also gives performances on Wednesdays. These start a little earlier, allowing people to elevate their normal after-work drink with a concert. And without the typical intermission, the Wednesday concert finishes in time to head home for dinner.
You'll find the orchestra's home at Örebro Concert Hall, which was originally built in 1932 and then rebuilt in 2015. The Concert Hall seats 724 people. You can buy tickets on the Concert Hall website, follow the orchestra's everyday life through its social media channels, and listen to the music on the YouTube channel. You can find the Soundscapes podcast wherever you choose to listen to podcasts, or via the links below. Web: www.orebrokonserthus.com/svenska-kammarorkestern Facebook: Svenska Kammarorkestern Instagram: @swedishchamberorchestra Youtube: /Orebrokonserthus
Subscribe to Our Newsletter
Receive our monthly newsletter by email