The velvety pumpkin soup perfect for fall
By Katharina Kjeldgaard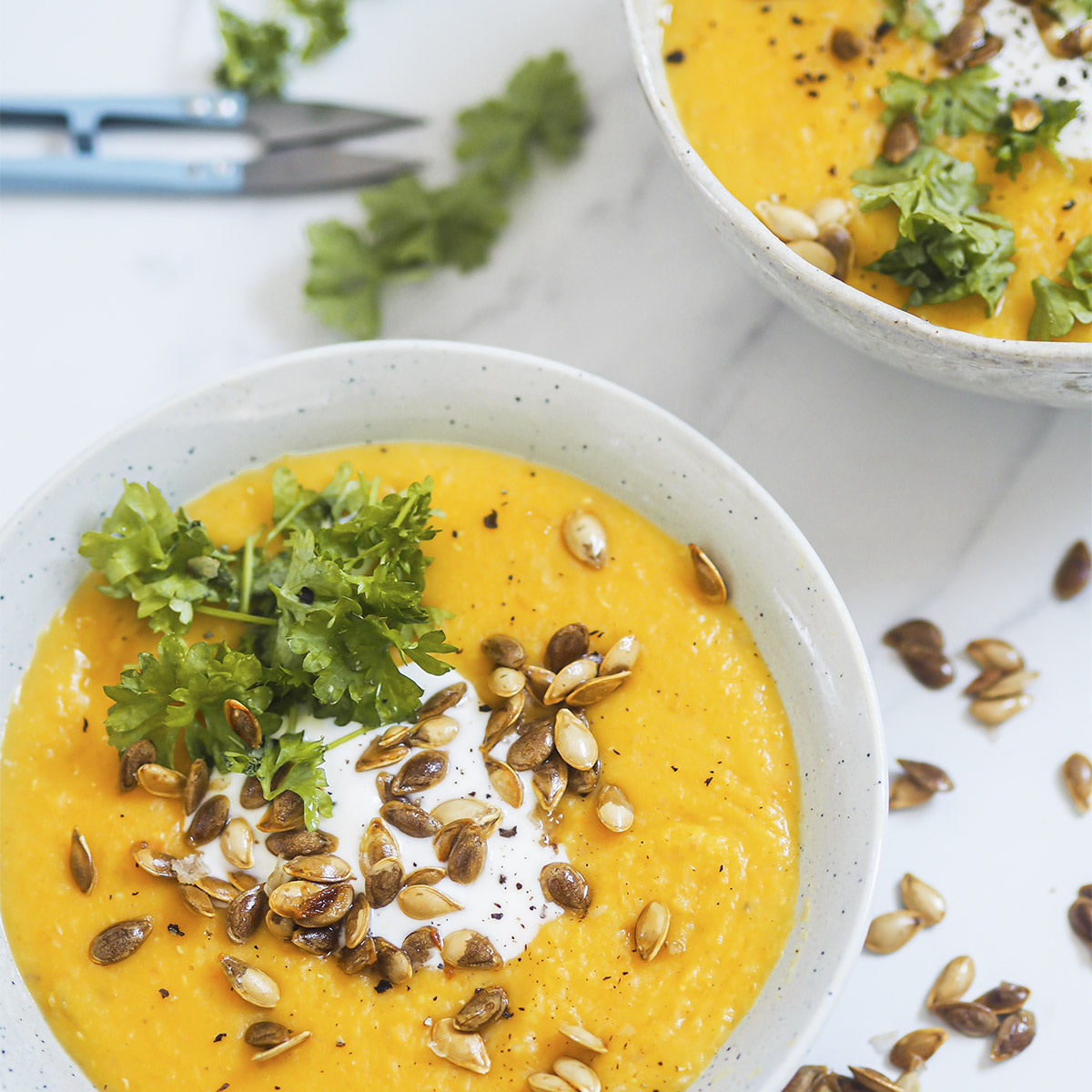 This velvety pumpkin soup is full of rich, nutty flavours combined with subtle hints of coconut, ginger, and citrus. It's easy to make and a perfect dish for those fall evenings. I've added red lentils for extra protein and creaminess – and, they make you feel fuller for longer.
Butternut squash is one of many vegetables that I really enjoy using as it is amazingly versatile – it can be boiled, baked, mashed, or sautéed, and you don't even have to remove the skin as it becomes incredibly tender when cooked.
Easy butternut squash soup with red lentils
Amount: 3-4 portions
Easy to make
Time: 40-50 minutes
Ingredients:
1 butternut squash (leave the skin on)
1 onion
3 cloves of garlic
2 cm fresh ginger
1 can of coconut milk
400 ml water
1 vegetable bouillon cube
½ a lemon, the juice
250 ml red dried lentils
Olive oil for frying
Salt and pepper
Instruction:
Cut the butternut squash into cubes. They will be blended later, so they don't need to be perfect. You can leave the skin on as it becomes soft and tender when you cook it.
Chop the onion and garlic into chunks.
Sauté the onion and garlic in olive oil in a large pot. Add the butternut squash and chopped ginger. Sauté everything for about 5 minutes.
Then add water, coconut milk, bouillon, lemon juice. Wash the red lentils and add them as well.
Let the soup simmer for about 30 minutes.
Blend it with a blender and season with salt and pepper. Top with your favourite toppings.
Blog: : beetrootbakery.dk Instagram: @Beetrootbakery
Subscribe to Our Newsletter
Receive our monthly newsletter by email