The Vigeland Museum
Text: Julie Linden | Photos © Vigeland Museum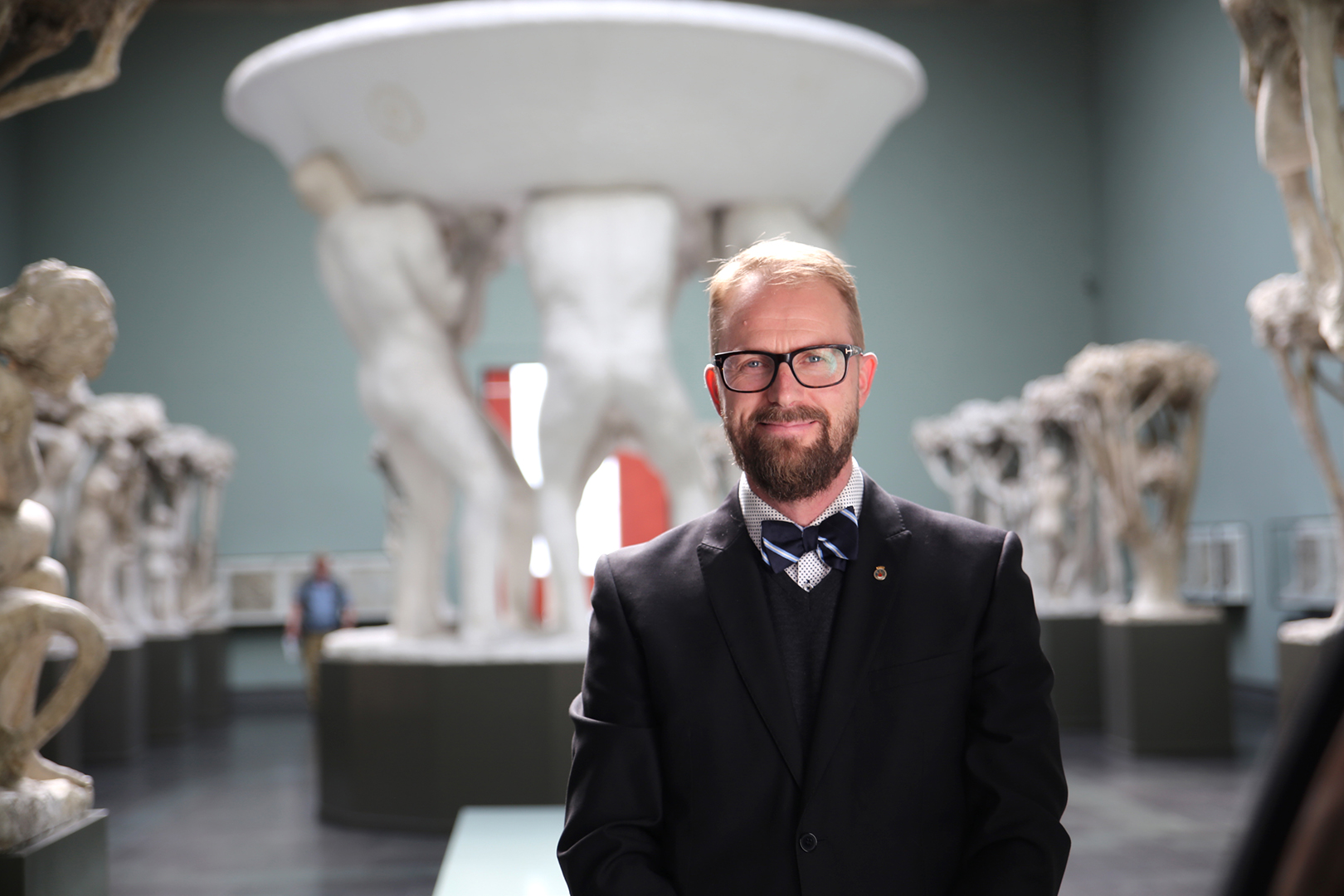 The visionary legacy of Gustav Vigeland – 150 years after his birth
TEXT: JULIE LINDEN | PHOTO © VIGELAND MUSEUM
A century and a half after his birth, Norwegian sculptor Gustav Vigeland is still one of the country's most noted artists, with an eponymous museum and monumental sculpture park to his name. To mark this year's anniversary, the Vigeland Museum and its partners are shedding light on this remarkable visionary's life and legacy, revealing a man of a somewhat reticent nature, who left artistic footprints far beyond his nation's borders.
"He was an artist who rarely exhibited his work abroad, despite being asked to do so quite often," says Jarle Strømodden, museum director at the Vigeland Museum, about the lesser-known aspects of Vigeland's exceptional career. "He was an avid commentator of contemporary issues, he really saw his surroundings and created art out of those moments. For this, he holds an impressive place among the artists of the late 1800s – across nationalities."
A jubilee graced by the contemporaries
Inaugurating a jubilee exhibition on the day of Vigeland's birth, 11 April, the museum is approaching the anniversary with a dynamic touch and desire to both educate and inspire. The core jubilee exhibition will consist of works by Vigeland's French and Belgian contemporary colleagues, including Rodin, Maillol, Meunier, Bourdelle and Barye. "These are artists Vigeland learnt from and was inspired by, so there is an interesting creative arc that seems to bind their careers together," comments Strømodden, adding that works for the exhibition have been borrowed from museums in Paris and Copenhagen. "We aim to show the early period of his artistic life, convened with the works of distinctive sculptors in the rest of Europe at the time, with emphasis on form, expression and style. Vigeland's works were most certainly on par with the best of his time, and this exhibition will hopefully show just that."
An introverted master of his time
A son of craftsmen who exhibited his first work before the age of 20, the ambitious Vigeland was determined to become a sculptor from a young age. A frequent traveller during his time, with destinations ranging from Copenhagen to Florence, the young artist was indeed able to learn from some of the very best – including Auguste Rodin, on location at his Paris workshop. His first personal exhibitions took place in Norway in the mid 1890s, while a 1904 exhibition in Vienna is one of relatively few examples of his exhibitions abroad.
"At that particular showing, he was the only Norwegian to be represented; there wasn't really anyone else like him," explains Strømodden, adding that he discovered several new sides to Vigeland while working on the jubilee exhibition. "It does seem like he was a shy artist, to some extent. Had he been more of an extrovert in the communication of his artistry, he might have had a larger place in European artistic awareness today. And yet, he had valuable international connections and a status of immense competency among his peers – I don't think that's necessarily known. This is why we think it's important to show his works alongside other great artists – it can be a challenge to display the full extent of his greatness when all the art in the museum is his own."
Inner tensions, emotions, and SKAM
Beyond the jubilee exhibition, there will be a touring exhibition put on in collaboration between the Norwegian National Museum and the Vigeland Museum. Named Gustav Vigeland. Angsten står i sofaen ('Gustav Vigeland. Anxiety is in the sofa'), the exhibition shows his most important work from the 1890s, as well as a small selection of sculptures from later decades. The exhibition is aimed at adolescents aged 16 to 23, and deals with difficult themes such as alienation, exclusion and loneliness, inspired by the Norwegian hit TV series SKAM.
"This exhibition uses Vigeland's work to try to visualise attitudes and moods of today, asking 'in what way can established, classical art forms help us understand issues that today's youth is concerned about?'" says Strømodden. He adds that many of these topics are intriguing as they transcend periods of time. "Relationships, inner tensions, emotions; all these are themes Vigeland was famous for occupying himself with, time and time again. These are deeply human issues that inform unique works of art – but also the everyday operations of most humans, perhaps especially young people," says Strømodden. "Vigeland's strength is in his universal applicability, which defies any intimidation that could come from the enormity of his artistry. From the impressive, accessible park in Oslo to the museum and its exhibitions, we believe Vigeland can be enjoyed by all."
Subscribe to Our Newsletter
Receive our monthly newsletter by email