The Waters: Swing by The Waters
By Signe Hansen | Photos: The Waters
No golf clubs are needed to enjoy a visit to The Waters restaurant and cafe at The Scandinavian golf club. Just 20 minutes from Copenhagen, its beautiful views, high quality food, and stylish architecture provide plenty of reasons to swing by.
They say that the 19th hole is the most important, so it is only fitting that The Waters should be of the same international standard as the rest of The Scandinavian golf club. "Many of our members are people who travel a lot
and are used to visiting high-quality golf clubs and restaurants. They're used to quality and that's what we want to give them, but in a relaxed setting without any airs and graces," explains Per Krarup, restaurateur and sommelier of The Waters. "The high quality is reflected everywhere at the club – in the courses, the club house, the food and the service. It's all interlinked."
Guests can choose between a quick brasserie-style lunch and dinner in The Waters' café or a more elaborate culinary
treat in the restaurant. Both options offer a broad selection of exquisite wines and beautiful views of the club's two golf courses.
Herbs from the golf course
The kitchen at The Waters is headed by Danish chef Morten Kirk. Kirk, who has been head chef at The Waters since 2010, previously worked at two of London's Michelin-star restaurants, Lombard Street and Le Gavroche, and
shares Krarup's focus on international quality and aspiration. "I had worked with Morten in the past and knew the quality he represented, his focus on good ingredients, and innovative ideas," Krarup explains.
Restaurant guests have a choice of a three-course menu and a number of à la carte dishes, all originating from classic French cuisine, but with Nordic influence. For example, many of the dishes incorporate herbs collected from the golf courses and vegetables from the chef's kitchen garden. "We use a lot of local Danish produce, so that's a bit of a twist.
It's a classic French cuisine, but reinterpreted with Danish ingredients," says Krarup. "We also do a lot of foraging for
mushrooms and have just made our own elderflower cordial."
Both the restaurant and café menus change every month, and, with a broad selection of wines and a kitchen open
to suggestions, even regular guests will continue to find new things to enjoy.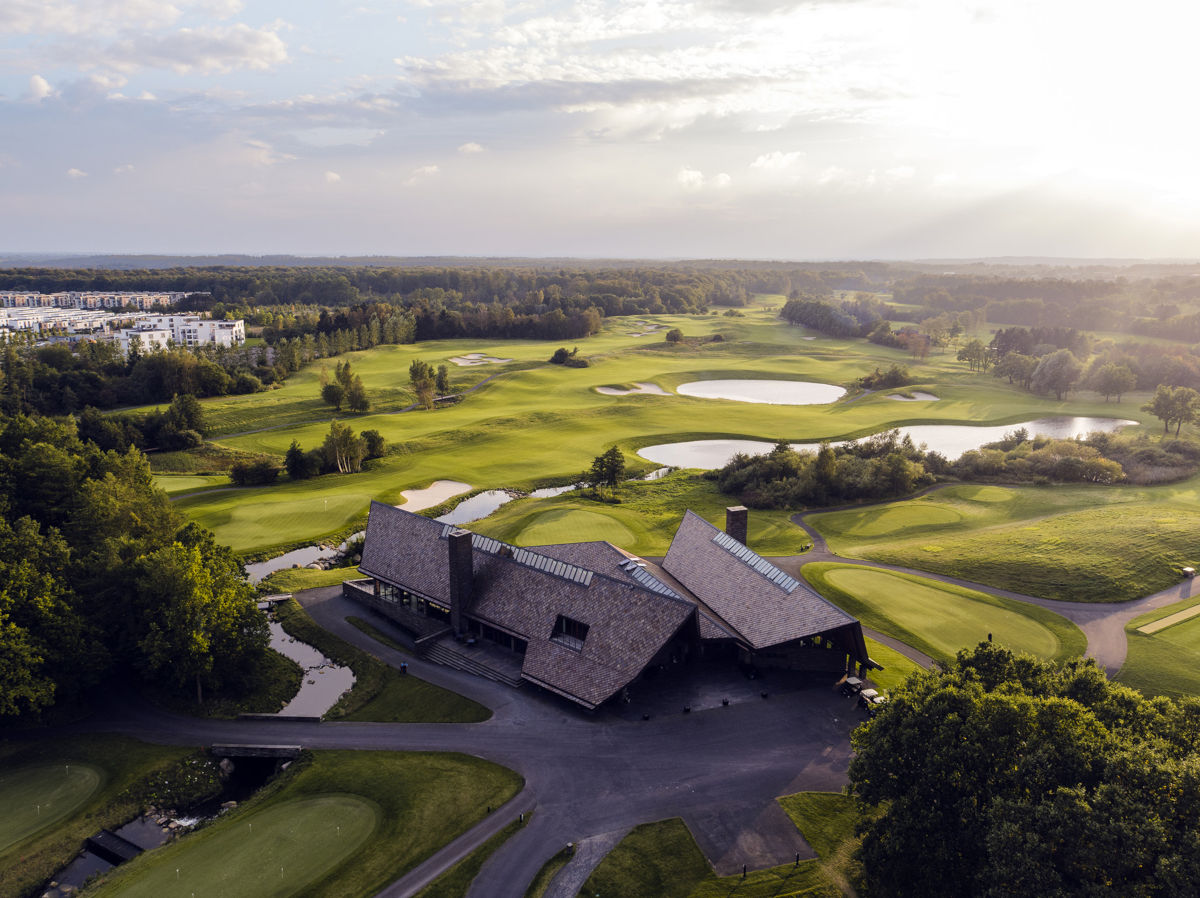 Open for everyone
Throughout the golf season, The Waters is open 12-9pm every day, but guests can also enjoy the experience during winter months. In November and December, the restaurant is open for Christmas lunch every day, and it is open for private events and parties all year round. And whatever the time of year, you do not have to be a golf lover to enjoy a visit. "We have lot of people coming from the local area, but also from Copenhagen, who just want to come enjoy the peace, picturesque landscape and the beautiful architecture by Henning Larsen Architects," says Krarup. "Of course, the majority of our guests are golf players, but you don't even have to be into golf to enjoy the quality of our food, service, and the lovely view of the golf courses."
Subscribe to Our Newsletter
Receive our monthly newsletter by email