Thorupstrand Fiskehus: Barefoot in the surf with fish 'n' chips and live music
By Lena Hunter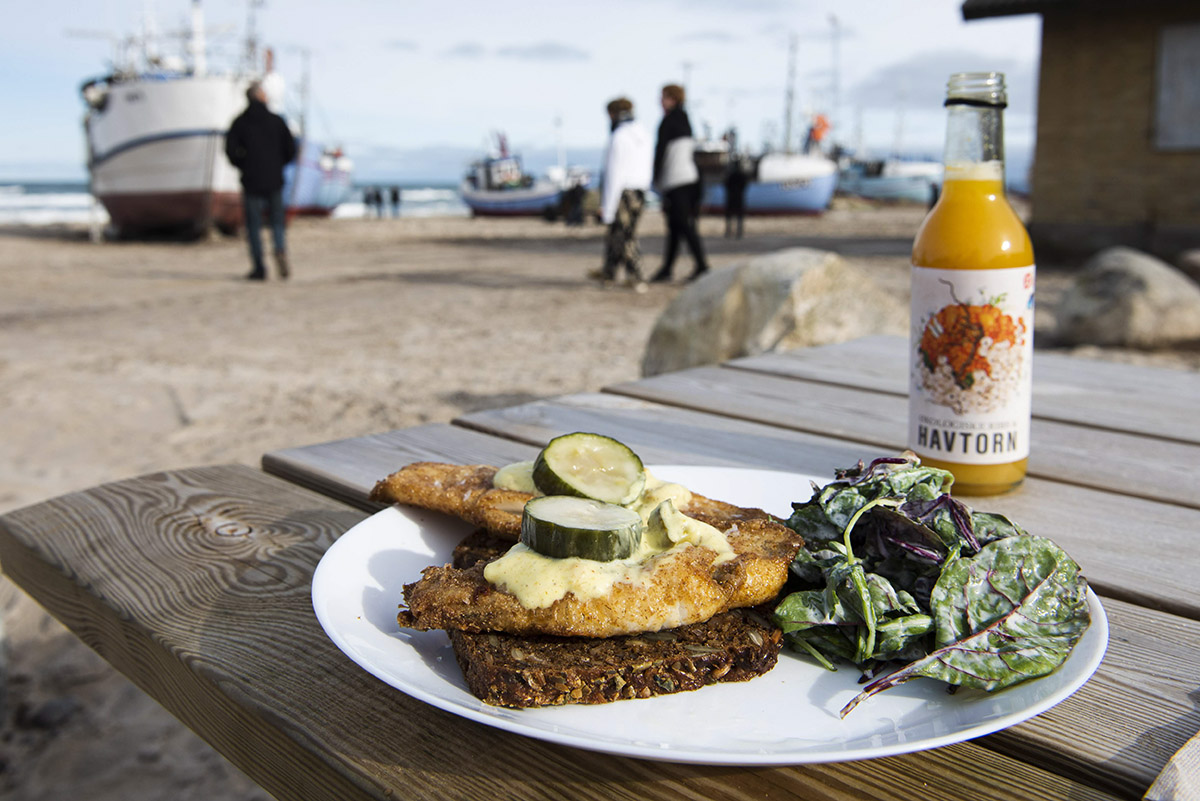 "This is my office… and out there is the ocean," says Janni Olesen, pointing out of the open door to a shimmering vista of sand, sky and seabirds wheeling on the breeze. "We're right on the water!" Thorup Strand is one of Denmark's most northerly beaches. Here, Olesen and her business partner Janet Anisimow run Thorupstrand Fiskehus – a deli and casual beachside restaurant serving fresh fish and local specialties.
"We only work with sustainably caught fish. That's the heart of the business and of the Thorup Strand area," says Olesen. "In fact, it's the last place in the Nordics where we fish like this." Fishermen have been working these waters on the shore of the Skagerrak strait between Norway, Denmark and Sweden since the Viking era – and they fish the way they've always done. "The boats are built the way the Vikings built their boats," says Olesen. "Fishing here is difficult; it's highly dependent on weather and wind. But it's worth it."
Worth it, indeed. Olesen and Anisimow have been running Thorupstrand Fiskehus together for just four years and have already been nominated for the municipality's Entrepreneur Award. But Olesen is staunchly humble: "We stand on the shoulders of generations of fishermen. They live and work here – we're just here to cook and observe," she says. For that reason, Thorupstrand Fiskehus is an unpolished place – about as farm (or rather, sea) to table to as it's possible to get. "When you sit here and eat, you have a wonderful view of the ocean. You're in nature – but you're also very much at a workplace," says Olesen. "We're two women in a very male-dominated environment, and that creates a lot of wonderful synergies. It's great to have some female power at this beach!"
Less is more
Thorupstrand Fiskehus' menu is small but mighty, featuring pickled herring, pan-fried plaice and fishcakes, served with ryebread, jammy boiled eggs, traditional potato salad, greens and homemade dressing. "But everyone's favourite is the fish 'n' chips!" says Oleson. "It's so simple. We use very few ingredients, but they are the best you can find."
"What's the secret?" you might ask. "It's the fish," says Olesen with a big grin. "Here, we use cod. It's very flaky and moist and incredible to cook with." Certainly, it's hard to imagine getting fresher cod anywhere else. Meanwhile, the batter is made from good local dark beer, organic flour and raising agent – nothing else. "We make our own tartare sauce, too, and we have really, really good fries," says Olesen.
Bands on the beach
This season, Thorupstrand Fiskehus is celebrating a full return to regular programming after two years of pandemic restrictions. It's also the first year that Olesen and Anisimow – childhood friends turned business partners – will have their hands on deck at the same time. "A lot of cool things are happening here during the summer. We have two beach concerts coming up – on 22 July and 10 September – where bands will play on the beach and on a fishing boat with the ocean as a backdrop," says Olesen.
"Up here in the north, we celebrate midsummer – the longest day of the year – when the sun practically never sets. We also celebrate Sankt Hans. For that, we'll light a big bonfire on the beach and host a wonderful concert that's free and open to all. We'll open our outdoor bar, there'll be music and food and loads of people. We had a few of these parties last year and they're magical."
"It's very low-key"
At Thorupstrand Fiskehus there are no waiters or tablecloths. "Sometimes 'restaurant' feels like too grand a word," says Olesen, affectionately. "It's very low-key. You sit on a wooden bench with your feet in the sand. You get an ice-cold bottled beer and eat some simple food – but made with world-class ingredients."
Fuss and excess are the polar opposites of Thorupstrand Fiskehus' philosophy and, as such, visitors are encouraged to just show up. "No need to call ahead, we can always make it work," says Olesen. She hopes the harmony she and Anisimow have nurtured – between the humble setting and local fishing trade – will raise awareness for the importance of supporting sustainable fishing…. as if the super-fresh beer-battered fish 'n' chips and homemade tartare wasn't persuasive enough.
Web: www.thorupstrandfiskehus.dk +45 50469081 Instagram: @thorupstrandfiskehus Facebook: thorupstrandfiskehus Opening hours: (July and August) 11-19:30 Opening dates: 23 March - 23 October
Subscribe to Our Newsletter
Receive our monthly newsletter by email