Top ten must-try Scandinavian eats and treats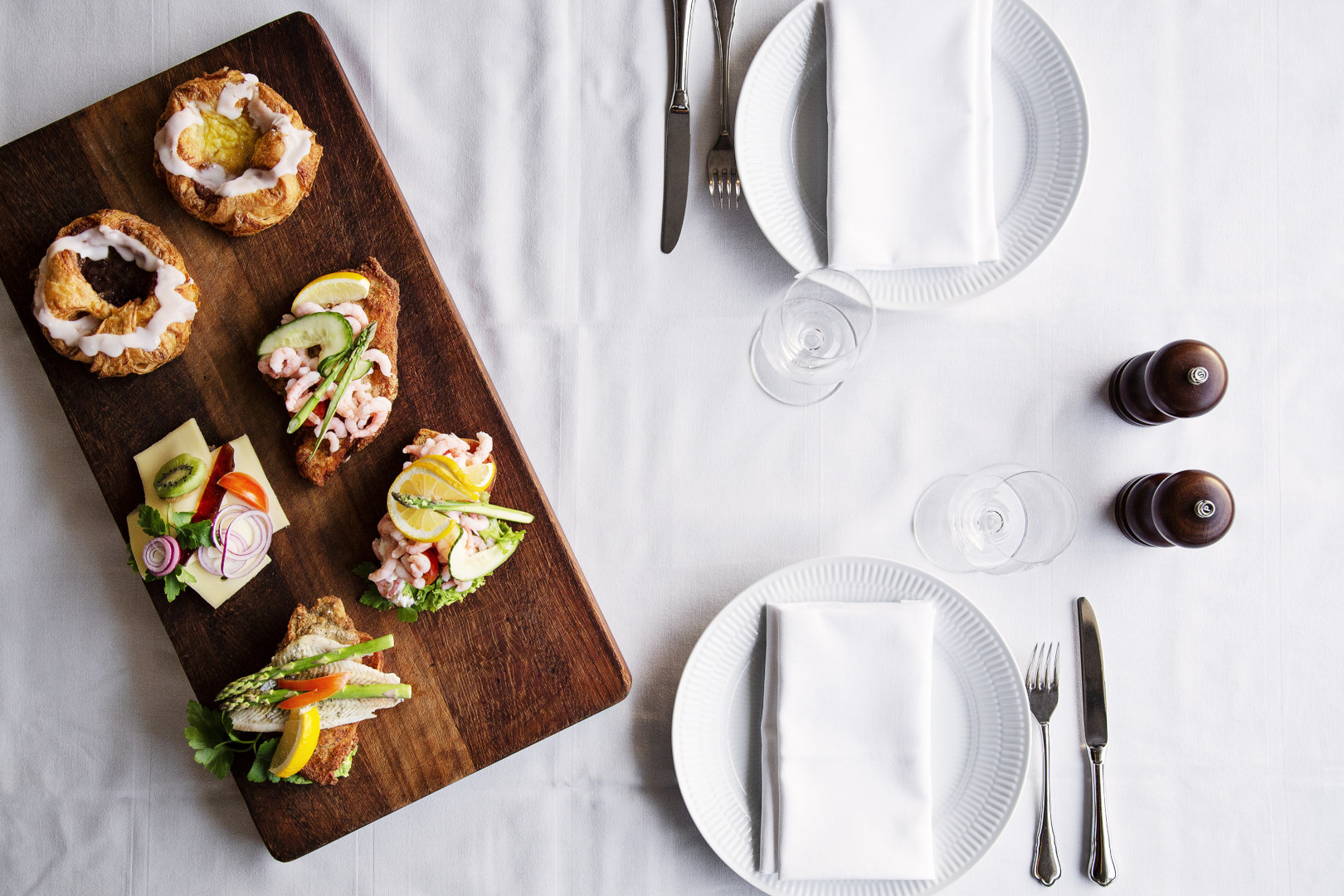 1. Smørrebrød
In Scandinavia, sandwiches only have bread on one side. In Denmark, these open sandwiches are almost like a national dish, available in every café worth its salt. Take buttered rye bread and add a topping of choice, or two or three: think cold cuts, fish, cheese and garnishes, maybe something pickled and something smoked. Smørrebrød are delicious and mostly quite healthy. Just hop on your bike, cycle to the nearest Danish café, and enjoy some open sandwiches and 'hygge'. Being Danish isn't so hard, after all.
TEXT: LINNEA DUNNE | MAIN PHOTO © MIKKEL HERIBA

Smørrebrød. Photo © Maria Nielsen
2. Herring
When the world thinks that Scandinavians are sitting around eating meatballs like there's no tomorrow, what they're probably more likely eating is herring: pickled, fermented, smoked – you name it, they eat it. The Swedish 'gravad lax' has even travelled as a dish without translation, that's how popular it is. But beware of the moment when the can of fermented herring is opened – and make sure that you know where to run and hide. There's no polite way to put it; that stuff stinks.

Herring. Photo © Carolina Romare, imagebank.sweden.se
3. Cloudberries
Organic, natural, and bringing heaps of healthy antioxidants, northern berries are all the rage right now. To many Scandinavians, cloudberries are the best of them all: rare, golden and perfectly sweet. Try a warm cloudberry compote served over quality vanilla ice cream, and you'll soon be a convert too.

Cloudberries. Photo © Sara Ingman, imagebank.sweden.se
4. Brown cheese
It sounds wrong, and it looks wrong – but ask any Norwegian expat and this stuff is like a piece of heaven. Made from whey, with a distinct caramel flavour, brown cheese (or 'brunost') works for breakfast, lunch or as a snack, though some argue that it's Norway's Marmite – you either love it or hate it.

Brown cheese. Photo © Foap, Visitnorway.com
5. Salmiakki
If you're not from Scandinavia but you've got Nordic friends, you'll have been put to the salty liquorice test. This is when you're handed a sweet and told to try it without a word of warning – and as the extreme saltiness kicks in and you start grimacing, your Nordic friends fall over with laughter. But jokes aside, they – especially the Finns – love their salty liquorice, or 'salmiakki'. Some even say that the real deal comes with a heap of health benefits!

Salmiakki. Photo © Vastavalo
6. Smalahove
At the weirder end of the Scandi food spectrum, Smalahove is perhaps to Norwegian tourism what fried cockroaches are to South-East Asian backpackers: a reluctant bucket-list item, and not necessarily one you beg for seconds of. This sheep's head, most often sliced in half and served in the build-up to Christmas, is salted and dried, sometimes smoked, and boiled or steamed for hours. Start with the ear and eye – or, wait, with the Instagram snap.

Smalahove. Photo © Thomas Rasmus Skaug, Visitnorway.com
7. Pølse
Rød pølse, medisterpølse, kjøttpølse, wienerpølse – the Danes like their pølse, or sausages. Danish Hollywood star Ulrich Thomsen even went and made a film centred on the philosophical idea of pølse as a peaceful unifier. Enjoy as a hotdog with fried onions, remoulade, mustard and some pickled gherkins for a proper Danish quick feast.

Pølse. Photo © Maria Nielsen
8. Cinnamon buns
Nothing smells of Sweden quite like 'kanelbullar', or cinnamon buns, fresh out of the oven. It's typically the first scent that greets you as you enter a Swedish airport or bigger train station, and it's one that will make most Swedish emigrants homesick within seconds. Enjoy freshly made along with a mug of filter coffee or a glass of cold milk, and that's the essence of 'fika' nailed.

Cinnamon buns. Photo © Magnus Carlsson, imagebank.sweden.se
9. Reindeer
Once you get past the idea of poor Rudolph and his red nose, you're in for a treat with this very special delicacy. With the booming New Nordic Cuisine mentality, loving local is key, and indeed, in many parts of the Nordic countries that means eating reindeer. Try reindeer sausage, smoked reindeer heart, reindeer stew, or why not simply hot-smoked, dried and sliced?

Reindeer. Photo © Pernilla Ahlsén, imagebank.sweden.se
10. Knäckebröd
Forget the snoozefest that is the crispbread aisle in your average UK supermarket. Nordic crispbread, known as knäckebröd, is a beautiful thing: versatile, often hand-crafted, and rooted in old traditions. In Sweden, the large, round crackers of the 1800s had a hole in the middle in order to be thread onto poles and sticks hung from the ceiling, something you still see today alongside countless other shapes and sizes, not to mention the many different types of flour blends used. Take a piece of rye crispbread and add real butter. There's beauty in simplicity.

Knäckebröd. Photo © Janus Langhorn, imagebank.sweden.se
Subscribe to Our Newsletter
Receive our monthly newsletter by email